Every now and then, I give myself the time to make something just for me – a tribute to something I love. It allows me more creative freedom than being constrained by the parameters of what would make a good, easy-to-follow pattern, and also to create my interpretation of licensed characters that I couldn't sell for legal reasons – but, luckily, creating not-for-profit fan art is allowed!
Please note: click on a photo to take you to more information about that project.
BB-8
December 2016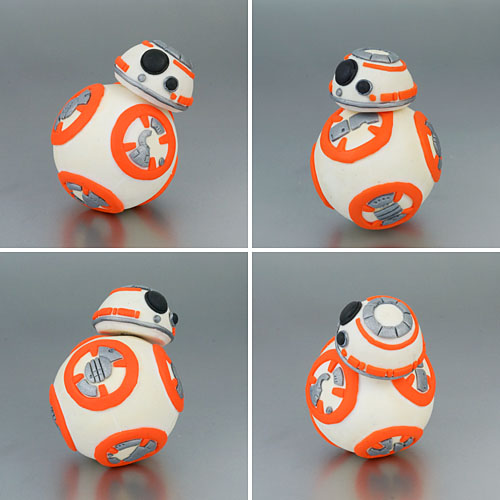 Polymer clay sculpture of BB-8 from Star Wars. 5cm (2″) tall. Embedded magnetic joint inside so his head can rotate to any angle.
Tetris
2011-2015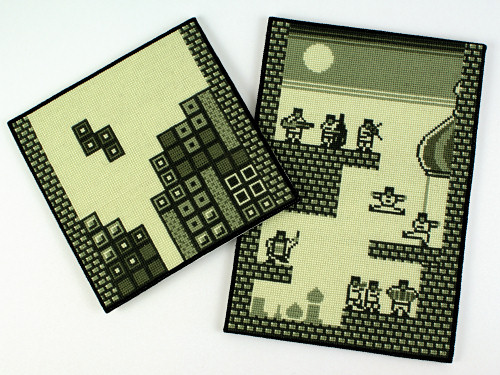 Tribute to my favourite classic game, Tetris (on original Game Boy), reproduced in the original 2-bit 'pea soup' colours, in 24,800 cross stitches.
Butterflies
2014-2015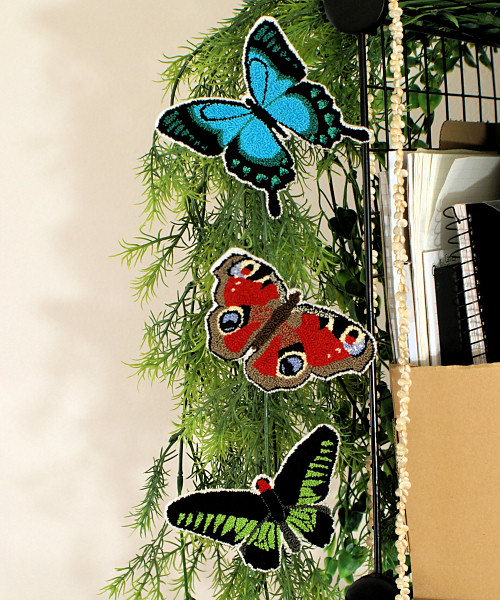 These are the first stage of a long term craft project to make a group of different butterflies using Punchneedle embroidery – all different colours and shapes but all based on my interpretation of real species.
Columbo (& Dog)
July 2011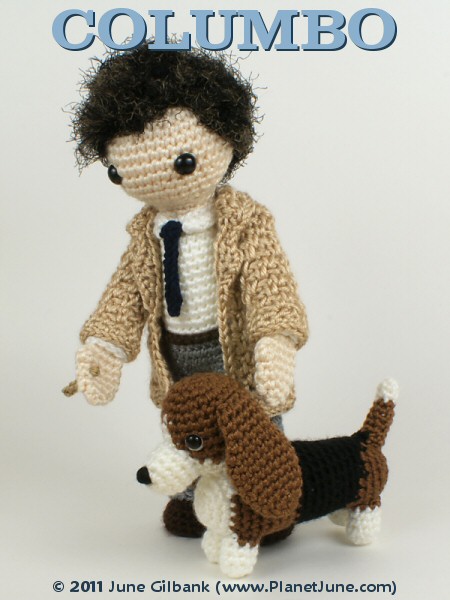 My amigurumi tribute to Peter Falk and his best-known character, Columbo. He's based on the Boy pattern from my book, The Complete Idiot's Guide to Amigurumi. Dog uses my AmiDogs Basset Hound crochet pattern.
Globe
December 2010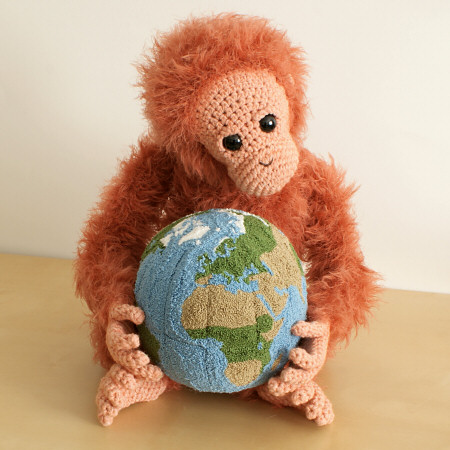 Punchneedle embroidered 3-D globe. 5.5″ diameter, approximately 60,000 stitches. (Scroll down for orangutan info!)
Reepicheep
June 2010
winner of Craftster Fantasy Crochet Challenge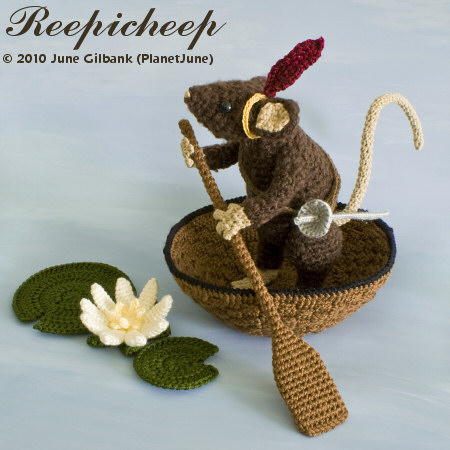 My tribute to Sir Reepicheep the gallant mouse from C.S. Lewis' Chronicles of Narnia. Reepicheep paddles in his coracle, through a sea of lilies, to the end of the world. Reepicheep and the coracle are entirely improvised. The lilies use my Water Lily crochet pattern.
Worms
January 2010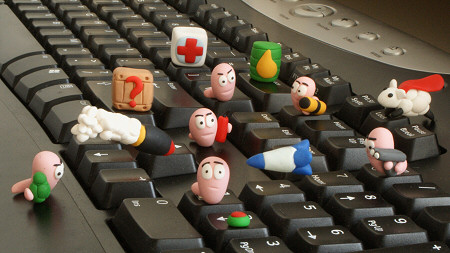 Polymer clay miniature set based on the Worms video games series.
R2-D2
December 2009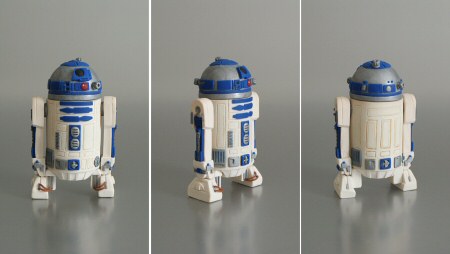 Polymer clay sculpture of R2-D2 from Star Wars. 8cm (3″) tall. Embedded magnetic joint inside so his head can rotate to any angle.
Musicians of Bremen
December 2009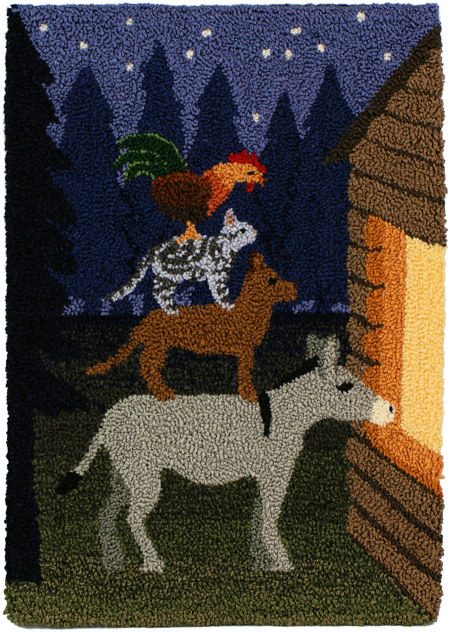 Punchneedle embroidered commissioned artwork based on the Musicians of Bremen folk tale. 7 3/4″ x 5 1/2″ board-backed embroidery using 29 shades of embroidery floss.
Baby Orang Utan
April 2009
winner of the Instructables/Lion Brand Critter Contest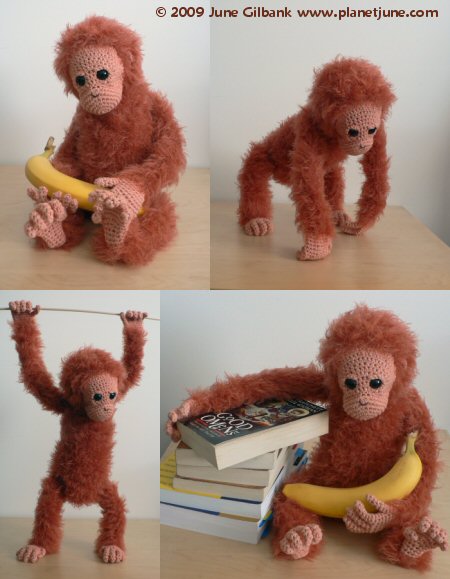 My crocheted life-sized realistic baby orang utan. 100% freeform crochet, with wire and plastic armatures to make him completely poseable.
Lemmings
Feb 2009
winner of Craftster Best of 2009 crochet award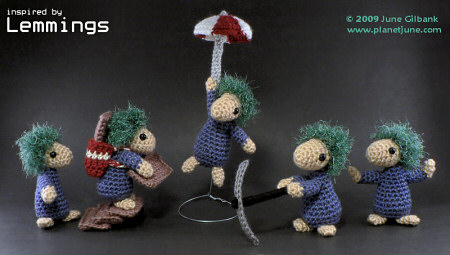 My tribute to the classic video game. The Lemmings are based on my free Mop Top Mascots pattern, with improvised accessories.
Discworld
August 2008
nominated for 3 Ravelry Bobby awards (Geekiest Pattern, Coolest Toy, Best Personal Pattern Project)
winner of a personal comment from Sir Terry Pratchett himself! On seeing the photos, he gave a quiet laugh and said 'Well, if you're going to crochet Discworld then that's the way to do it!'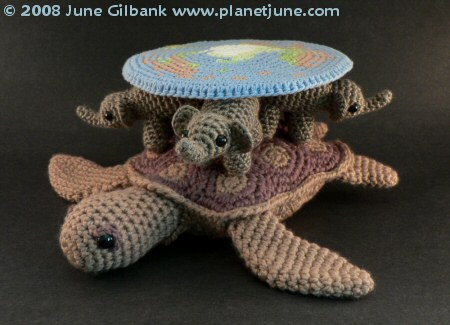 My amigurumi tribute to Terry Pratchett's wonderful creation, the Discworld. Great A'tuin uses my AquaAmi Sea Turtle pattern; the 4 elephants use my AfricAmi Elephant pattern, and the Disc was freestyled (see my Amigurumi Discworld page for more info).