While working on my Paper Chains & Garlands ebook, I discovered a better way to import my illustrations into the finished document which allows for the ultra-high resolution of today's tablets and smartphones. This technique will also make my stitch diagrams and illustrations look much cleaner in my future crochet patterns.
Of course, once I realised this was possible, I couldn't just leave my back catalogue of patterns as-is, with the less-good charts and diagrams, knowing they could be better… So, I've just released new versions of all my patterns that contain a charted stitch diagram, illustration or diagram (see the list of patterns below).
(By the way, there's nothing wrong with the old versions; they've always looked fine to view or print, but if you zoom in on a chart/illustration on your tablet now, the new diagrams will stay perfectly sharp, no matter how much you zoom.)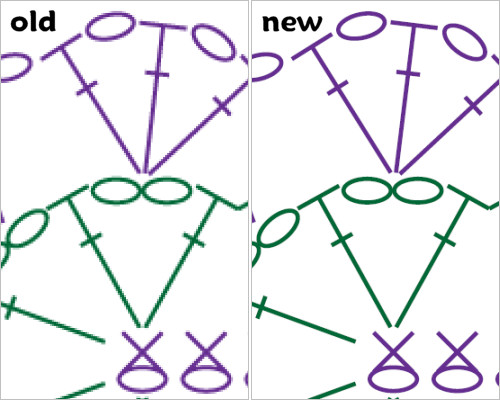 I doubt you'll ever need to view my charts at this size, but now you have the option 🙂
Your pattern licence entitles you to free updates to any PlanetJune pattern you've purchased, so, if you've previously bought any of the following patterns, just log back into your PlanetJune account and you can save the updated version!
Tip: Go to this link to see an alphabetised list of all your pattern purchases, so you can jump straight to the right order(s) without hunting 🙂
PlanetJune Accessories patterns:
Banded Lace Wrap
Cascading Clusters Shawl
Chunky Elegance Rug Trio
Chunky Moebius Cowl
Climbing Eyelets Triangular Shawl
Diamond Flowers Scarf Wrap
Diamond Lattice Neckwarmer
Eyelet Ripple Scarf Sweater
Frosty Windows Scarf
Gossamer Lace Wrap
Lacy Bobbles Cowl
Rippled Lace Rectangular Shawl
Scalloped Scarf
Tunisian Stripe Purse
Amigurumi (and misc) patterns:
Aliens
AmiCats Calico
AmiCats Single-Coloured
AmiCats Tabby
AmiCats Tuxedo
Armadillo
Baby Cephalopods Set 1
Baby Cephalopods Set 2
Cuboctahedron
Dimorphodon (Dinosaur)
Frilled Lizard
Fruit Bat
Fuzzy Bear
Fuzzy Bunny and Chick
Fuzzy Lamb
Gaming Dice
Iguana
Koala
Polyhedral Balls
Primroses
Shamrocks
Sloth
Water Lily
Yeti and Bigfoot