Last year didn't leave me with much time for 'fun' crafts, so I'm trying to pick that up again this year, and make time to make things just for the fun of it!
I received a pack of origami papers for Christmas, so I thought I'd try to learn more origami skills by picking a far more challenging pattern than I've attempted before. I chose to try a Cape Dwarf Chameleon (now I won't be able to see real chameleons in my garden any more!) using a pattern by Quentin Trollip that's rated as 4 out of 6 (advanced intermediate) on the origami difficulty scale.
Advanced intermediate is far beyond how I'd rate my origami skills, but there's only one way to improve, and that's to try something that's out of your comfort zone! Although I've made lots of origami before, I usually stick to basic models with folds that you can understand with only wordless diagrams, so I was really jumping in at the deep end here.
At almost every step, I had to stop and google what each fold and instruction meant. Swivel fold? Inside reverse fold? Rabbit ear?! All new to me.
I found it difficult to understand all the new folds and spent ages staring at diagrams to try to see how one step could possibly lead to the next. But, finally, I figured out all the folds and, after a few hours, I had a finished model. It's far from perfect, but if you squint you can just about recognise it as a chameleon!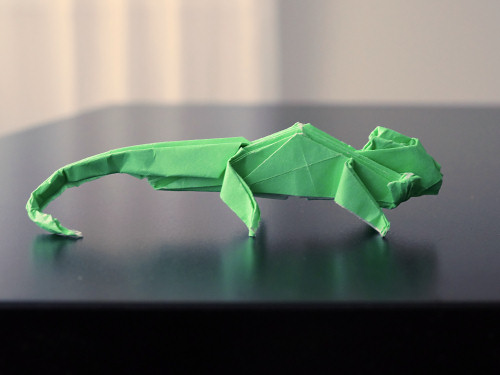 For comparison, here's the perfect original from Quentin Origami:

Haha, my attempt doesn't look much like this!
Still, this is not a failure. I've learnt a lot from this project – persevering through learning so many new folds, and ending up with something close to what I was trying to make (although clearly a beginner-level attempt, with many mistakes).
So I thought I'd share it with you as an example of how there's a learning process with every craft, and your first attempts may not look anywhere near perfect, but they're a necessary step on the road to mastery, and nothing to be ashamed of.
I've also discovered that I prefer to make modular origami – simple folded units that combine to form a more complex result – vs trying to achieve the entire shape with a single sheet of paper. There's a lot of dexterity and artistry needed to make advanced origami look good, but I prefer to keep my paper folding at an easy relaxing level. You don't need to aim for mastery in order to enjoy a craft!
If you'd like to try some origami or paper-folding too, I have a few designs you may enjoy, such as these: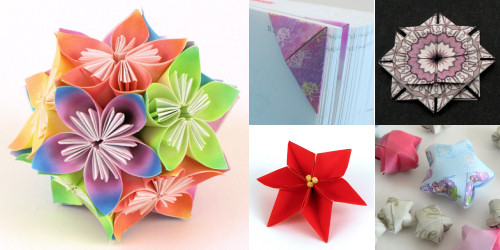 See all my papercraft tutorials at PlanetJune Papercraft – I can promise they are far more beginner-friendly than an origami chameleon!