In celebration of my new PlanetJune Papercraft ebook and donationware tutorials, I decided to design a papercraft poinsettia to add to my collection…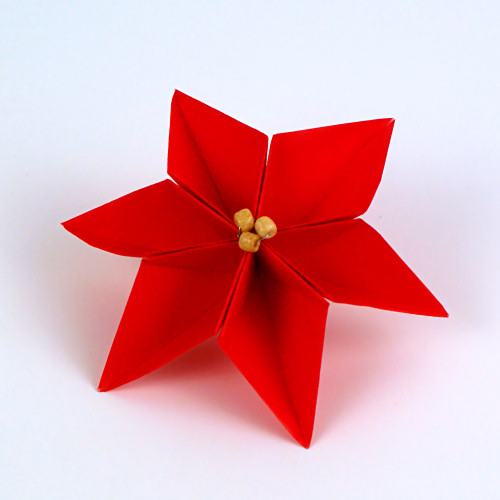 The 'petals' of this Poinsettia are made with origami techniques, and the 'flower' is assembled with wire (with an option for sewing thread) – that can also be used to create a stem or hanging loop – and beads for the centre.
Did you know that the red 'petals' of a poinsettia are actually bracts – modified leaves – and only the central yellow parts are the flowers? So, while this isn't actually a 'flower' in the case of a poinsettia, you can also make this design as a pretty flower at any time of year!
If you don't have origami paper, inexpensive gift wrapping paper is the perfect thickness for paper folding. You only need to cut 3 squares to make a flower, and you're bound to have some leftover wrapping paper before Christmas, so don't throw it away! My origami poinsettia measures 3″ (7.5cm) in diameter, but it can be easily scaled to any size by starting with larger or smaller squares of paper. Beads or a button add the finishing touch to this lovely easy decoration.
The origami techniques in this design are very simple – this would be a fun introduction to paper folding if you haven't tried it before – and once you've learnt how to fold a leaf you'll be able to whip up a poinsettia (or several!) very quickly. If you'd like to give it a go, the link to the free tutorial is below, and, as always, if you choose to thank me with a donation, you'll get the handy printable PDF version 🙂
Go to the Origami Poinsettia tutorial >>
The Poinsettia Collection
I only had one year off before I felt compelled to return to my tradition of crafting a new Poinsettia ornament every year. This new design brings the total up to 9! Here are all the previous PlanetJune Poinsettias: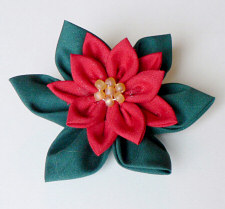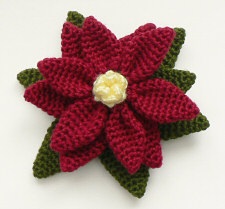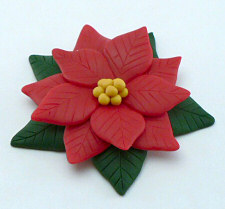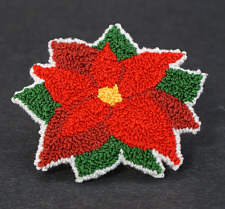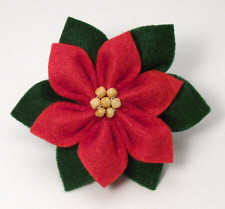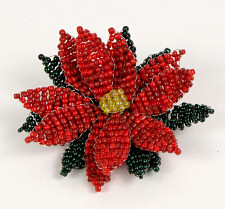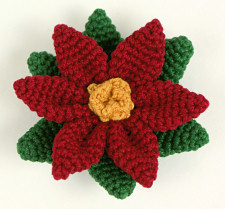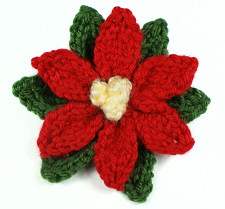 Top (L-R): 2006 kanzashi poinsettia (no tutorial); 2007 crocheted poinsettia
2nd Row (L-R): 2008 polymer clay poinsettia; 2009 punchneedle poinsettia
3rd Row (L-R): 2010 felt poinsettia; 2011 beaded poinsettia
Bottom Row: 2012 thread crochet poinsettia; 2013 knitted poinsettia
(You can find all my Poinsettia designs as PDFs in my shop, or use the links above for the free online versions.)
Happy seasonal crafting!