Please note: My crowd-sourced commissions system is now retired - please see my blog post for details.
Completed Commissions
Here are some examples of crochet patterns I've designed through my commissions system:
---
Suggest a Design
---
How PlanetJune Commissions Worked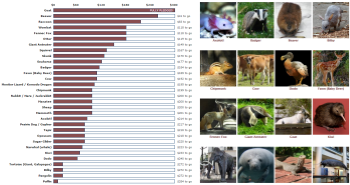 My pattern commissions system was designed to let people pledge however much they wish towards a new PlanetJune design, from $6 to $300.
This helped me to get a feel for which designs would be popular and be paid a fair price for my work in creating the design without charging any one person excessively, as up to 50 people could crowd-fund a single design.
The Commissions Cycle
PlanetJune Commissions ran via a 5-step cycle: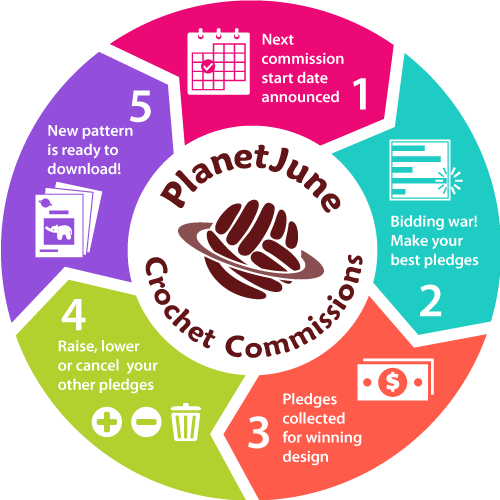 I announce the date I'll be able to begin work on the next commissioned design (join the Commissions News mailing list for notifications).
The bidding war begins - will your favourite be commissioned? Make your pledges and make it happen!
The first fully-funded design is locked in. Pledge monies are collected and design begins.
You can raise/lower/delete any of your other pledges, or make new pledges, whenever you wish.
Once the new pattern is complete, it's automatically available to download from all pledgers' PlanetJune accounts.
Commissions Status Updates
Commission status:
The Goat pattern is completed and ready for pledgers to download! (
Sign up
to be notified when the pattern is available for general purchase.)
And that marks the end of PlanetJune Commissions (at least in its current form...) Thank you so much to everyone who's made a pledge over the past 5+ years - you've helped me to come up with some great designs :) (Latest update )
---
Commissions FAQ
Commissions notifications. If you'd like to received an email notification if/when I reactivate PlanetJune Commissions, please sign up for the Commissions News mailing list. (The list will remain dormant until such time as I resurrect the crowd-funded commissions system.)
Looking to commission a handmade item? I'm a designer and writer; I don't have time to make handmade items to sell, but if you're looking to commission a finished PlanetJune item, please see the Sellers' List and directly commission one of my customers who sell items made from my patterns.
Looking to commission a new design? If you'd like to commission a new PlanetJune pattern privately, please see my FAQ on private commissions for details.
Other Questions? Please contact me with any other questions.