This is sweater #8 of my 'learn to knit by making a dozen self-designed sweaters' project. (Here are links to #1, #2, #3, #4, #5, #6 and #7, if you'd like to see my progress.)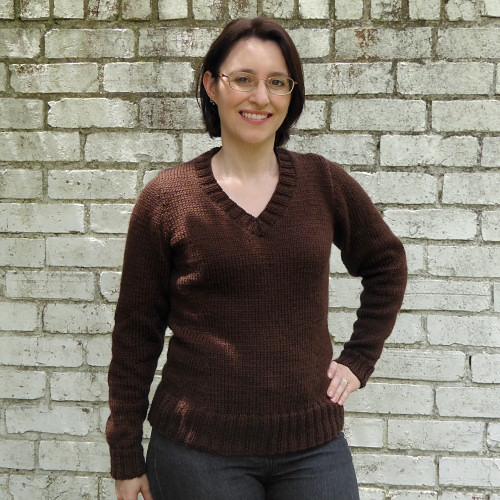 After the fine yarn and lace of my last cardigan, I wanted a more relaxing knit for my next project. I decided to go for a really basic V-neck pullover, not too fitted so I can wear layers and long-sleeves underneath when it's cold, but with some shaping so it fits over my hips but isn't too boxy.
Even though the end result is simple – plain stockinette throughout with 2×2 rib for the collar, hem and cuffs – I still got to try some new techniques and expand my skills. I'd just bought Sally Melville's Craftsy class 'Essential Techniques Every Knitter Should Know' (and, as an aside, I loved this class – highly recommended, particularly if you're interested in knitting sweaters).
Some of Sally's recommendations made me feel less like I'm muddling through my knitting journey, as I'd reached the same conclusions as her (so I must be doing something right!), while other tips were new to me, and I tried a few in this sweater.
(In fact, Sally's thinking on knitwear design decisions seems like such a good match for mine that I've since also bought her book, Knitting Pattern Essentials: Adapting and Drafting Knitting Patterns for Great Knitwear – I can recommend that too!)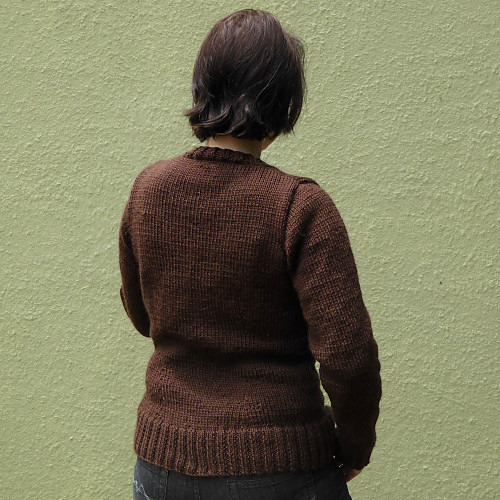 My new techniques with this sweater:
I used lifted increases for the first time, on Sally's recommendation, and tried her shortcut for simplifying them. Thumbs up to that.
I also tried her technique for faster mattress stitch seaming (although I love seaming my knits – it's like magic! – so I'll probably stick with my usual slower method, going through every row, in most cases).
I refined the cuffs and hem I used for my shawl-collar pullover by switching to smaller needles to reduce the bulk. Definitely an improvement.
I did my first pick-up-and-knit for the neckband (I usually knit it as a strip then sew it on) and that worked fine – I even managed a sort of mitered corner at the point of the V.
And I decided to weave in the ends as I finished each part of the sweater. Although that's a bit scary because you have to trust you won't want to change anything later, it worked well for a simple sweater like this, and made the finishing process at the end much easier!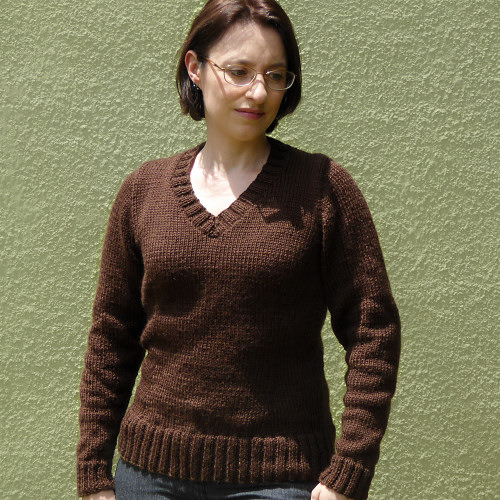 I feel like this one came together in no time (making it in worsted weight yarn didn't hurt) and the finished sweater is warm, cosy, and snuggly – just what I was hoping for.
Of course, it's now summer in South Africa, and far too hot to be wearing something like this! So please excuse me if I look less than comfortable in these photos (especially the one above – the sun came out and I was roasting!) but I'll be very happy to wear this properly once the weather cools down again here – my house is freezing in winter and this will be just what I need to keep warm.
The confidence I got from making this simple design quickly and well made me think I was ready to take a bit of a leap for my next design and try something completely different. It's not finished yet, but I'll show you how that turned out, soon…
I can hardly believe I'm two-thirds through this project now! I've knitted 8 wearable sweaters for myself in just over 3 years – when I started, I didn't seriously think I'd ever get this far – and I'm enjoying every minute of this learning experience.