This is sweater #5 of my 'learn to knit by making a dozen self-designed sweaters' project. (Here are links to #1, #2, #3 and #4, if you'd like to see my progress.) There's a funny story behind this cardigan: I bought 4 balls of this drab green yarn on clearance – it was all they had left in the shop. I thought it'd be a tight fit to get a whole sweater from so little yarn, so I made all my design choices based on helping the yarn to go as far as possible…
Knitting is supposed to be my relaxing hobby, and I was worried that getting into complex stitch patterns might require too much concentration to be really relaxing for me, but I did want to try venturing away from the pure stockinette fabric of all my previous sweaters, so I thought I'd try an all-over 4×1 rib pattern (that's 4 stitches of knit, then 1 stitch of purl, repeated, to give narrow vertical purl stripes in the cardigan). The stretchy fabric should also give a nicely fitted result without needing any shaping to be built in, so I could concentrate on just getting the purl stitches in the right place without needing to keep track of anything else.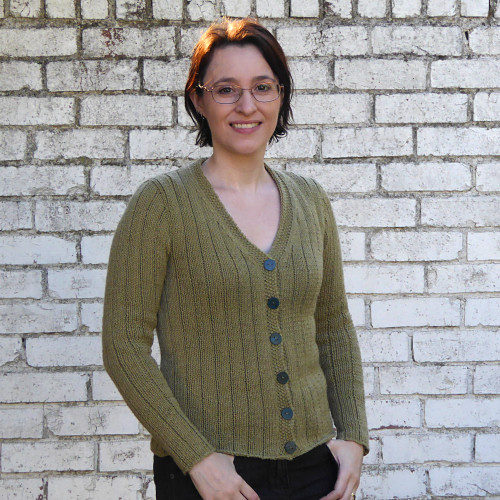 I started with the body, and designed it to be close-fitting and shorter than my usual preferred length, to minimise the amount of yarn it used – once the body was finished, I'd be able to judge how much yarn I had left for the sleeves and plan accordingly (either to make short/no sleeves, or make the sleeves in a different colour, if necessary). Keeping it minimal, I opted to avoid a decorative border around the bottom – the all-over rib is enough to keep the fabric from curling up at the edges, and the cable cast-on makes a tidy edge.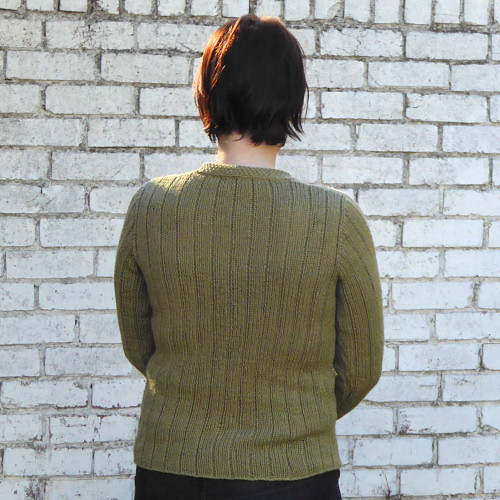 After finishing the body, there seemed to be plenty of yarn left for full-length sleeves, which was a relief. I made the sleeves close-fitting too, to match the style of the body, and I used what I learnt from the mistake in my last sweater to make very neatly set-in sleeves – I think I've nailed this technique now!
Once the sleeves were finished, I made my first real button band (my previous buttoned cardigan used an attached i-cord, with detached sections to form the buttonholes, so I'd never tried to knit a buttonhole before). I decided to make the button band in seed stitch with a smooth stockinette edge, and, after a few attempts, came up with a tiny, neat, stretchy buttonhole to fit into my band.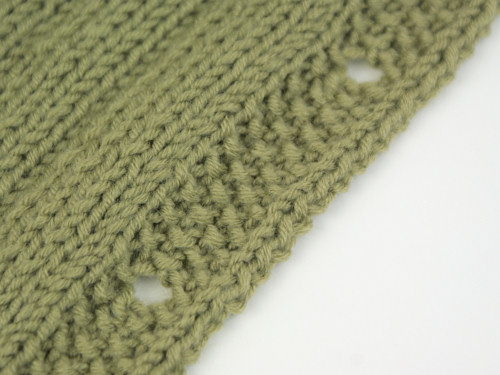 Instead of picking up stitches for the button band, I knitted it separately (as hundreds of 8 stitch wide rows!) and then stitched it on so it lay flat without my needing to calculate a ratio to pick up stitches beforehand. Stitching the 'button' half of the button band down before I knitted the 'buttonhole' half let me calculate exactly where to place my buttonholes as I knitted. This is a really nice method if you're winging it and not following a pattern – I love the freedom of just making it all up as I go along! It's such a break from keeping accurate notes of all my stitches for my crochet pattern.
And the irony: far from running out of yarn as I'd feared, I actually ended up with an entire ball left over! I guess my yarn quantity estimation skills still need a little polishing 😉
The finishing touch for the cardigan was to make polymer clay buttons, inspired by Lisa Clarke's knitted cardigans with polymer clay buttons. It's such a pleasure to be able to combine two of my hobbies in one project!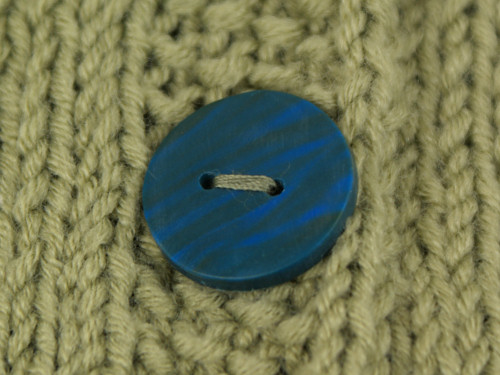 I decided not to try to match the yarn colour, and cut my buttons from a sheet of marbled clay: bright turquoisey blue and darker green. I had to brighten the photo above so you can see the marbling more clearly, as the very bright blue became muted with the marbling, and the green darkened more than I expected in the oven, so the overall result is quite subtle. I still really like them though, even if hardly anyone else will notice the marbled effect.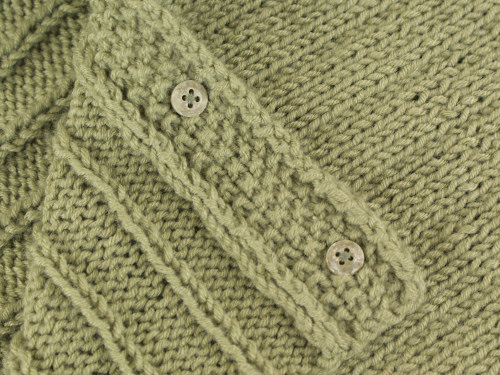 I found some perfect small buttons in my button bag to act as anchor buttons on the inside of the button band – I know nobody but me will ever see them, but it's a tiny thrill to know that these little hidden buttons match my yarn so well.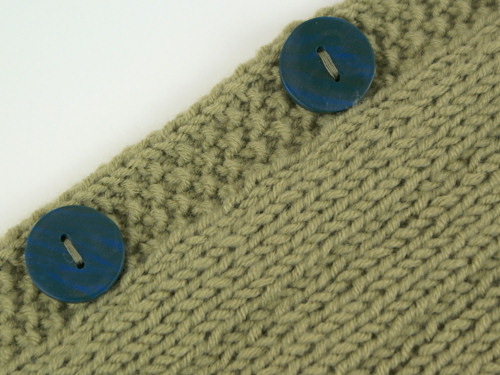 And using a sewing thread that matched my yarn to stitch the buttons to the cardigan tied the whole thing together perfectly.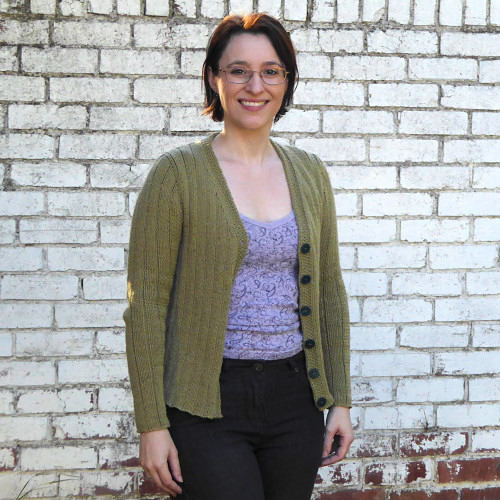 I'm really happy with how this cardigan turned out – although shorter than I'd usually prefer, it's not too short. It's snug and fits well, and it feels a little lighter than my other sweaters, so it's nice for a chilly, but not cold, day. And it's very satisfying to see how my knitting skills are progressing with each finished piece: I'm learning new techniques as I need them, and perfecting the ones I didn't fully understand while making my previous sweaters. Onto #6!