This is the first of three information posts aimed predominantly at crocheters outside North America. For the rest of the series, see Crochet Hook Styles and Crochet Terminology.
Most amigurumi patterns are worked in worsted weight yarn. This is confusing for non-Americans because 1) it's not called 'worsted weight' outside North America, and 2) this weight isn't very popular on other continents, so it can be very difficult to find a nice ww yarn to crochet with! If you do find worsted weight yarn outside North America, it'll be called aran weight or 10-ply yarn.
Note: The '10-ply' name does not refer to the number of strands (aka plies) that make up the yarn – worsted weight yarn typically has 4 'plies', but it's a very different thickness from a 4-ply yarn, as you'll see in the list below!
International Yarn Weight Names
#0 Lace: lace weight, approximately 1-ply to 3-ply
#1 Super Fine: fingering weight, 4-ply
#2 Fine: sport weight, baby weight, 5-ply
#3 Light: DK, light worsted weight, 8-ply
#4 Medium: worsted weight, aran weight, 10-ply
#5 Bulky: bulky weight, chunky, 12-ply
The situation is slightly more complicated than this: as you can see from my worsted weight yarn comparison investigation, all yarns labelled 'worsted weight' (or any other weight) are not necessarily all the same thickness, so your yarn may not crochet up exactly the same as the sample, even if you do find an aran/10-ply yarn.
Substitutions for Worsted Weight Yarn
Some DK yarns are barely finer than the yarns at the fine end of my comparison post, so DK yarn may be a good choice, although, depending on your yarn and how tightly you crochet, you may find you need a smaller hook to make the best amigurumi; I typically use a 2.75/3.25mm (US C/D) hook for amigurumi made with DK yarns.
You can also substitute for worsted weight yarn by using multiple strands of finer yarns to approximate a worsted weight, for example you could try two strands of sport weight (5-ply) held together.
Importing Worsted Weight Yarn
If you'd like to use a genuine worsted weight yarn, there are US-based online shops who ship worldwide, and some non-US online shops are starting to stock US brands (see a few examples below), so you may well be able to pick up some of my favourite yarns for amigurumi, or other worsted weight acrylics online.
Note: Do bear in mind that if you order from abroad, you may get landed with an additional fee for your package to clear customs. Check the customs rules for your country to avoid an expensive surprise!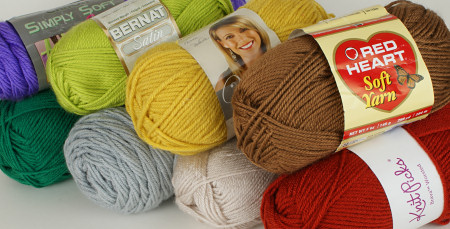 A Few Online Stockists:
Note: I have no affiliation with any of these stockists, but I have either used them personally or had them recommended by my customers who have used them successfully.
Using a Different Weight of Yarn
Of course, for amigurumi, there's no requirement to use a worsted weight yarn – a different weight of yarn will just give you a different-sized finished amigurumi! Provided you use a hook in a suitable size to match the yarn you use, you can create perfect amigurumi with any weight of yarn you like and can find locally – see my Resizing Amigurumi article for details and examples.
Note: Although outside the scope of this article, I should point out that if you're making something from a pattern where the finished size matters (for example, a garment), substituting a different weight of yarn is unlikely to be successful. Unless you're comfortable calculating the difference in your gauge and adapting the pattern to match (or calculating which size in the pattern would give you the correct finished size in your gauge), you should use the International Yarn Weight Names list and/or my substitution suggestions above to find a yarn that closely matches the yarn suggested in the pattern.
---
I hope this article has given you some helpful information and resources, especially if you live outside North America. If you know of any more good online international sources of worsted weight yarn, please feel free to leave them in the comments!
---
Do you find my tutorials helpful? If so, please consider making a contribution towards my time so I can continue to create clear and concise tutorials for you:
Thank you so much for your support! Now click below for loads more crochet video and photo tutorials (and do let me know what else you'd like me to cover in future tutorials…)