Knee update
I'll keep you posted about my knee for as long as it affects my work! The rehab sessions are wiping me out – I lose about half a working day three times a week, because I'm invariably so exhausted when I get home that I end up falling asleep. But my knee has been keeping me awake at night, so the post-rehab naps are a welcome rest.
Putting my health first is obviously the sensible thing to do, but it doesn't make it any less frustrating when there's so much I want to do for PlanetJune but this recovery process is taking forever! But my knee strength is improving a tiny bit each week, so I'll keep going to the rehab/torture sessions for however long it takes to be able to walk normally and be able to sleep through the night without discomfort. 🙂
Baby Animals CAL Report
Baby Bunnies, Guinea Pigs and Sea Turtles were the main stars of the extra-cute April CAL. Here's a sampling of the CAL entries (click the pic to see them all on Ravelry):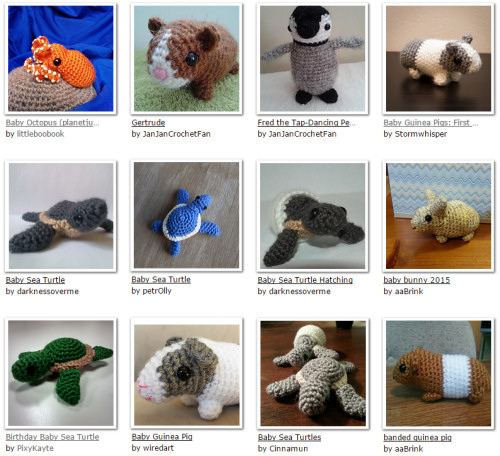 Plant-Along CAL
The Plant-Along CAL runs from 1 May – 11 June 2015, and you can join in by making any PlanetJune botanical patterns: flowers, plants and fruit – i.e. any of these patterns: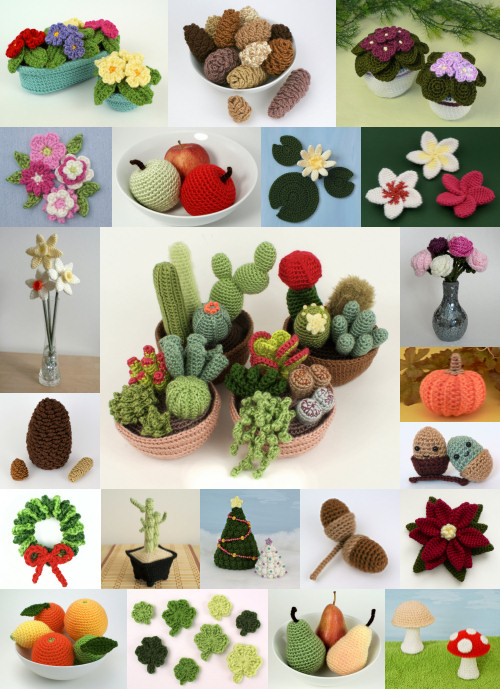 The options include an amazing 12 free/donationware patterns, so you should be able to join in even if you're very short on funds and/or time! All these patterns are available in the Flowers & Plants section of my shop, except Mushroom and Toadstool, which you can find in my book: The Complete Idiot's Guide to Amigurumi.
For more details, check the first post of the CAL thread. Join us in the PlanetJune Ravelry group for this colourful crochet-along – I hope to see you there. 🙂
Review and Win contest
You're automatically entered in the next monthly draw every time you write a review for a PlanetJune pattern you've enjoyed – and you'll also be helping future customers make an informed decision about patterns they are considering buying.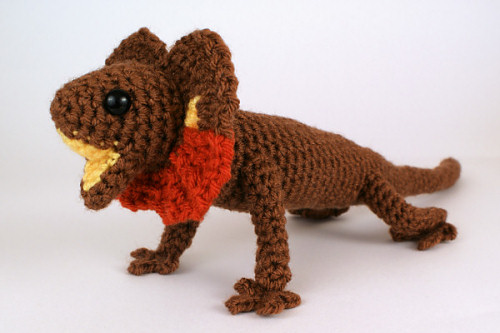 The Frilled Lizard is an expansion pack for my Iguana crochet pattern.
April's winner is Judy C's review of my Frilled Lizard Expansion Pack:
Great frilled lizard pattern! So realistic! All instructions are clear and easy to follow. I have added this frilled lizard to my collection of amigurumi reptiles and amphibians. A must for any herpetology geek!
Congratulations, Judy – I've emailed you to find out which pattern you'd like as your prize!
What's Next?
With my other commitments out of the way, it's back to the commissioned designs for me. The next animal in my queue is an Armadillo (nine-banded), and I'm looking forward to a really fun challenge to recreate this unique animal in crochet!