I've just set up a PlanetJune Discord server, so now we have a private place for our community to chat and share pics about anything at any time.
After a soft launch with members of the PJ Ravelry group, we've got used to how Discord works, so now I'm ready to welcome you to the group! Keep reading to find out how to join…
Ready to Join?
If you already have a Discord account, you can join the PJ server now with this invite link:
If not, read on for more info…
What is Discord?
It's an app that gives us a private invite-only home for the PlanetJune community – a place where we can talk, hang out, and have fun. (See the Discord Beginner's Guide for an overview.)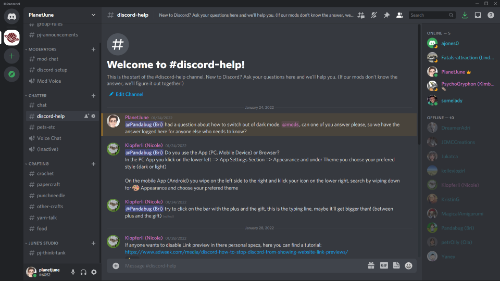 Here's how the PlanetJune Discord looks on a computer (and you can switch to light mode if you don't like the black background)
Why join the PJ Discord?
For friendship: Chat about crochet or anything else in a friendly, private community.
For crochet help: Get immediate crochet help from anyone in the community who's online (or type @planetjune in your message to make sure I'll see it and get to it asap).
To hang out with me: We have a monthly scheduled Chat Hour where we all try to show up at the same time and chat (I hope you'll join us for the next one, on Wed 2nd March!) 
For PJ insider knowledge: Be a part of the PJ Think Tank by sharing your opinion on my secret plans and ideas. You'll help contribute to the future of PlanetJune!
How do I join?
To join the PlanetJune group:
If you aren't already on Discord, sign up for a free Discord account.
Click the verification link in the email you'll receive from Discord.
Accept our group rules, then our friendly bot, MEE6, will grant you access and send you a welcome message!
Recommended: download the Discord app for your phone and/or computer.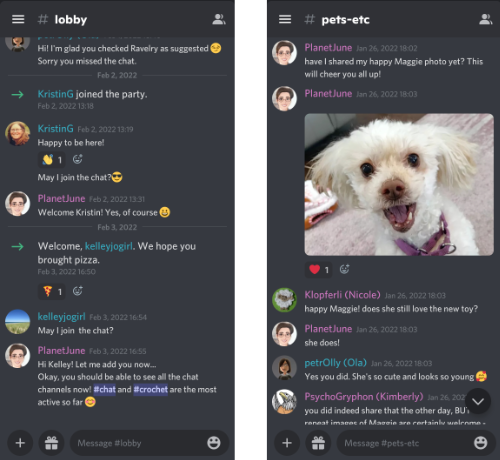 Here are a couple of screen grabs of the PJ Discord on my phone (with happy Maggie saying hello!)
FAQs
What is Discord?
Discord lets us create an invite-only home for our community – a place where we can talk, hang out, and have fun. See the Discord Beginner's Guide for an overview.
How do I use Discord?
You can download the Discord app for your phone or computer, or use it through a browser. (I find the app much easier, but it's up to you.)
Sign in and you'll see the PlanetJune server (once you've joined through the invite link above), and any other servers you've joined. You can check in as often as you want, read past messages, reply to anything you want to, and chat in real-time with anyone else who's online.
You can upload pictures directly into the chat (this is much easier than Ravelry, as you don't need to add the photo to a project first). You can share pics of anything related to what you're chatting about.
How do I get help with Discord?
Ask your questions in the #discord-help channel and we'll help you. There are no stupid questions – unless you're a gamer, Discord is probably brand new to you (it was to me too!) Our helpful mods probably know the answers, but, if not, we'll figure it out together. 🙂
Is Discord replacing the Ravelry group?
No! Ravelry is great, of course, and the PlanetJune Ravelry group isn't going anywhere – the Discord server is an additional space where we can catch up, chat, and socialise. Ravelry is definitely the best place for long-term stuff like keeping a record of your projects, but our Discord is perfect for real-time chat about anything, sharing a quick pic of your work in progress, or getting instant feedback, support or giggles. (It's like social media without all the negative parts!)
How do text and voice chat work?
We have two options for chatting: we mostly use text chat (like our rav chat room, but open all the time), and live voice chat (optional, but sometimes it's nice to actually speak to people and hear their voices in return). You can read over the text chats you've missed and reply later, but voice chat isn't recorded – it's just live, and you can pop in or leave whenever you want.
How private are our messages?
Unlike Ravelry, where anyone with a Ravelry account can read all our chat threads, the PlanetJune Discord server is private. You need to request access to join (all are welcome!) and our moderators will make sure any trolls or disrespectful people who sneak in are banned, so it'll always be a safe and welcoming space for everyone.
You can also DM (direct message) another PJ member and have a completely private conversation between the two of you that nobody else can access.
What are channels?
Text chats appear as channels with different topics, so choose a crafting channel (e.g. #crochet) if you want to talk about that subject, and/or post in the general #chat channel to talk about anything and everything!
Our mods will add new channels if there are other specific things we want to talk about, so please let us know and we can split that topic into a separate channel.
What can we talk about?
Crochet, of course, but the PlanetJune community has more than just crochet in common! Whatever else you're interested in – whether it's knitting, sci fi, baking, practicing your English, fitness, or anything else – you'll probably find some of us are also interested and would love hear from you!
For example, in the past we've had threads in the Ravelry group for things like reading recommendations, weight loss, photography resources, pets and wildlife, and other non-crafty things. We can add new channels for any or all of those topics, and more…
Can we add new channels?
We can add new channels for anything you're interested in – I bet other PJers will want to talk about them too! Just suggest a new channel topic in the main chat thread and one of our mods will add it as a new channel.
---
See you there?
I'd love to say hello to you in the chat room and get to know you better, so please do come and join our PlanetJune community on Discord (jump back to the instructions here). It's a positive, friendly space, and we'd love to welcome you to the party!