Have you seen this novelty loop yarn in stores? It's designed to be finger-knit with no tools – you just pull one loop through the next.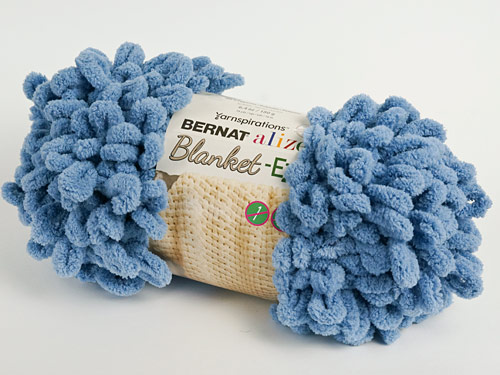 Working straight gives you a standard knitted fabric, and crossing pairs of loops before you 'knit' them lets you make pretty stitch patterns.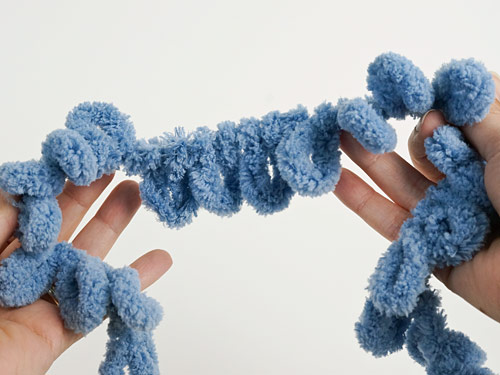 I picked up a bargain bundle of this Bernat Blanket Alize Blanket EZ from the yarn factory outlet store as part of my quest to find relaxing crafts to try. (And yes, this is the wrong time of year to be making a cozy blanket, but I have air conditioning, so it's not that bizarre…)
Choosing a Pattern
Once you know what you're doing, you can probably adapt many knitting patterns for this type of yarn, but I'd recommend starting out by choosing a pattern that's designed especially for loop yarn.
I chose my favourite pattern, Yarnspirations' Diamond Lattice Blanket, and looked up other projects on Ravelry to see what other people thought of it. Based on the feedback of a few other ravelers, I started by forming a starting chain so the bottom of the blanket would match the cast-off edge, and pulled up a row of plain knit stitches in the back bumps of the chain before beginning the lattice pattern, to give a straighter bottom edge.
This pattern says it's rated as 'experienced' skill level, and I agree with that assessment. I wouldn't jump into this as your first loop knitting project like I did unless you really like a challenge. (Luckily, I do!)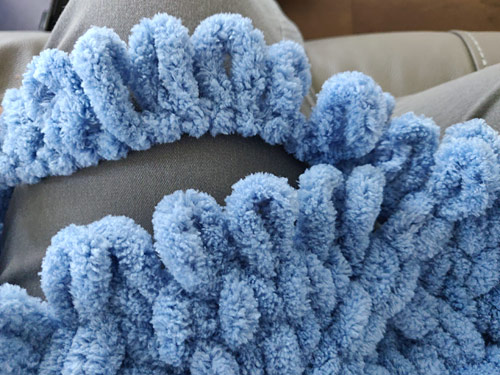 As others had noted in their project notes, the pattern is extremely wordy and not clear to follow. I decided to just ignore the pattern directions after the first row, and figure it out myself based on watching where the slanted crossed stitches should go next. I got a bit confused at the edges at first, but apart from that it was fairly straightforward, thanks to my experience with crossed stitches in knitting. Again, I wouldn't recommend this specific pattern unless you're familiar with loop knitting and/or regular knitting with crossed stitches.
Loop Knitting: The Process
Loop knitting is actually a little more difficult than I'd imagined it would be:
As you never turn the work, you work left to right for one row and right to left for the next, so each hand has to do different things on odd and even rows.
It's definitely a two-handed craft – crossing loops with one hand while finding the next loop of the working yarn with the other keeps you on your toes!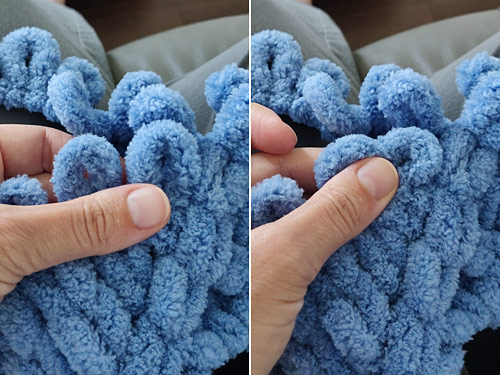 Crossing a pair of stitches
Upsides
Although the in-progress project looks like a knitter's nightmare – just like you've dropped all your stitches off the needles! – the textured yarn holds the loops in place well, so the stitches are fairly secure. It even takes a bit of effort to frog these stitches if you make a mistake, so stitches unravelling by mistake doesn't seem to be a problem.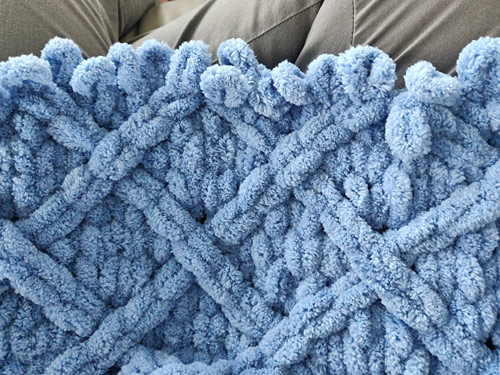 The yarn is very soft and feels nice to work with (if you're familiar with plush chenille super bulky blanket yarns, it's like a looped version of an extra thick one). As each stitch is large, it works up quickly and the resulting fabric is extremely thick and plush – I'd never use this yarn and technique to make anything other than a cozy blanket.
Downsides
I discovered a major problem with using this kind of yarn: as you never turn the work, you don't see the back until you've finished (or stop and flip it over). That wouldn't be a problem, except that it's very easy to skip a loop in your working yarn without noticing, so you keep going blissfully along with no problem until the end of your session when you fold up your work and see this: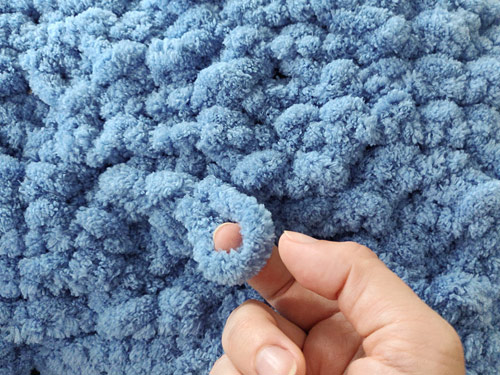 Noooo!
A big loop on the back of the work! The only solutions at this point are:
Cut the loop off (which should be just as safe as starting a new ball of looped yarn – there's just a tiny nub of plain yarn at the end of each ball – but that would leave two extra tiny nubs in your work).
Cut the loop in half and weave in each of the resulting ends (again, it's safe to do this, but I'm not sure how well the ends would stay hidden over time).
Undo alllll the way back to the loop and redo it properly.
Can you guess which one I did?! That's right, I frogged back to fix the mistake whenever I realised that I'd done it again, sometimes unravelling 5 or 6 entire rows, so I could fix the problem – ugh.
And here's the other problem with this yarn: the fluffy chenille is very 'grabby' – when you've pulled a loop through another loop, they tend to hold in place. This is obviously a good thing when you have a whole row of loose loops to work with, but it does mean that unravelling takes almost as long as knitting the loops in the first place!
Adding a New Ball of Yarn
I couldn't find any info on how to add the next ball of yarn, so my solution was to hold the last loop of the old ball and the first loop of the new ball together. Then, on the next row, all I had to do was to remember to pass the new loop through both the loops below.
Tip: As there are free loops all over the place, it's easy to miss the doubled loop, so I clipped a locking stitch marker around both loops so I could easily spot them again as I worked the next row.
The Result
My finished blanket is 43×57″, which is a nice size for a sofa throw. (It did confuse me though, as the pattern claims the blanket is 56″ wide, not 43″ – I think that must be a mistake in the pattern instructions, as that's a huge discrepancy.)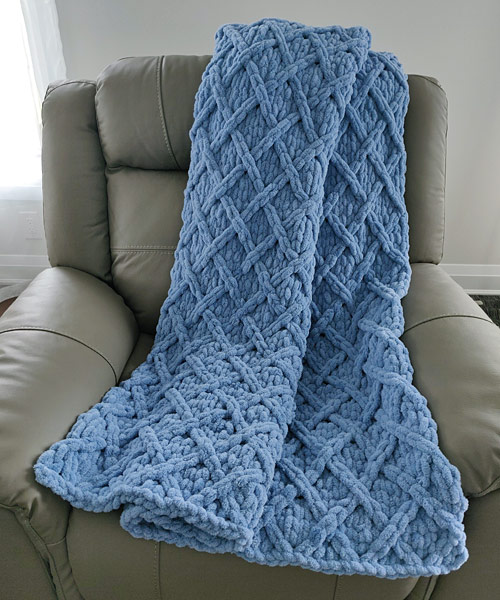 Isn't it pretty?
Although it's far too hot to even contemplate needing a thick cozy blanket at the moment, I know I'll enjoy using mine when the cooler weather arrives. It's very soft, has a good weight to it, and I love that lattice stitch pattern.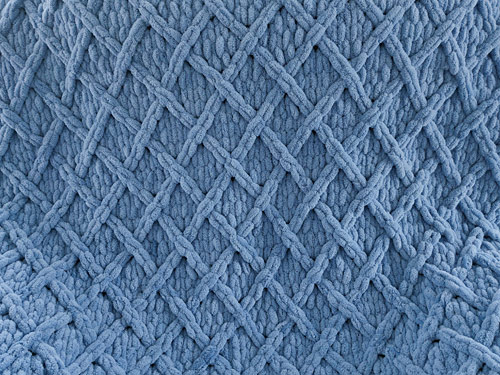 A couple more angles…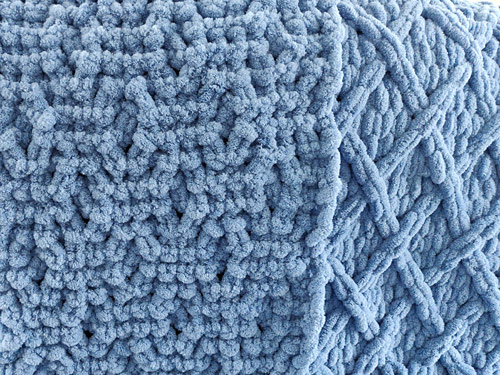 Here's the texture of the back of the blanket.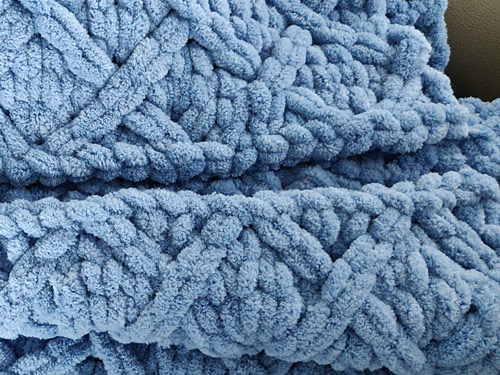 And here are the top and bottom edges – they did end up matching nicely.
And, most importantly: it's passed the Maggie test! She curled straight up on it on my lap and went to sleep – that's high praise from my discerning girl. 😉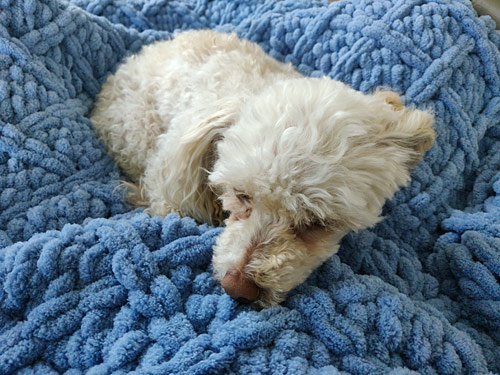 Relaxing Verdict
Loop knitting is definitely a relaxing craft if you're following a simple repetitive pattern. Once you've completed the first row, it's very easy to form knit stitches by pulling the next loop from the working yarn through the next loop of the row below. I found it to be mostly relaxing once I got used to my more challenging stitch pattern, and if you chose a more straightforward stitch pattern, it would be very relaxing!
Finger knitting with pre-looped yarn means you don't need to worry about tension – the size of each loop is fixed, so you know you'll get a nice even result without any effort to control it. But it does give rise to the problem of accidentally leaving a loop on the back of your work – that's one thing that would never happen with knitting or crochet, or even finger knitting, where you always control the flow of yarn.
Immersing your fingers directly in the soft cozy yarn to create a blanket makes a nice change from holding a hook or needles, but my overall verdict is that looped yarn is a bit of a novelty with limited applications. It's fun to try, and the results can be lovely – I'm very happy with my chunky blanket! – but I don't see loop knitting becoming the 'next big thing' in fibre arts. What do you think?