Before we begin: ARTDOT provided these products to me for review, and set up an affiliate account for me, but I'm not being compensated for this review, and, as always, my opinions are my own!
Do you take time off over the holidays to relax and decompress? I love to stay home and do jigsaw puzzles or relaxing crafts while the TV plays in the background.
One of the crafts I'm still enjoying is diamond painting (see my posts from last year), and when ARTDOT approached me about a collaboration, I saw that some of their products looked like they'd be really useful, so I've been testing them out in preparation for my holiday crafting sessions!
These are multi-purpose products, so do take a look even if you aren't into diamond painting – the storage products would also work for beading or other small craft supplies, and the light pad is perfect for tracing designs onto paper or fabric. And I have a special discount code for you at the end of this post!
Storage Case
This is the Diamond Painting Storage Case. I got the medium size – it also comes in smaller and larger sizes, and in a colourful pink patterned version if you don't love the smart black and purple option.
It's a nice sturdy zippered case, and I love that purple!
To test it out, I picked up a small diamond painting kit from amazon to play with and decanted all the diamonds using the provided silicone funnel.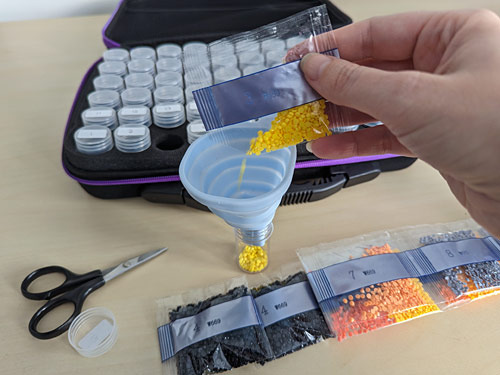 Tip: Although I found the funnel useful for this initial step, once you're working with your diamonds you can tip them straight back into their jar from the tray.
I'm really impressed with this case – it has a convenient screw-topped jar to store each colour, and they're all mounted in a custom foam base so they don't get mixed up and out of order!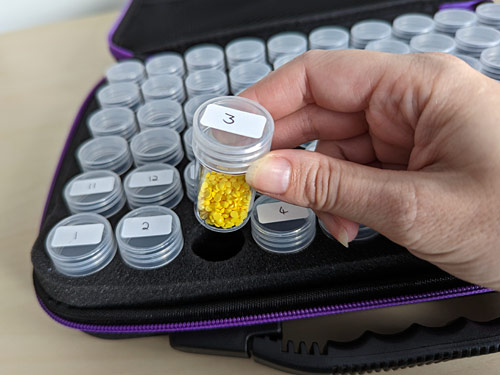 You can store your pen, tray, spare wax and other accessories in the mesh pocket inside the case lid, so it's a convenient and portable solution to keep all your accessories together.
Tip: Although the colours and symbols will be different for each kit you buy, the key should always have numbers, so by labelling your containers with the numbers you can reuse them for future kits without having to change the labels!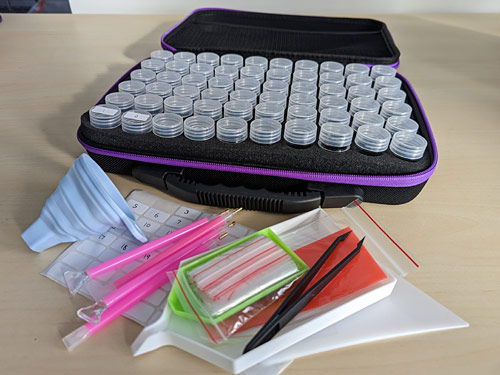 The storage bag also came with stickers to label the jars, and the above set of bonus diamond painting accessories – I don't need all the included items, but I really like the extra-large tray!
Tip: I bought myself a couple of fancy resin diamond painting pens from amazon as I find the larger handle much more comfortable to use, but despite trying several fancy expensive tips, the best tips I've found are the ones that come on these cheap pink pens! So don't throw those pens away when you get one with a kit or accessory – pop out the tip and you'll have spares for your fancy pen handle!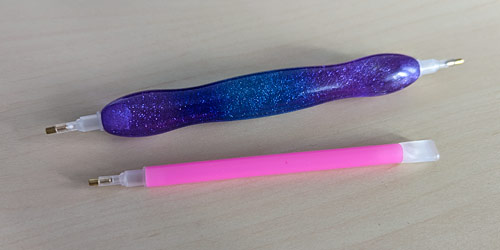 Light Pad
This is the Light Pad For Diamond Painting (although it's actually a multi-purpose crafting item – I'm also going to use it for tracing punchneedle patterns onto fabric, and I'm sure it has multiple other crafting uses!)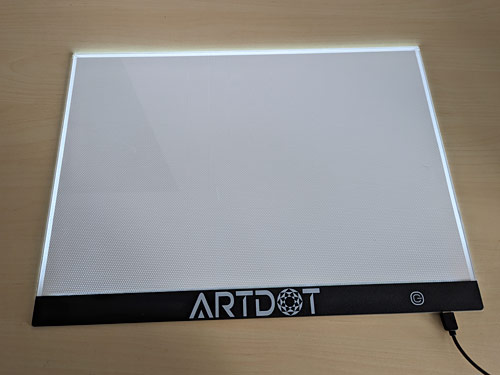 I got the A3 size (that's ~17×13″, it's massive!) – it's also available in both smaller and larger sizes, and the smaller A4 one (~14×10″) would be fine for most needs.
The light pad comes with a stand and binder clips, so you can clip your work directly to it and use it in a more vertical position like an artist's easel, if that works for you. It also comes with the same accessories (pens, trays, wax etc) as my storage bag above, and a diamond storage box with little flip-top containers.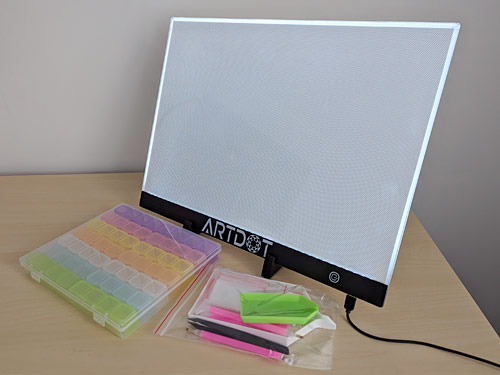 I can't believe how thin this light pad is – it just looks like a sheet of acrylic, and is barely thicker than the USB socket! The website says it's over an inch thick, but that measurement must include the stand – I measured the pad and it's only 3mm (1/16″) thick. But it really works – it uniformly lights up the surface and has three levels of brightness.
Storage Drawers
And finally, these are the Stackable Diamond Painting Storage (Square Bottle). I got 4 drawers, but you can buy them in smaller or larger quantities too, and each drawer clips to the others horizontally or vertically so you can build a custom storage system of any size.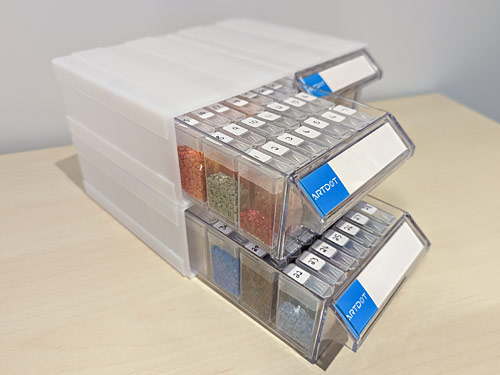 I've had a large diamond painting in progress for a long time, and this (below) was my diamond-storage solution up till now – all the colours were in ziplock bags and arranged by number in a box (apart from the large bags, which wouldn't fit). But the bags are starting to break after repeated opening and closings, and I've had to double up bags in some of the compartments because my box only has 30 spaces and I have 45 colours: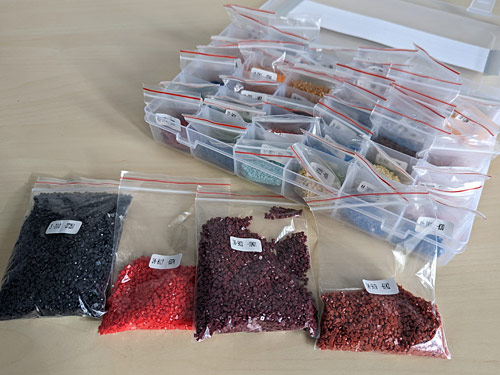 Before: not ideal! All these diamonds are now neatly organised in the storage drawers above.
These storage drawers make wrangling all those colours so much easier! You can choose to buy the drawers with either the round bottles I showed you in the storage case above, or these small rectangular tic-tac-style bottles: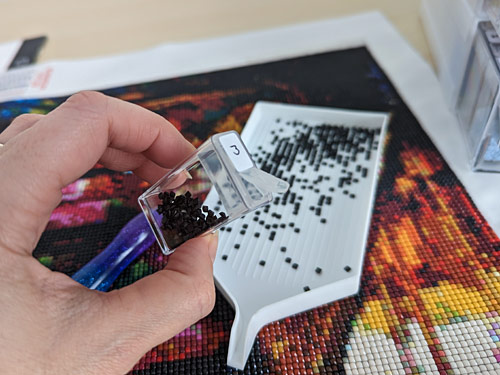 I chose the rectangular bottles as they're perfect for large kits with small quantities of many colours. Just be aware that the opening in the lid of the tic-tac box is so small that you have to pull off the entire lid of the box each time you fill it, so the flip-top lid is only useful for tipping out the diamonds into the tray, not replacing them after you use them.
UPDATE: The tic-tac boxes work perfectly without removing the lid if you use a standard-sized diamond tray! It's just the extra large tray pictured above that they aren't great with. Now I keep the extra large tray for the black diamonds (there are soooo many in my project!) and I'm completely satisfied with using the tic-tac boxes with a regular tray for all the other colours – this setup makes swapping between colours easy and fast.
If you don't need that many bottles, I'd suggest getting the version with the round screw top bottles – you only get 32 bottles instead of 35 in each drawer, but I think I prefer the round ones.
Tip: Although this product also comes with a silicone funnel, I found it easier to fill the containers directly and skip the funnel.
My Experience
Part 1: Sofa Crafting
I clipped my small diamond painting directly to the light pad. The pad is thin and light, but perfectly sturdy, so I can easily work on my lap on the sofa without any additional support. It's easy to see the canvas, even in low light when I'm watching TV at night.
I'm using the lowest of the 3 brightness settings, and I love how this is bright enough to clearly see what I'm doing without lighting up the whole room. There's plenty more power available if you need brighter backlighting for your project.
Look how easy it is to see my project without straining, even at night: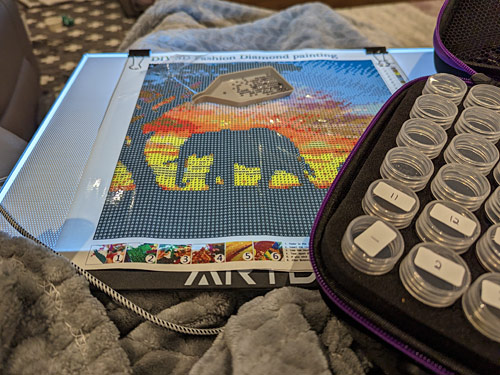 This painting is just a cheap kit I picked up from Amazon – the picture reminded me of the best parts of my time in Africa…
And I unreservedly love this storage case! It's so convenient to have all my tools to hand and be able to put everything away neatly in seconds when I've finished crafting.
I don't really trust flip-top containers when I'm crafting on the sofa – if I got distracted and a lid popped open, I'd have diamonds everywhere. This is my perfect sofa-crafting solution: the screw-top jars feel very secure, and each jar is held securely by the foam base so they don't roll around inside the case.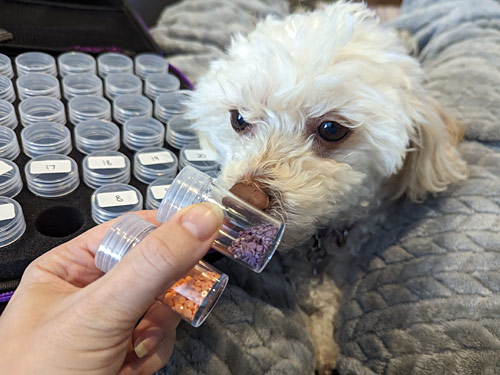 I think Maggie approves too!
That's my cozy holiday evening crafting sorted – thumbs up all around.
Part 2: Desk Crafting
And now to my big diamond painting! For my birthday last year (well over a year ago now) I received a huge 2x3ft (60x90cm) diamond painting canvas. But I'd only finished a small fraction before it became impossible to work on while sitting on the sofa – you can't roll up the parts you've already completed, so it was getting larger and more unwieldy as I unrolled more of the canvas.
I cleared a desk in my studio as a dedicated crafting space and laid out my canvas there, but I've struggled to tell some of the symbols apart when there wasn't full daylight streaming into the room, so I have to admit that my beautiful painting has languished, mostly untouched, for months.
But now, all that is solved! Slipping the slim LED light pad underneath my canvas makes it so much easier to see the symbols I'm working with.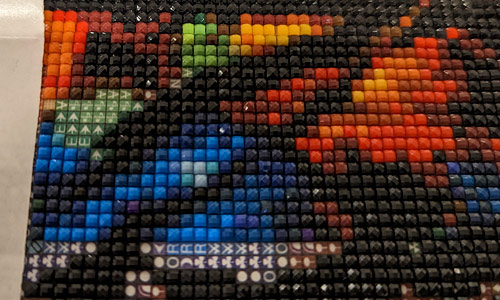 Light off. The symbols are the squares where I have yet to place a diamond.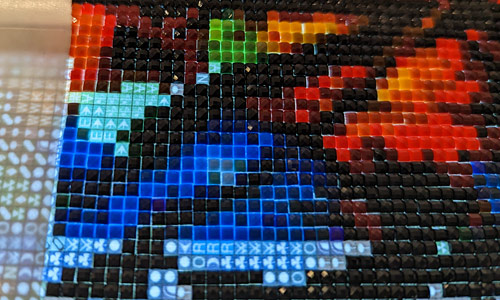 Light on! And – bonus – look how easy it is to spot if you've missed a diamond (compare the individual symbols near the bottom right with the same area in the previous pic)!
The storage drawers are very handy if you want to keep lots of small materials you need regularly to hand, in a dedicated workspace. In general, I think the portable case is a more versatile choice, but these drawers let me store a lot of colours in a very small space on my diamond painting desk, so they're perfect for a long-term project like this.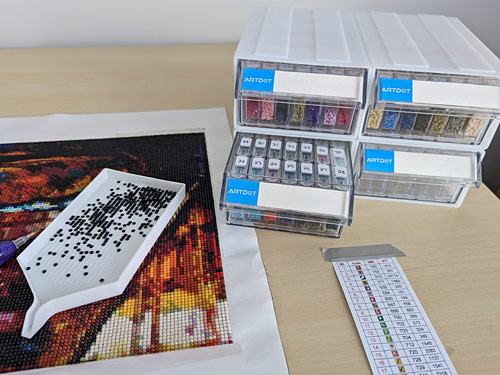 Tip: I've taped a printout of the key to my diamond painting just in front of the drawers, so it's easy to grab the right diamond colour without needing to consult the key printed at one edge of the canvas.
As the tic-tac style bottles are so small, I've had to use multiple bottles for a few of the most numerous colours. But I have more bottles than I need, so that's fine. It'll be nice to just grab a spare bottle of #3 (black – there's always so much black!) when I run out instead of having to decant more diamonds from the larger bag!
And oooh, look, my painting is starting to look like something (it's only about 1/4 done!)…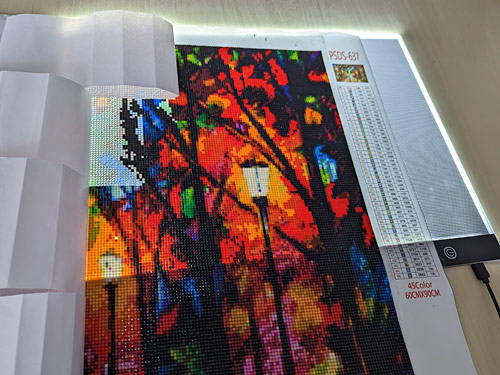 In case you're wondering, this is an officially licenced version of a painting I love, Farewell to Anger by Leonid Afremov.
I wanted it large so I could hang it on the wall when it was finished, and so the detail wouldn't get lost, but I lost momentum when I couldn't easily work on the project. Now I'm excited to get back to it and make some progress – I love seeing all the colours developing, and it's so much easier to work now I have all my diamonds conveniently at hand and can see the symbols clearly without straining!
Buying Info – and a Special Discount!
I hope you found this review useful. I definitely recommend getting a light pad and a proper storage solution for your diamond paintings – it makes the world of difference. And I can recommend any of these ARTDOT products – the quality is good and they're very reasonably priced (and are all currently on sale too!)
All the ARTDOT products I reviewed here are available (and highly-rated) on amazon, but for the best prices you can buy them directly from ARTDOT with free shipping & fast delivery within 2-5 business days to the United States, Canada, United Kingdom, France, Germany, Italy, Netherland, Spain, Belgium, and Australia.
You get reward points with every purchase, and ARTDOT are offering PlanetJune readers an additional 10% off your order – just go to ARTDOT and enter code JUNE at checkout. Enjoy! 🙂