I've been experimenting with making my own skincare products using natural ingredients, and I thought you might be interested to hear about it…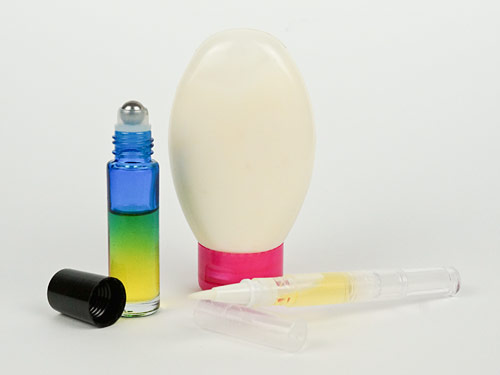 I'll tell you all about these later in this post!
Hand cream and nail oil are secret weapons in my business – it's only because of them that my hands (hopefully!) never look objectionable, even in close-up tutorial photos.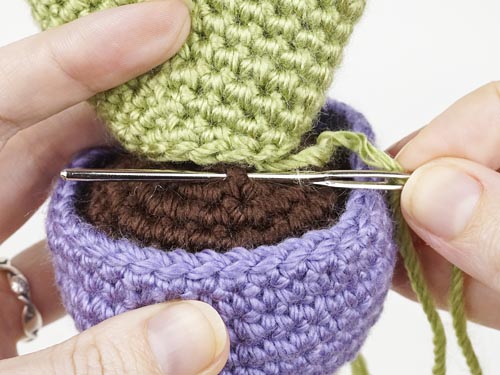 Not a hangnail in sight!
How I Got Started
My journey to make my own lotions and potions began with a quest to protect my face from the harsh cold of the Canadian winter. After developing eczema while living in South Africa (where it never gets very cold), I discovered I had a whole new set of skin problems to contend with when I came home. I needed to find a way to protect my now-sensitive face, which had become extremely intolerant of the cold.
I bought and tried lots of creams that I'd been recommended, with results ranging from ineffective, to eczema-triggering, to disastrous (e.g. covering my face in Aquaphor without realising that it contained lanolin until my eyes swelled up and the allergic reaction began…)
So I decided to take the plainest moisturising cream that didn't give me any symptoms, and supercharge it by adding extra skin-friendly oils to rebuild and protect my skin's moisture barrier. And it worked! My skin is much happier these days 🙂
But this wasn't just useful… it was fun! I realised I could probably mix my creams and oils in different ways, with a few extras, to make different skincare products for myself.
Choosing Oils
There are lots of 100% pure oils derived from plants that have beneficial properties for the skin: grapeseed, sweet almond, jojoba, rosehip, argan, marula, and many more. To figure out which I should try, I looked at the ingredients of products I already liked, then did some googling and borrowed books from the library to find out which oils sounded like they'd be most helpful for my needs.
And then there are essential oils: highly concentrated plant extracts that must be diluted before use. They are used for aromatherapy and may have other health benefits. There's a passionate community of essential oil advocates and I briefly got sucked into that – the potential benefits of certain oils made them sound very appealing. After I bought a few bottles and tried them, I realised that I don't do well with most scents – giving myself a headache was not what I intended! Now I only use the essential oils that have a scent that makes me feel happy and calm (more on that below).
Once I'd sorted out what to try, I bought some of my supplies from a local health food shop, and some online.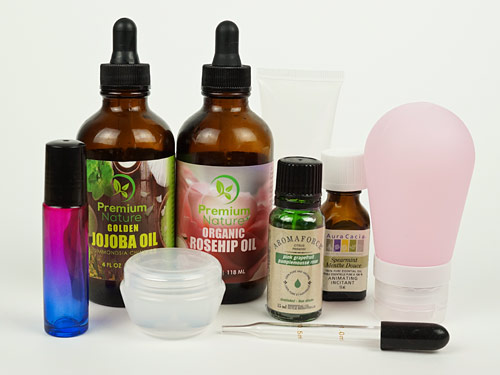 Supplies: ingredients and empty containers
I did some more research to figure out roughly how much of each oil I should be using (here's a very rough starting point: up to 10% of regular oils and 1% of essential oils), and then started experimenting with adjusting the proportions until I got a result I liked.
Combining the Ingredients
If my end product will be an oil, I use droppers to add the different component oils into the container and then close the container and shake it to mix them together.
It's a little more difficult when making a cream or lotion. First I measure or weigh out all my ingredients into a bowl and mix them together with a little spoon: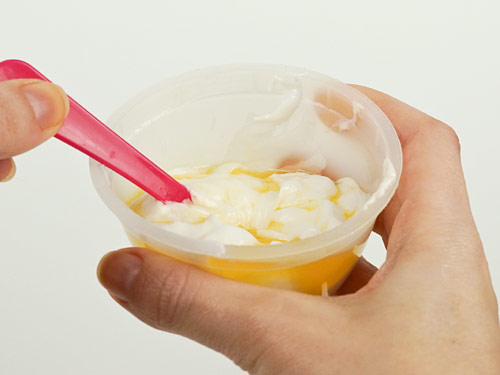 In these photos I'm making my pink grapefruit hand cream, and yes, it looks pretty unappealing at first! But after a good mixing it looks smooth and creamy: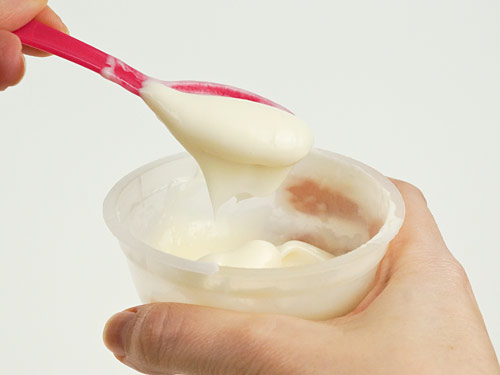 I've discovered that you have to mix and mix to get the oils to emulsify properly with a cream or lotion – even if it looks well-mixed, the oils can begin to separate out after a few days or weeks. Now, I stir for an extra minute or two after it looks like its fully mixed.
Then it's just a matter of decanting into a container and it's ready to use and enjoy!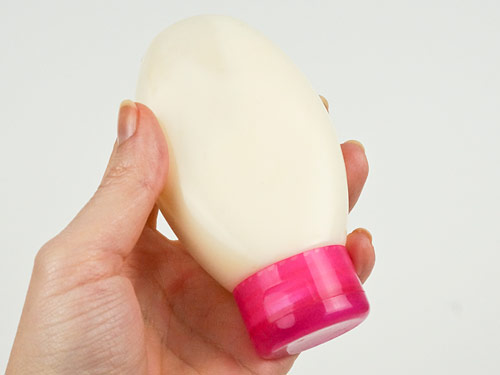 (All my containers are reusable: I wash them out when they're empty and refill them, so I can be a bit more environmentally friendly.)
My 'Products'
(I'm calling them products, but these aren't intended for sale – they're just for my own use.) These are my favourite skincare products that I've made so far: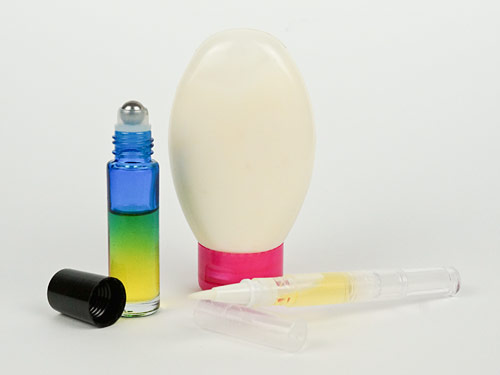 L-R: headache oil, hand cream, nail oil
I made a spearmint headache oil in a glass rollerball bottle, with a sweet almond oil base. I massage it onto the sides of my forehead when I get a tension headache and it helps. Spearmint essential oil has a sweeter and more uplifting scent than peppermint, it's gentler on the skin, and I find it very relaxing. And doesn't the yellow oil look pretty in my blue/clear glass bottle?!
I came up with a really rich moisturizing hand cream enriched with jojoba, rosehip and pink grapefruit oils, which completely stops my hands from getting dry or rough (even with all the hand washing we have to do these days!) I find the sweet citrus scent of the pink grapefruit to be a great mood-lifter and very relaxing.
I replaced my favourite (and pricey) nail oil with my homemade version – sweet almond and jojoba oils and vitamin E in a container with a built-in brush applicator keep my cuticles looking good for all those close-up tutorial photos. It doesn't have the almond fragrance of my favourite brand, but that's just an artificial fragrance anyway, so I'm happy to live without the scent. I get the same results as the brand name for a fraction of the price, so I can use my nail oil as often as I want without feeling guilty!
Verdict
As any crafter knows, it's always a special feeling to be able to use things you've made yourself.
I know this may seem like a small thing, but using my own customized creams and oils with my favourite uplifting natural scents gives me a little happiness boost every time I wash my hands or prepare my cuticles for taking photos, or comforts and relaxes me when I have a headache or eczema symptoms.
Try It Yourself
If you want to try dabbling, it can be as simple as adding a couple of drops of your favourite essential oil to a jar of lotion and then stirring it well until it's all mixed in. For example, I add a few drops of spearmint essential oil to my tub of foot cream and it adds an extra zing to the unfragranced moisturizer.
Or, if you want to try just one moisturising oil, I'd recommend jojoba oil. Its molecules are close in size to the natural oils produced by the body, so it absorbs very easily, making it a highly effective moisturiser. You can mix it with other ingredients like I do, or use it by itself as a moisturiser (it's safe to use anywhere on your face and body) or cuticle oil. It's light and gentle – despite the name, it's actually a liquid wax, not an oil – and, as it absorbs so well, it won't leave you feeling greasy or looking shiny. It's stable, and a little goes a long way, so one bottle will last for ages – my first bottle is still going strong after 18 months!
---
Do you make your own skincare products? What are your favourite ingredients? Or are you tempted to try something for the first time now? Tell me about it!