Today's PlanetJune Story comes from Dorte Jensen in Denmark, who used a selection of my crochet patterns to create this gorgeous realistic fishbowl!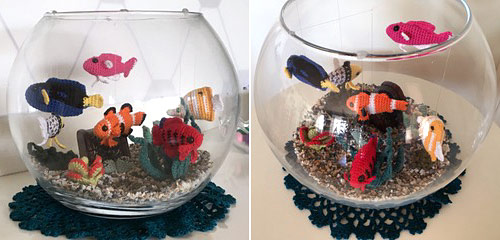 I'll let Dorte explain how this project came to be:
---
My husband saw your tropical fish patterns and said that they were so cute and that he wanted these fish made for his birthday. I don't remember when the idea came for me to use a real fishbowl for them.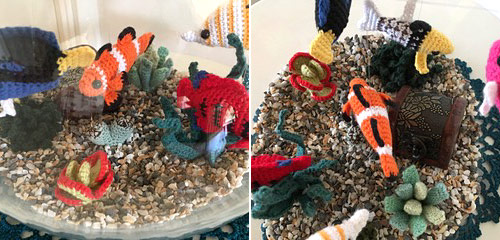 My plan required some plants for the bottom of the bowl. I had seen your succulent collection 1 and 2 and I really wanted to crochet them but had never found the time for them. I realized that I could use those plants for the fishbowl. I also came up with my own idea for a plant that the red fish could hide in.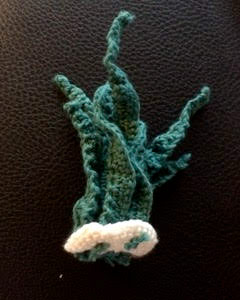 I didn't have "earth" to sew the plants onto so they would stand up straight. I made a white circle to sew them onto that I could hide beneath the stones in the bottom of the bowl.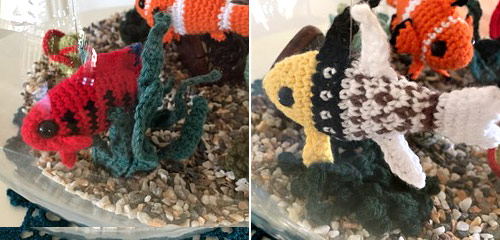 I suspended the fish using fishing line – I thought that would be most invisible. Then some dots of glue on the edge of the fishbowl to keep the line and the fish in place. I used a line across the fishbowl so the clownfish could hang in the middle of the bowl.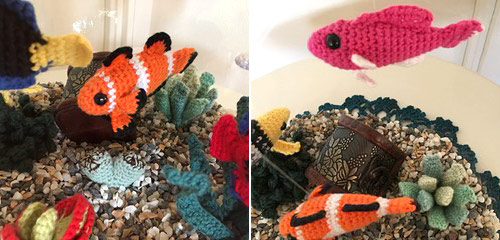 Finally I just want to say that both the fish and the plants were so much fun to crochet, and your crochet tutorials have taught me a lot. It is always a great pleasure to follow your great, well-explained and well constructed patterns.
---
(Back to me, June, again!)
Thank you so much, Dorte! Isn't this a fabulous project? Beautifully crocheted, and using the large glass fishbowl with real stones in the bottom was an effective way to add to the realism of this display.
I think the succulents and her clever plant design look perfect in there too. I was surprised to see how well my succulent patterns stand in for corals and aquatic plants (and yes, in case you're wondering, I do have some real coral patterns planned for some point in the future too…)
I hope these beautiful colourful fish have brightened your day (and maybe even inspired you to make a crocheted aquarium of your own?) Please leave Dorte a comment if you've enjoyed this post!
Do you have a PlanetJune Story you'd like to share? I'd love to hear it! Please email your story to june@planetjune.com, together with one or more high quality photos showing what you've made from PlanetJune patterns. If I choose your story to feature here on the blog, I'll send you your choice of pattern from my shop to say thank you!
---
PS – If you're looking for the PlanetJune patterns featured above, you can find all my Tropical Fish and Succulent crochet patterns in my shop 🙂