Today's PlanetJune Story comes from Ann Rowley in the UK. Ann first contacted me to ask for some advice on upsizing my Orca (Killer Whale) pattern to Giant scale.
I cautioned that, in Giant scale, the Orca would take a lot of yarn and likely be over 3 feet long! Even so, Ann thought that it would make a perfect gift to give to her 12 year old great niece who loves sea animals, saying "I've ordered the yarn as she is very worth it. I must admit I'm now a bit worried that I won't manage it but I'll give it a go".
Armed with my Orca pattern and Complete Guide to Giant Amigurumi ebook, Ann got to work, and, just a few days later, she emailed me again with photos of the result! I was so impressed, I knew you'd love to see her amazing Giant Orca too.
Over to Ann:
---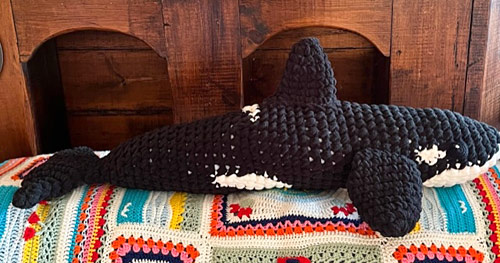 The Orca is 38" long nose to tail.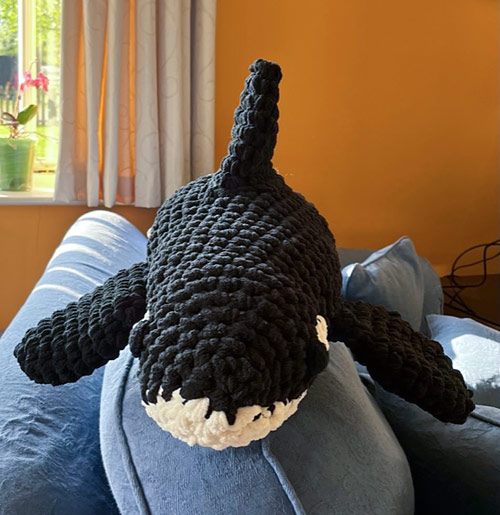 I used 596 grams of Bernat Blanket in black (phew just made it from 2 balls) and 94 grams in white, plus a bit of scrap aran/worsted in black and white for the eyes.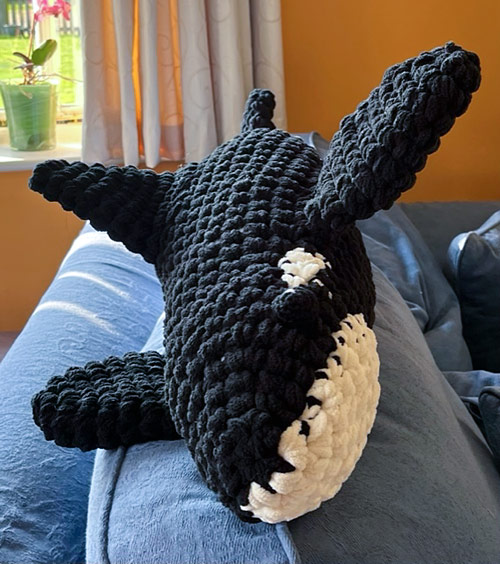 I did try to follow the pattern exactly apart from not cutting yarn on every colour change.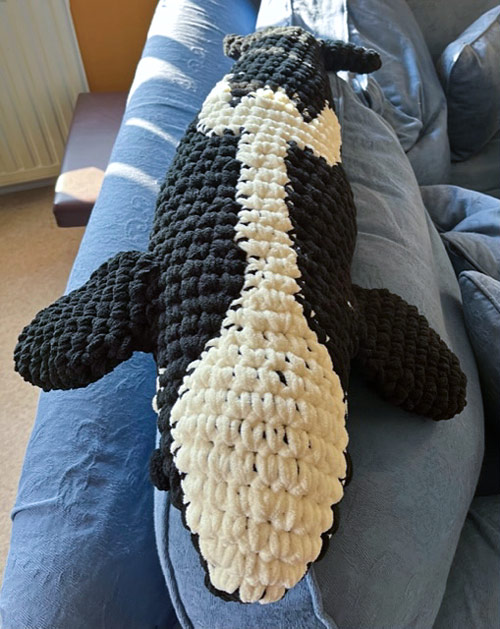 The Orca was gifted to my 12 year old great niece who loved it. She is now named Orla the Orca. Several names starting with O were tried, some male as well, but apparently she's an Orla. I am very happy as this might possibly be the last year she wants a giant crocheted animal, next year as a teenager they just might not be cool.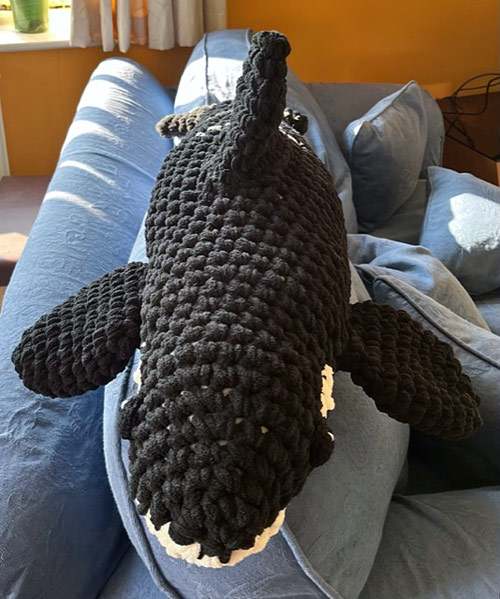 My nephew commented how he liked the eyes! A relief as I didn't think they showed much.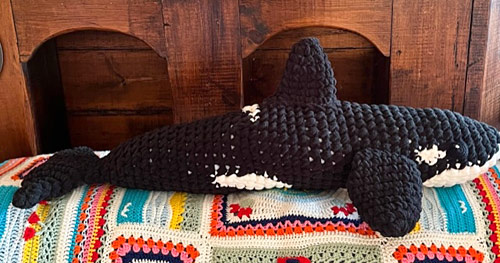 Thank you so much for such a fantastic pattern. Easy to follow and a great result. I can imagine some baby orcas coming along…
---
(Back to me, June, again!)
Doesn't it look fantastic? I'm thrilled with how well it turned out – you did a great job, Ann! At 38″ (97cm) long, this truly is a GIANT Orca, and I bet your great-niece will treasure her one-of-a-kind gift forever.
Thank you so much, Ann, for sharing your story with us today 🙂
Please leave Ann a comment if you've enjoyed this post!
PS – If you'd like to make your own giant orca – or any other giant amigurumi! – here are the links to the PlanetJune pattern and ebook that Ann used:
---
Do you have a PlanetJune Story you'd like to share? I'd love to hear it! Please email your story to june@planetjune.com, together with one or more high quality photos showing what you've made from PlanetJune patterns. If I choose your story to feature here on the blog, I'll send you your choice of pattern from my shop to say thank you!