Today's PlanetJune Story comes from Belinda from Australia. Belinda first contacted me when she'd made her turtle beach blanket and wanted some advice on the turtles, then she stayed in touch with her progress on the baby turtles, and her clever idea for a matching turtle heat pack. I knew you'd love to see this project too, and to hear about how she came up with this idea and made it happen!
Over to Belinda:
---
Between gifts for my children and other family members, I rarely make things for myself, but when I saw a friend's Turtle Beach blanket, I loved it so much that I made one for myself.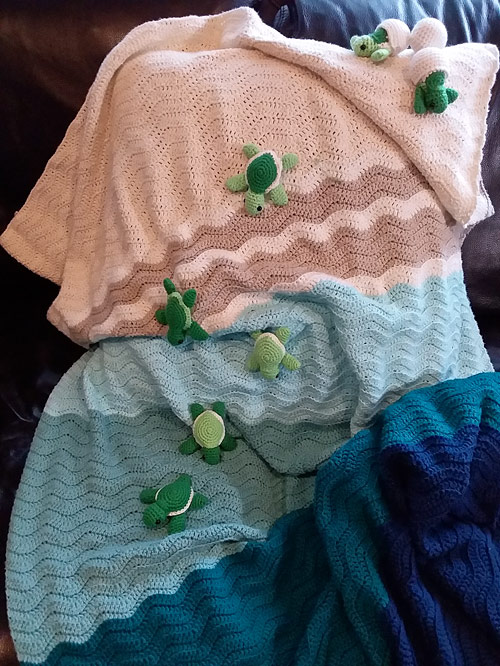 I crocheted the blanket and turtles with 8-ply cotton from Bendigo Woollen Mills. While mostly made while waiting at school pick up and in doctors' surgeries, I also crocheted the blanket at every beach I went to, including Peterborough in Victoria, Penguin in Tasmania, and Geographe Bay in Western Australia. I used June's technique of attaching the baby turtles with buttons so they can, and do, move around.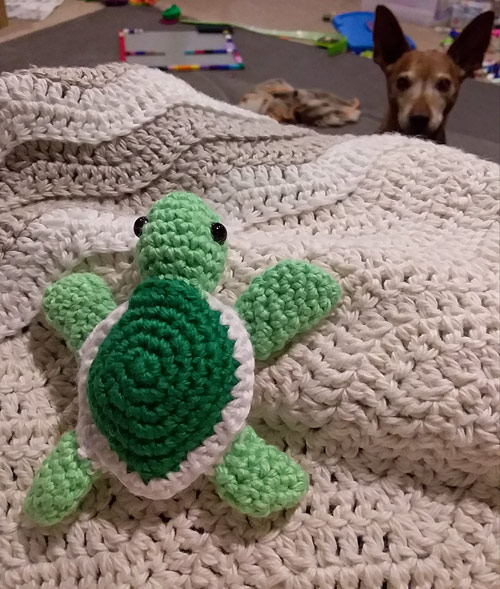 Once the blanket and baby turtles were complete, I realised they needed a companion. I hoped to make a cushion, so I bought the AquaAmi and Simple-Shell Sea Turtle patterns.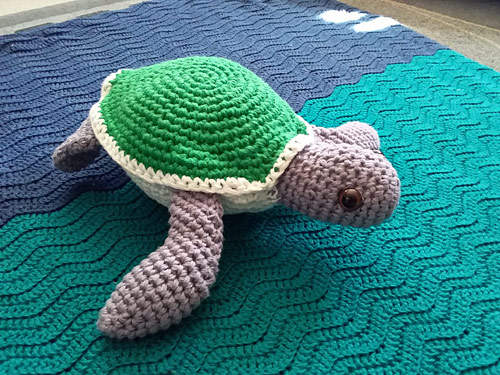 The turtle pattern didn't prove big enough for a cushion, so I made a heat pack! The shell, head, legs and tail are crocheted with 10-ply cotton held double, and a 5.5 mm hook. To make sure the heat would be close to the surface, I crocheted the tummy with one strand of yarn and a 7 mm hook. Other than that, I did not make any changes to the pattern.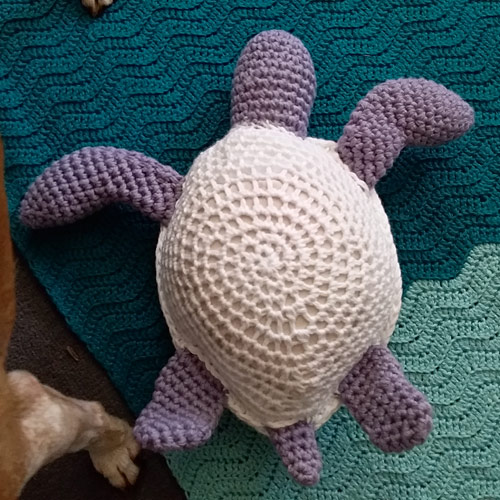 I sewed a little canvas shape and filled it with wheat, then put it against the tummy side, packed polyester stuffing between it and the upper shell, then attached the head. I used plastic backed eyes. It's been in the microwave quite a few times and seems no worse for wear.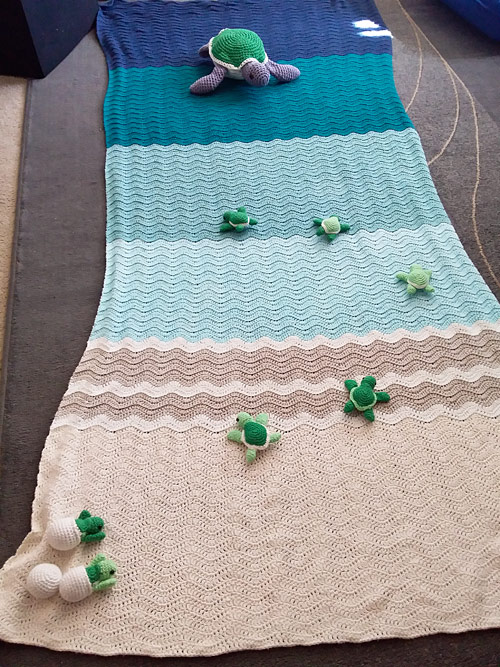 I usually use a heat pack when I have a sore tummy and am feeling a bit sorry for myself. Having a warm, friendly turtle looking after me is lovely at a moment when I need that extra bit of care.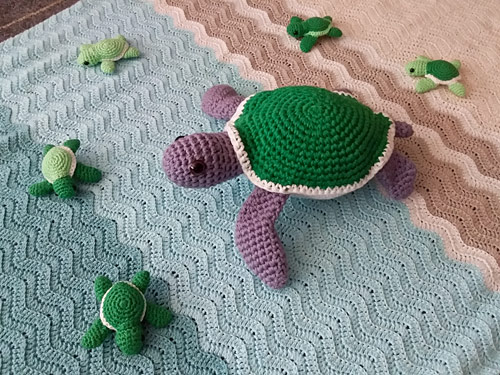 I love June's patterns, and I love my toasty turtle!
---
(Back to me, June, again!)
I love your idea, Belinda! It's such a good idea to make the turtle into a heat pack – I'd never have thought of that, but I think I might need to make one for myself now – a warm cuddly turtle to soothe a sore tummy sounds very appealing 🙂
(And isn't that long narrow blanket the perfect shape for lying on the sofa? This entire project is very cozy and snuggly!)
Thank you so much, Belinda, for sharing your story with us today 🙂
Please leave Belinda a comment if you've enjoyed this post!
PS – If you'd like to make your own turtle beach blanket and/or toasty turtle, here are the links to all the PlanetJune crochet patterns Belinda used:
---
Do you have a PlanetJune Story you'd like to share? I'd love to hear it! Please email your story to june@planetjune.com, together with one or more high quality photos showing what you've made from PlanetJune patterns. If I choose your story to feature here on the blog, I'll send you your choice of pattern from my shop to say thank you!