Amigurumi Beach Ball is a fun no-sew pattern for summer – or for any time of year!
Make a play ball for the kids, a set of juggling balls, or a stress ball to play with at your desk.
Make it interactive by adding a squeaker, rattle or bell when you stuff it.
Stuff it with plastic pellets to make your ball into a bean bag or hacky sack.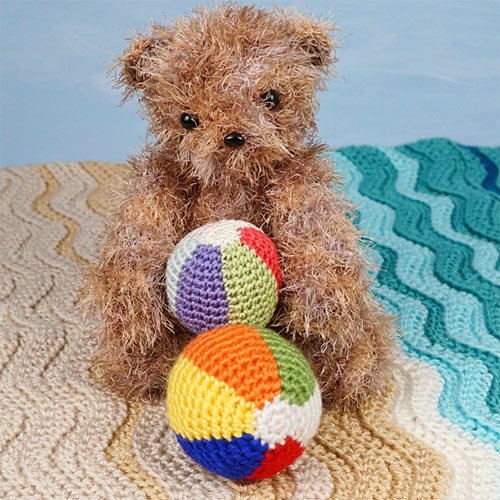 For this pattern, crisp colour changes are essential, and I've come up with a special new technique (a variant of my invisible increase) that makes the colour changes look extra neat at the increase points, plus I've included lots of tips for dealing with the yarn as you go – there's no cutting or knot-tying required!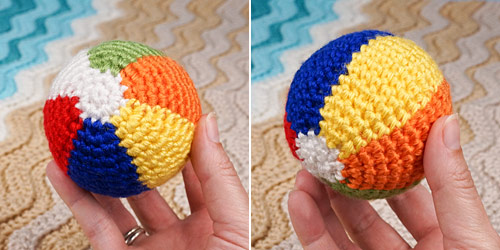 This pattern is great for using up scraps of brightly-coloured yarn! You can choose any 6 colours of yarn for this pattern, and the main colour you choose will also be the colour of the top and bottom circles on the beach ball. I made my main beach ball (above) in light worsted weight yarns (Bernat Satin and Red Heart Soft) with an E US/3.5mm hook, using 'classic beach ball' saturated colours.
I also made a second beach ball (below, left) from Patons Grace, a sport weight mercerized cotton, with a C US/2.75mm hook and whatever colours I happened to have in my stash. This gave me a slightly smaller ball (2.5″ vs 2.75″), and I love how it looks in the cotton too!
Both balls are a great size for playing with, juggling, etc.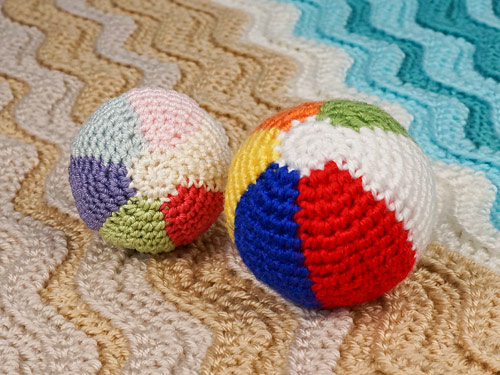 And can I just mention that I designed this pattern very carefully, so the bottom of the ball looks just as good as the top! Look: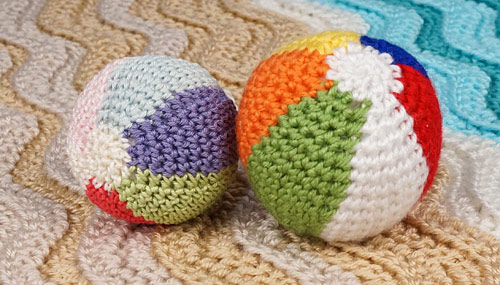 Yep, these are the bottoms of the balls! They look good from all sides 🙂
As I like to reward people who choose to donate for my donationware patterns, the PDF version of the Amigurumi Beach Ball pattern also includes additional tips and photos that you'll only find in the PDF version (including instructions for how to fix any too-tight stitches on your finished ball), and the crochet instructions are all included on one printer-friendly page, so you can save paper and ink by printing only that page.
As always, the pattern is free for you to use online, and you need only donate if you'd like to thank me for my time in creating it, or if you'd like the easy-to-print PDF version with the bonuses.
Go to the free Amigurumi Beach Ball pattern >>
Or jump straight to donate:
Order the Amigurumi Beach Ball pattern >>
Not ready to make one yet? Add this pattern to your Ravelry queue:
---
Summer Fun CAL
If you're about to make a beach ball, why not join a relaxed PlanetJune crochetalong (CAL) while you make it? The rules of the Summer Fun CAL are simple: make any PlanetJune pattern in July or August 2022, and share photos of what you're making!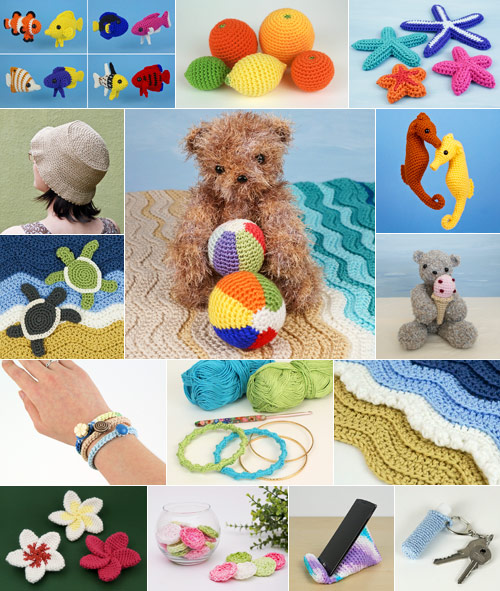 Here's a selection of quick and/or summery PlanetJune patterns to give you some ideas…
If you want to join in with the community and see what everyone else is making, come and hang out in the Summer Fun CAL thread in the PlanetJune group on Ravelry or the #crochetalongs channel on the PlanetJune Discord server.
You can also join in by posting your pics on your social media, and remember to tag me (@planetjune) so I can see what you've been making!
---
I hope to see lots of Beach Balls in different colourways and yarns this summer – this is going to be fun 🙂