I didn't plan to release any new patterns while I'm deep in the book-writing process, but I had a request in the PJ Discord group for a miniature snake to match my Temperature Snakes and… well, I couldn't resist! And here's the result: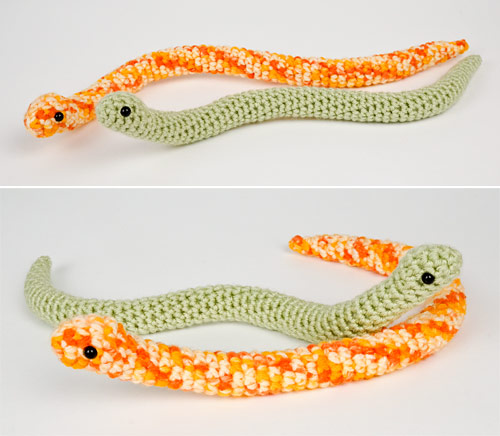 Baby Snake is small but perfectly proportioned no-sew baby snake. The narrow body makes it easy to pose in a variety of realistic positions, and you can make your snakes as long or short as you want.
---
PlanetJune Snakes
I designed Baby Snake to be a perfect miniature version of the snakes in my Temperature Snake and Snake Collection patterns (see photos, below, for size comparison), and you can also use all the striping ideas from those patterns for your baby snakes.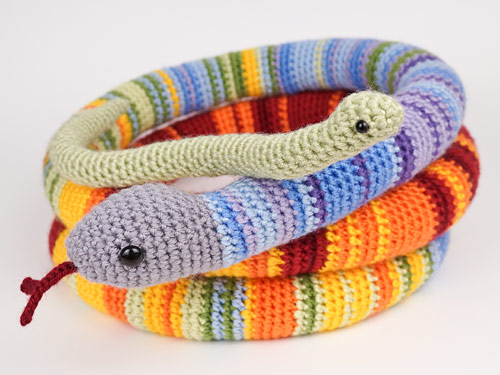 A Baby Snake looks so tiny compared with a Large Temperature Snake!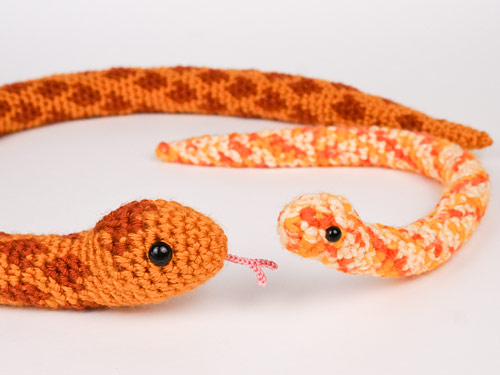 Choose the right colour of variegated yarn and you have an easy baby Corn Snake to match the big one in the Snake Collection pattern!
And, if you're making a Temperature Snake this year, you might also like this idea: a Baby Temperature Snake! Spectrum Jr (below) uses the Baby Snake pattern combined with the temperature snake concept for the body rounds: one round per week, using the 'Most Extreme' averaging option from the Temperature Snake pattern (max in summer, min in winter, avg in shoulder seasons). SJ has the same temperature readings and yarn colours as his mama, so he's a miniature representation of my temperatures last year: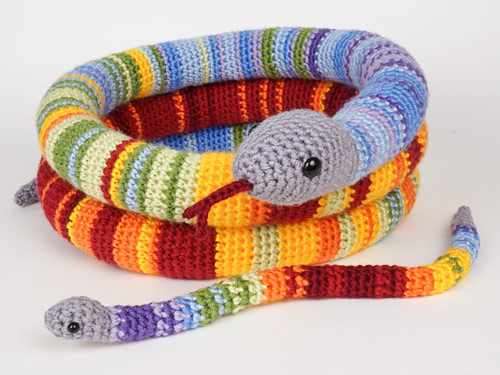 Tip: 52 body rounds is the perfect length for a baby snake, although I think 102 rounds with 2 temp readings per week would have given more variety in the colours, so I'd recommend trying that if you want a more long and interesting baby temperature snake.
---
Make a Snake!
Are you tempted to crochet a super-poseable baby snake (or several)? As you can see, there's a lot you can do with this simple but well-shaped pattern, just by choosing different yarns to crochet with – and it works up so quickly, with no sewing!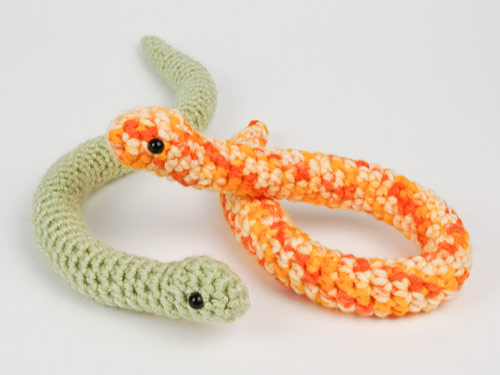 As I like to reward people who choose to donate for my donationware patterns, the PDF version of the Baby Snake pattern also includes additional tips that you'll only find in the PDF version (instructions for managing the tiny eyes and choosing variegated yarns), and the crochet instructions are all included on one printer-friendly page, so you can save paper and ink by printing only that page.
As always, the pattern is free for you to use online, and you need only donate if you'd like to thank me for my time in creating it, or if you'd like the easy-to-print PDF version with the bonuses.
Go to the free Baby Snake pattern >>
Or jump straight to donate:
Order the Baby Snake pattern >>
Not ready to make one yet? Add this pattern to your Ravelry queue:
---
I can't wait to see your baby snakes! Don't forget to share them in the PlanetJune Community groups, and tag me (@planetjune) whenever you post pics on social!