Today's PlanetJune Story comes from Diane Theriault from Boston, MA. Diane had the innovative idea to make needlepointed plastic canvas bases for my Succulent Collection crochet patterns, to make them into modular desk displays that can be arranged in multiple configurations, and combined into a giant window display.
This is such a clever concept, and I knew you'd love to see it too. Maybe you'll be inspired to try it for yourself!
Over to Diane:
---
I first made an instance of the original succulent pattern (the 4 plants in the pot) for my advisor in 2013 and then I made a set of singles in little pots for my labmates in 2015. My main innovation is mounting the succulents on top of little rectangles of needlepointed plastic canvas, which has been working well for me for making modular rearrangeable desk displays.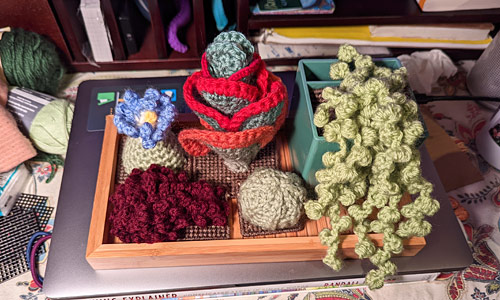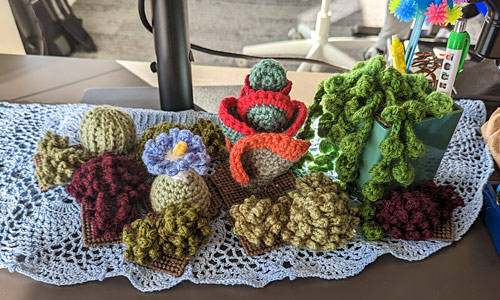 I had an overuse injury in 2017 so I couldn't crochet for a few years, and I started nine months of hand OT in mid-2021 because I wanted to be able to do it again! After a lot of physical therapy, the succulent pieces were a good reentry project because they had lots of natural stopping places, while something larger would be tempting to keep going even when I should stop.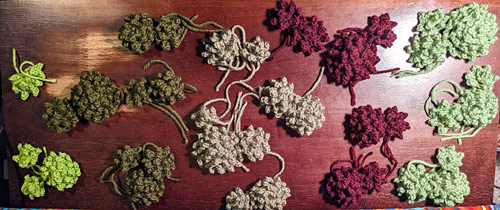 I looked at a lot of pictures from companies selling succulents to decide what colors to use. I mostly used a variety of colors from the Vanna's Choice line of Lion Brand yarn, with a couple of Red Heart colors. Sticking with mostly colors from the same line of yarn was useful because all the colors went together nicely.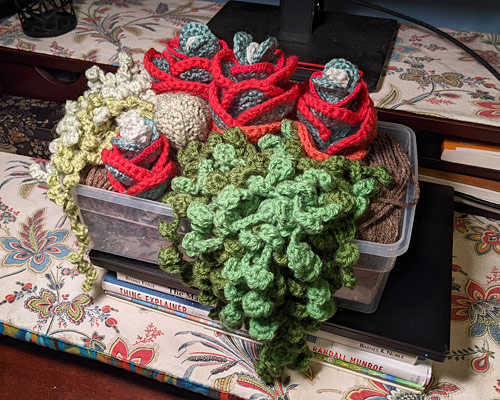 Since the display I imagined was a lot larger than the little pots, I wanted some of the plants to be a little bigger. I improvised a couple of larger leaf sizes for some of the plants, and lots of strands – and longer strands – for the trailing plants.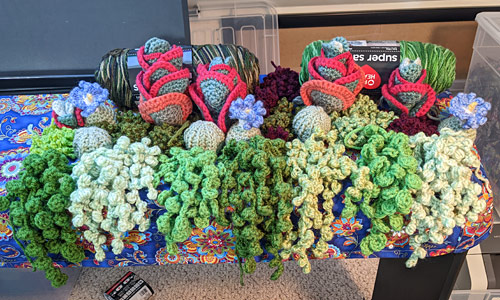 I had done the plants in the crocheted pots before and it was more crochet than I thought my wrist would tolerate, so I decided to try plastic canvas. I was concerned about the plastic tearing, so I needlepointed it for structural support (and to make it a nicer color).

I chose the sizes for the bases by tacking the plants down and seeing if they fell over or not. They are in a variety of sizes between 2×2″ and 3×3″.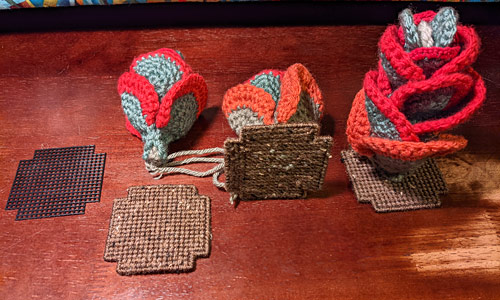 The trailing plants are mostly on 2″x3″ bases. If the stems are hanging down without support, the bases need to be oriented long-ways towards the edge of the surface, because otherwise, the weight of the stems will pull them over, even if they are sitting flat.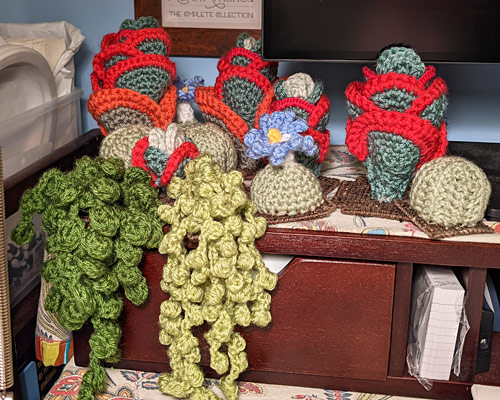 Each little base takes 30 – 60 minutes to needlepoint, depending on size.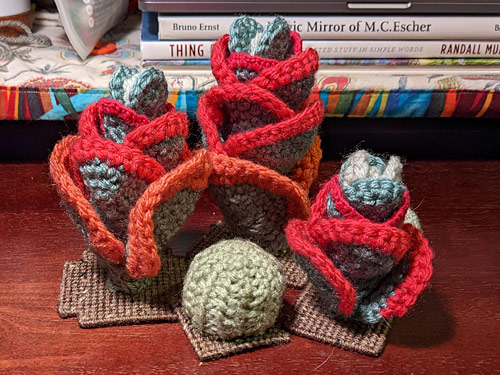 I started this project in Feb 2022 and finished most of the plants and bases by May. When I tried to arrange the plants in the window, I found that the taller plants fell over because the ledge was too steep, so I decided that I needed to make a planter to get them up higher and reduce the angle.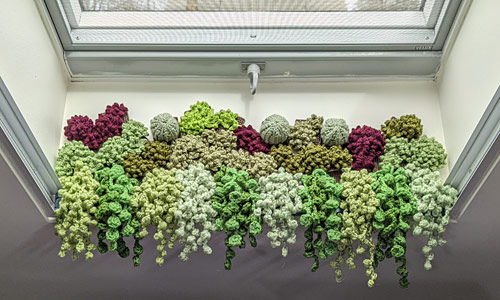 Meanwhile, I started taking little selections of plants to work for displays on my desk.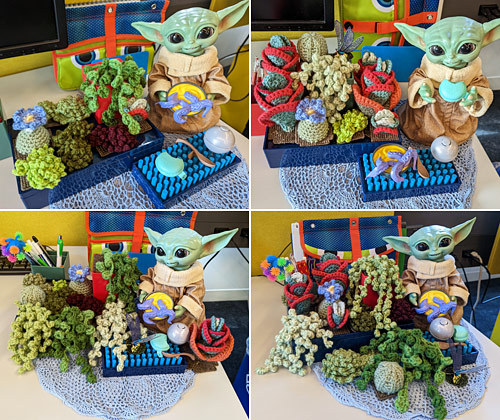 Needlepointing the big pieces for the planter took quite a while, and was less fun than making the plants so it didn't go as fast, but I think the final effect is pretty good. I used a piece of oak deck trim to provide structural stability – cheaper than a dowel and more sturdy. I declared victory on the planter in October.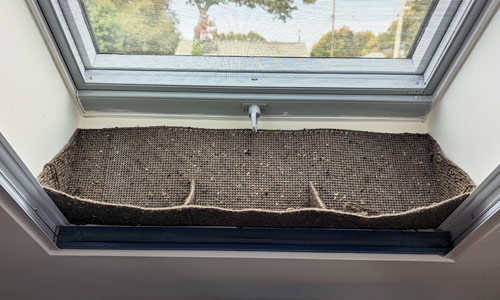 It took a lot of volume to fill the planter so the plants would sit on top and be visible. I basically made a lot of pom poms from yarns I had laying around that I didn't like, with a top layer of pom poms in the matching brown color.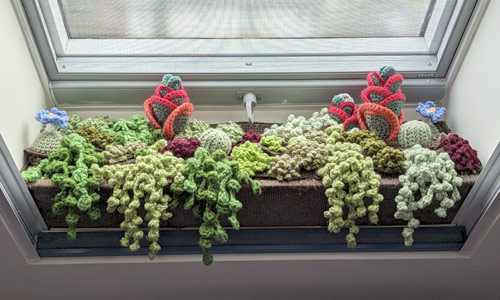 Thank you June for all your beautiful patterns and meticulously executed instructions!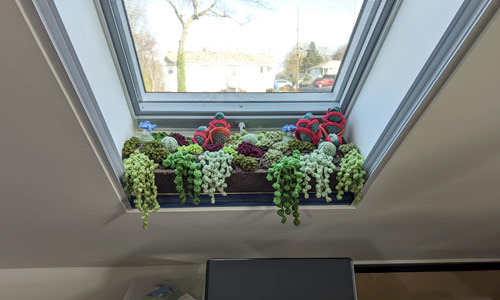 ---
(Back to me, June, again!)
Aren't these projects wonderful? The needlepointed bases are a clever and unique touch, the modular desk display looks like it'd be fun to play with and rearrange, and I'm sure you'll agree that the finished succulent window planter is spectacular!
Thank you so much, Diane, for sharing your story and inspirational photos with us today 🙂
Please leave Diane a comment if you've enjoyed this post!
PS – As you can see, my crocheted succulent patterns are very versatile! You can use them individually or in a potted succulent garden as I show in the patterns, or you can keep making more and more of your favourites, to fill any space. You can find all the mix-and-match PlanetJune Cactus and Succulent Collection crochet patterns in my shop 🙂
---
Do you have a PlanetJune Story you'd like to share? I'd love to hear it! Please email your story to june@planetjune.com, together with one or more high quality photos showing what you've made from PlanetJune patterns. If I choose your story to feature here on the blog, I'll send you your choice of pattern from my shop to say thank you!