Each month in 2023 I'm sharing a Temperature Snake CAL roundup with a collage of some of our snakes' progress – even if you aren't joining in, I think you'll enjoy seeing all the snakes growing throughout the year!
We've completed two months of the Temperature Snake CAL, and our snakes are starting to grow! It's lovely to see so many variations, and I'm also enjoying spotting 'family resemblances' cropping up in snakes from similar areas, e.g. I see a lot of snakes with a bright stripe around mid-February from that unseasonably warm blip we had here in Ontario (and also in many other states and provinces by the look of it!)
Here's the February collage from some of the latest photos that have been posted. These are taken from the CAL threads on Discord and Ravelry, plus some from people who've tagged me (@PlanetJune) on FB and IG: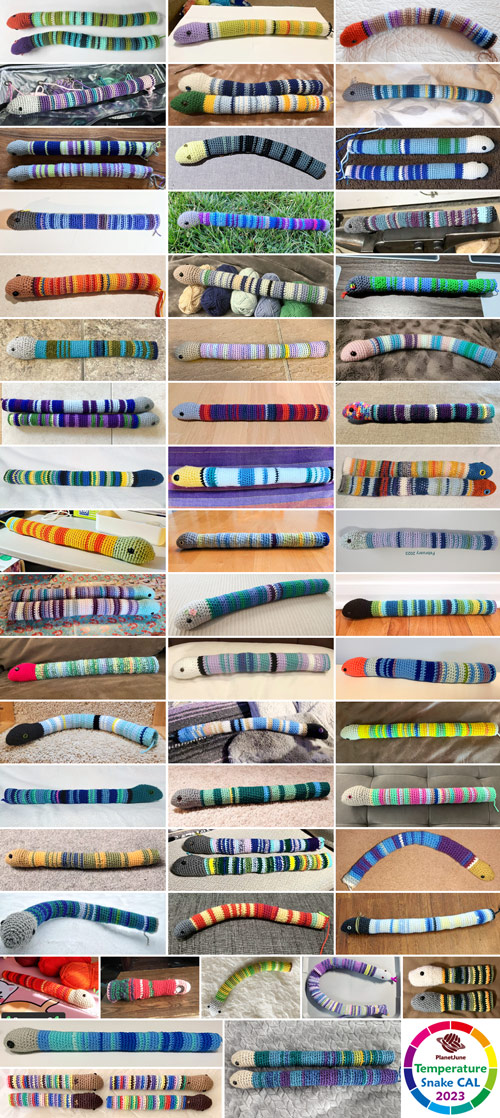 Click to see the full-size collage
Wow! Aren't they all amazing? The collage is getting huge already as the snakes grow longer – and these photos only represent 7% of all the Temperature Snakes being made all over the world! This CAL is truly amazing – it's wonderful to have so many of us together, all enjoying the slow process of seeing our snakes forming as the year continues.
If you haven't joined in with the community groups yet, please do come over, share your progress with us all, and join in the conversations!
And, if you'd like your snake to be included in the next monthly roundup, please post an up-to-date pic (or email it directly to me: june@planetjune.com) in the last couple of days of March, or by end of day April 1st. I'll try to include as many as possible in each collage.
Feeling like you're missing out on the fun? Don't worry: you can still join us for this CAL! Grab the pattern and get caught up – we'd love for you to join us for the rest of 2023 🙂
Now, I wonder if our snakes are going to see some new colours developing in March, as the seasons begin to shift… Let's keep crocheting and find out!