Just a heads-up: I need to take a few days away from PlanetJune due to health issues. I'll be mostly offline for the next week, but don't worry – if you have any questions that other members may be able to help you with, you can post them in one of our community groups. As for customer support, I'll do my best to keep up, but please bear with me if it takes a little longer than usual for me to get back to you. Thanks for your understanding 🙂
---
I've just realised that with the flurry of excitement surrounding the start of the year-long Temperature Snake 2023 CAL, I never showed you the photos of my finished 2022 sample snakes. All my pre-release photos strategically omitted the tail-ends of my snakes, as, well, they didn't have tails until I knew the final temperature for the year on December 31st and could crochet their last stripes!
So, please allow me to introduce my two beautiful crocheted Temperature Snakes that depict the daily high temperatures in Waterloo, ON throughout 2022…
Spectrum is a Large Daily Snake using the Rainbow colour scheme from the pattern: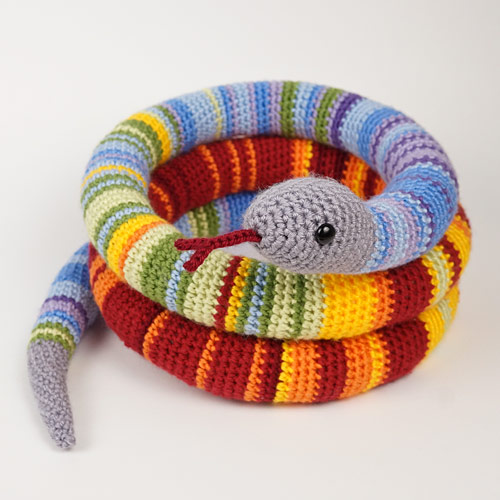 Spectrum is named for her colour scheme – the colours of the rainbow.
Kelvin is a Small Every-Other-Day Snake using the Red-to-Blue colour scheme from the pattern: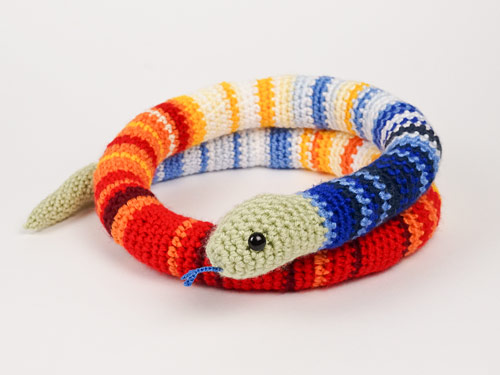 Kelvin is named for the temperature scale used to measure the colour temperature of light, from warm red to cool blue.
All three of those options (size, length and color scheme) are mix-and-matchable within the pattern – I crocheted Spectrum and Kelvin throughout 2022 so you could see an example for each of the options.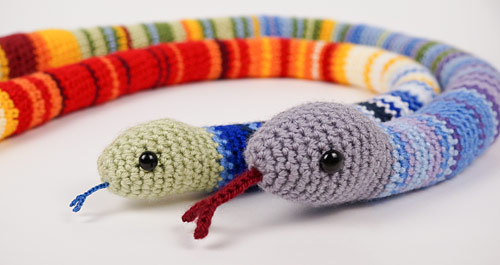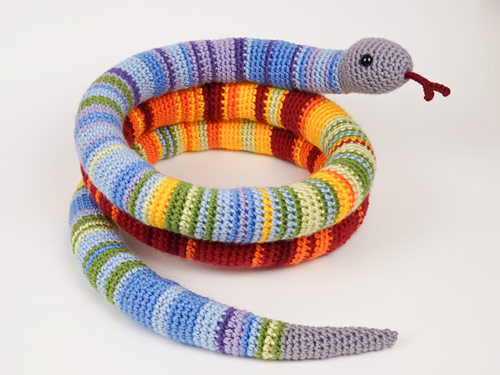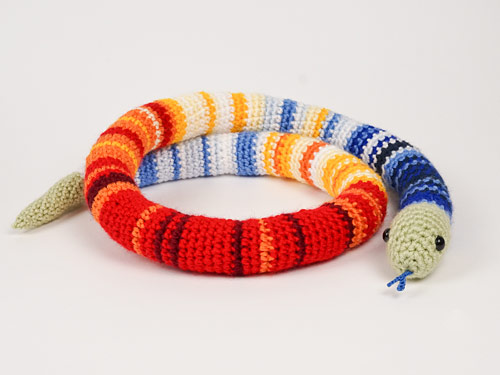 If you're making a Daily snake for the CAL, this is the approximate snake length you can look forward to by the end of the year: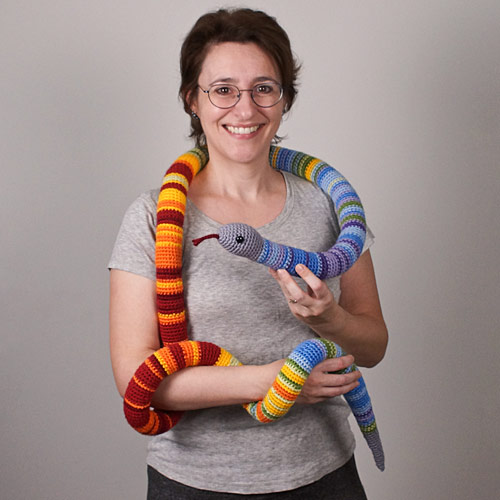 Spectrum is by far the longest amigurumi I've ever made!
Temperature-wise, 2023 is shaping up to be quite different from 2022, so nobody else will ever have a snake that looks quite like these two… but then that's part of the fun of the Temperature Snake pattern (or any temperature project): you don't know in advance which colour you'll be using for each day, and your final snake will truly be one-of-a-kind.
If you'd like to join the 2023 Temperature Snake CAL, there are well over 700 of us participating now, we're sharing our progress and chatting in the PJ community online groups, and you're very welcome to jump in now and catch up on all the daily temperature readings from the start of the year using the online resource included in the pattern. Plus, there are plenty of others who are just starting out or playing catch-up, so you won't be alone!
I'm aiming to get back online and feeling better in a week or so. I look forward to seeing all your snake update pics and catching up on what I've missed!