✨ The Complete Guide to Amigurumi: COMING LATE 2023 ✨
Sign up here to be the first to know when it's available for pre-order!
Background
In 2010, I wrote a best-selling amigurumi reference book, The Complete Idiot's Guide to Amigurumi, filled with tips and techniques for making and customizing amazing crocheted toys. Although now out of print, it was the definitive reference guide to amigurumi techniques. To this day, it's the only book of its kind, but it's now very dated:
It was printed in black and white on lower quality paper (that's what how-to books were like, back in the day!)
It's missing a dozen years of amigurumi innovations and recommendations that I've come up with since then.
It was saddled with an unfortunate name (Idiot's Guide) that made it sound like I believe you to be an idiot, when nothing could be further from the truth.
It's been out of print for a couple of years now, and as a result the price for the remaining copies, even used copies, is ridiculously high.
I've gone through the long process of getting the rights back for my content, and now that's sorted, I can finally create the amigurumi reference book of my dreams!
ANNOUNCING: The Complete Guide to Amigurumi
The Complete Guide to Amigurumi will be crammed full of all my techniques and recommendations for making fantastic amigurumi, with close-up step-by-step photos, clear, concise instructions, and a variety of adorable and original amigurumi patterns to experiment with.
Here's a mockup of a few pages – if you're familiar with CIG to Amigurumi, you can see how completely different (and 100% better) this book will be, even before I add all the new and updated content: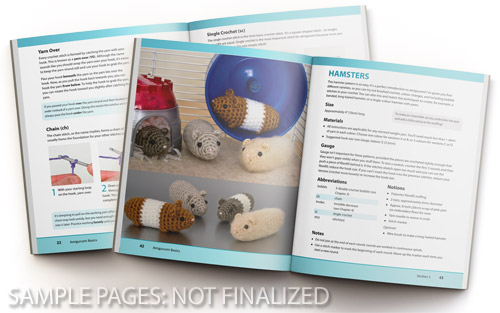 I'm uniquely qualified to write this book:
I've been a pioneer of amigurumi since the days it first emerged from the shores of Japan.
I'm a prolific amigurumi designer at PlanetJune, with over 200 unique nature-inspired patterns to date.
My background as a technical writer allows me to create exceptionally clear and accurate crochet patterns and tutorials.
I've been developing and refining amigurumi techniques since 2007, and I continually come up with new tips and techniques to improve your amigurumi.
I'm an expert in amigurumi instruction, with over 100k YouTube subscribers to my @PlanetJune amigurumi tutorial channel.
I'm an experienced instructional craft book author with 4 previous titles published with Quirk Books, Alpha Books and DK.
So I know I have what it takes to make this book a reality. Even so, I have a lot of work ahead of me over the course of this year, to bring my concept to life. I'm one month in at this point, and things are progressing well, as I hope you can tell from the sample spreads above!
The Complete Guide to Amigurumi will be an essential companion for your amigurumi journey, whether you're looking for a beginner's guide, searching for tips to improve your results, or even considering getting into amigurumi design yourself! I'll be compiling my expertise on all these topics into a high-quality glossy reference book that you'll refer back to again and again.
I can't wait to bring this book to you, and I hope you're as excited as I am to see it brought into the world!
Please sign up for updates now and I'll send you quarterly(ish) updates on how the book is progressing, with sneak peeks and info on how you can be the first to pre-order The Complete Guide to Amigurumi – and maybe even join the book launch team this fall!