My plan for this book was to create the definitive reference guide to amigurumi techniques, not just another pattern book. I put a lot into this book, and I hope that you'll get a lot out of it, whatever your skill level or experience with amigurumi. It's the only book of its kind, and I really hope you'll enjoy it!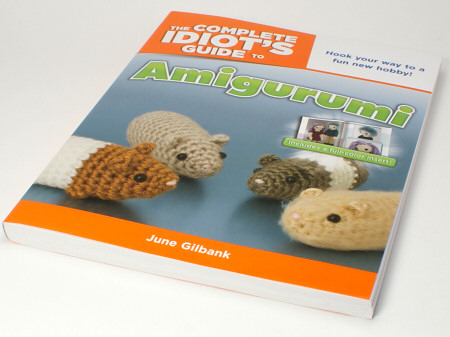 My book, The Complete Idiot's Guide to Amigurumi, by June Gilbank
Amigurumi (pronounced ah-mee-goo-roo-mee) is Japanese for "crochet (or knit) stuffed toy." Although the concept originated in Japan, the amigurumi craze is taking over the world in waves of crocheted cuteness! From adorable fuzzy critters, to sweet-looking fruits and vegetables, to quirky comic book and cartoon characters – if you can imagine it, you can crochet it!

Whether you're an experienced crocheter or have never taken hook to yarn, The Complete Idiot's Guide to Amigurumi shows you everything you need to know to hook your own delightful amigurumi. This helpful guide includes:

A primer on the yarn, hooks, and stitches best for amigurumi, plus fun embellishments you can use to personalize your ami.
Easy-to-follow tutorials for getting started, increasing and decreasing, working in the round, changing colors, and more.
Expert advice on adding eyes, hair, jointed limbs, clothes, and other fun accessories to your ami.
Tips for following an amigurumi pattern, plus four start-to-finish patterns to give you a head-start on designing your own.
A full-color insert with inspirational photos of the finished ami patterns featured in the book – and more!
Watch the Video Trailer
I made a little stop-motion animation trailer to promote the book:
All the amigurumi you see in the video are made from the patterns in the book. These are exclusive patterns that I created for the book – you won't find them anywhere else.
Free Signed Bookmarks
As I'm not ideally located to do signings, I've had some exclusive Complete Idiot's Guide to Amigurumi bookmarks professionally printed, with a nice space in the middle for me to sign your bookmark especially to you. Keep the bookmark in your copy – it'll be useful as well as a way to get your copy 'signed' without the logistical difficulties or costs!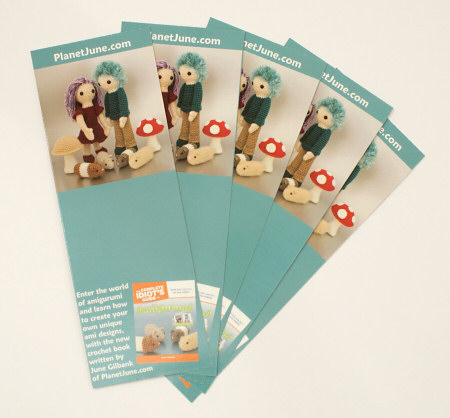 And as a personal thank you for buying my book, the bookmark is FREE to you if you're already buying anything that includes a shipping cost (that's anything from the Crochet Tools category in my shop: Detail Stuffing Tools, Stitch Markers, or Amigurumi Essentials Kits), and, if not, you can just pay the postage cost for me to send it to you.
Buy Your Copy!
The Complete Idiot's Guide to Amigurumi is available from all good book shops, and online. Here are some handy amazon links for you, so you can buy a copy directly from Amazon US, CA, UK, or DE:
Kindle (eBook) Version
The Complete Idiot's Guide to Amigurumi is also available as a Kindle version.
If you don't have a Kindle, you can download a free Kindle app to read eBooks on your computer (PC or Mac), or on any tablet (iPad, Android, or Windows) or smartphone (iPhone, Android, BlackBerry, or Windows).

FREE bonus content: the Kindle version omits the 8-page colour photo section, which shows helpful details of the patterns included in the book, and an Ideas Gallery showing some of my other amigurumi designs. You can download this as a separate PDF from here:
CIG to Amigurumi Project Photos (1.5MB PDF)