I'm very excited to announce that my new book will be released on August 5th, 2014, and it's already available for pre-order on Amazon! With my last book, The Complete Idiot's Guide to Amigurumi, I created the ultimate reference book on amigurumi, and now I've turned my attention to all of crochet for my new book, Idiot's Guide: Crochet…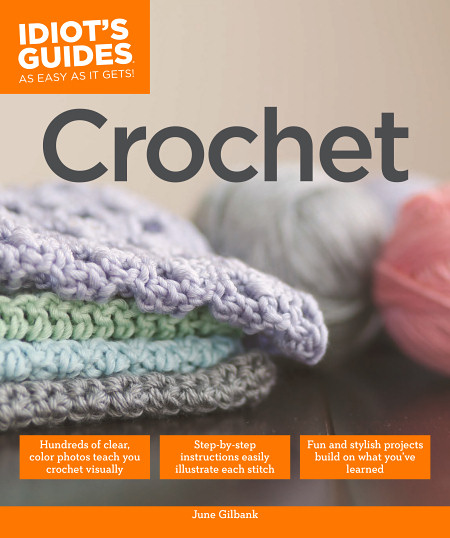 Amazon doesn't have much info up yet, and what they do have makes it sound like this is just a beginner's book, but it's actually much, much more…
Let me tell you about my vision for Crochet: I had three goals for this book, because I wanted to make an ambitious 3 books in 1 volume:
The complete beginner's guide: To create the clearest, most comprehensive learn-to-crochet tutorials, with ultra close-up photos of every single step, so people really can learn to crochet from my book.
The crochet tips guide: To distill all the knowledge and tips I've picked up over my crocheting life into clear, easy to follow instructions.
The beautiful pattern book: To create a collection of stylish original accessories and home decor patterns that would make perfect gifts, so you'll want to make everything in the book! The patterns need to be simple to work (but not boring for experienced crocheters) and show some of the variety possible in crochet, so you'll learn more as you make each pattern.
I was fortunate that my editors were happy to accommodate my vision, and I've crammed all of these goals into the 272 pages of this book! The Idiot's Guides series has had a complete makeover and you'll be very pleasantly surprised when you see the lovely design and hundreds of full-colour photos.
This book is different from every other crochet book on the market and excellent value for money, whatever your crochet skill, as it's perfect for both beginners and more experienced crocheters. I hope you'll find it a valuable resource, whether your goal is to learn to crochet, to improve your crochet skills and knowledge, to find a selection of clean, timeless designs to crochet, or all of the above 🙂
The tutorials have all the detail and clear step-by-step photos you'd expect from me, and the patterns include stitch diagrams and all the added tips and extras you find in my PlanetJune Accessories patterns. I'm so excited about this book, and I hope you will be too!
I'll be revealing more details about the book and the patterns over the coming months, but if you're already chomping at the bit, here are the Amazon pre-order links (US, CA, UK and DE):
And for Kindle (and other ebook readers and Kindle apps):