I'm so excited to reveal the year-long 2023 crochetalong that I've been planning for over a year now! Click here to be notified as soon as this CAL is ready for signups… UPDATE: Sign up now!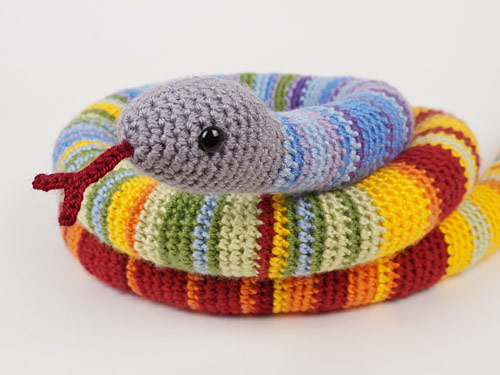 You've probably heard of temperature blankets or scarves, where you crochet or knit one row per day to represent the temperature that day. The Temperature Snake is an amigurumi-style riff on that concept!

After crocheting the amigurumi-style head for your snake, its body will progress throughout the year, with one stripe per day representing the maximum temperature of that day.
Choose Your Own Adventure
I'll show you how to choose a temperature range that suits your climate, and design a colour scheme around your favourite amigurumi yarns. Use a traditional colour scheme, or one that suits your taste. I'll give you guidance with each step as we create your personalized temperature/colour chart that you'll use throughout the year as your snake progresses.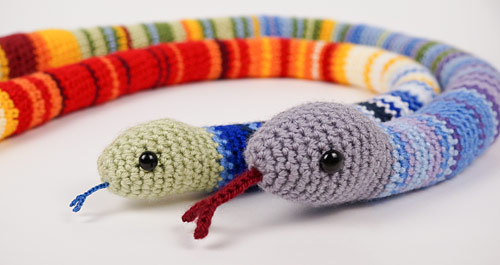 I've designed the Temperature Snake pattern with several options you can choose between to create a completely custom snake, and I've crocheted two samples over 2022 so you can get an idea of how all the options look:
Two different snake sizes (full sized, or the faster 3/4 sized)
Two different lengths (one round per day, or one every other day for a shorter snake)
Two ideas to get you started for colour schemes (the classic rainbow, or red-hot to blue-cold)
Two different tongues (the easier full-sized tongue, or the more realistic slender tongue)
You can get adventurous and mix-and-match any of these options to create your snake, or copy them all from your favourite of my sample snakes.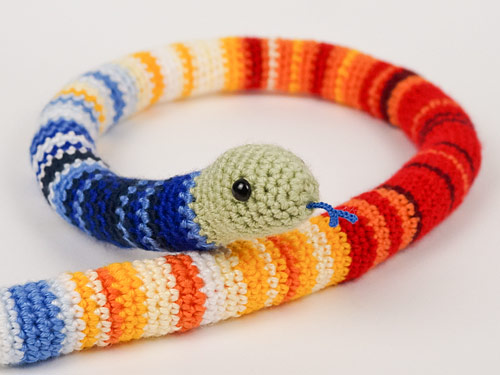 Getting Started
Head Start: Although the temperature logging can only begin on New Year's Day 2023, the pre-CAL will start in early December, so you can get started early by choosing which snake pattern you'll use, selecting your colour scheme, buying your yarn, and making your snake's head, so you'll be ready to get going with the temperature stripes as soon as 2023 arrives.
New Year Start: You can also start the CAL on the official start date of Jan 1st. This is the first day you'll start logging the daily maximum temperature. (By the way, you don't need to crochet every day, provided you either keep a note of the temperature, or use a website where you can look it up after the fact.)
Late Start: If you jump into the CAL later, you can either catch up on the days you missed, or choose your time range starting later than Jan 1st – it's up to you!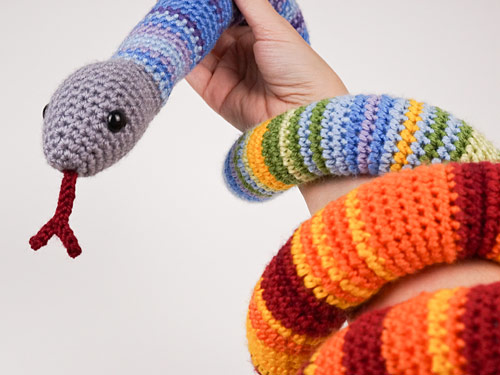 Community Fun
The Temperature Snake CAL will be most fun for you if you join us in one of the PlanetJune groups on Ravelry or Discord. (If you're new to the PJ Community, I've just made a new 'Join the PlanetJune Community' page with an intro to Rav and Discord, the benefits of each, and links to join the PJ groups – please look there for help and guidance on getting set up.)
At first, we'll help you decide on your temperature range and colours while we're all planning our snakes. And throughout 2023 we'll all be checking in regularly to post photos of our snakes' progress, giving you accountability and encouragement to keep going, and compare how your snake's colours are changing compared with everyone else's.
If you'd prefer to fly solo, you can do that too. As with all PlanetJune pattern licences, I'm available for help by email, so if you want me to advise on your colours or temperature range, I'll help you get set up. The CAL pattern will be updated several times with the next set of instructions, and I'll email you each time it's been updated, so you can log back in and download the new instructions!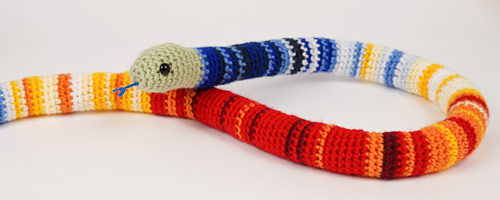 Your One-of-a Kind Masterpiece
By the end of the year, you'll not only have your own unique and personal snake, but also a copy of the complete stand-alone pattern (coming in early January 2024), including all the tips and FAQs that have come up throughout this CAL.
And then I'll make a glorious gallery of all our 2023 Temperature Snakes, so we can fully appreciate the colourful results of this year-long project. How will our snakes vary across the world? I can't wait to find out! The great thing about this CAL is that, although we don't know in advance exactly how our snakes will turn out (and that's part of the fun) I guarantee that they're all going to look fantastic!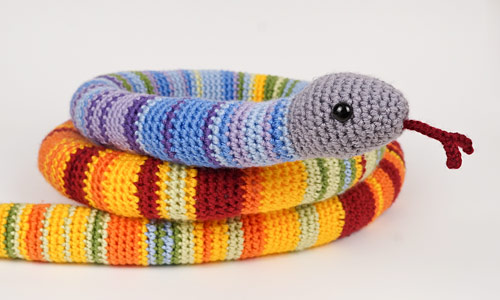 Will You Join Us?
If you'd like me to email you as soon as the Temperature Snake CAL is ready for signups, click here! Otherwise keep an eye on the blog – I'll post here when everything is ready for you.? UPDATE: You can sign up now!
I hope you'll join me in the PlanetJune community throughout 2023 as, day by day and round by round, we mark the progress of the year together as we each create our own colourful Temperature Snake!