The PlanetJune community has two main locations where we hang out:
If you already use Ravelry or Discord, you can join the PJ groups right now using the links above! If not, please read on for an overview of each service, how we use it, and how to sign up…
What is Ravelry?
Ravelry provides us with a place to post photos and a forum to post to and chat with each other, and join crochetalongs (CALs). You can access Ravelry via any web browser on your phone or computer, and you can choose between high- and low- contrast modes or a dark mode (the screenshot below shows the high-contrast mode on my computer).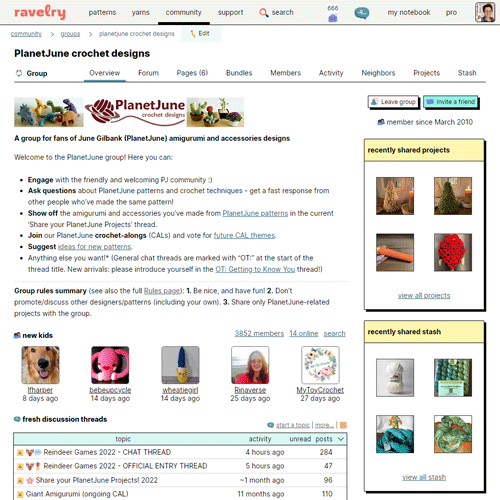 Note: It's totally free to sign up for a Ravelry account, and I highly recommend it for anyone who crochets (and/or knits) – it includes a searchable database of pretty much every pattern and yarn in existence, so if you're looking for something in particular it's easy to find it. You can also see all the projects other people have made from the patterns or yarns (before you decide to buy them!) and read about what they thought of it.
What is Discord?
Discord is an app that gives us a private invite-only home for the PlanetJune community – a place where we can talk, hang out, and have fun. You can access Discord via a web browser, but most people download the Discord app for their phone and/or computer. In the app, you can choose between light and dark mode (the screenshots below show my Discord phone app in dark mode, which I prefer).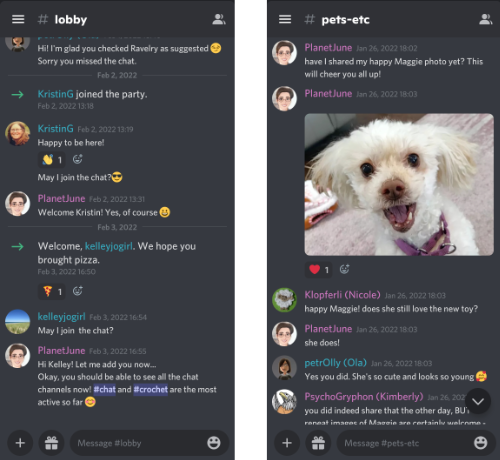 Which Should I Join?
You're very welcome to join us in both locations, as we use each one a little differently:
Ravelry is great for recording all the crochet/knit projects you've made. You can show your PJ projects off in the PlanetJune group, ask crochet questions, and join crochetalongs – the group is most active when we have a CAL going! Any Ravelry user can view the PlanetJune forum and see our messages, so our conversations there tend to mostly be limited to crochet-related topics.We used to also use the Ravelry Chat Room function to have a private live chat once a month, where we felt freer to share personal things that we might not want to be recorded on a public forum, but then I discovered Discord…
The PlanetJune Discord server is completely private to our PJ community, so we generally feel free to share more of that personal stuff all the time! I share my secret PJ plans and ideas to get your feedback, and we also talk about food, pets, other crafts, and our personal lives as well as the crochet stuff – it's a safe, welcoming and supportive space. As the group is more active, if you have a quick crochet question, you'll probably get an answer more quickly than posting it on Ravelry.Discord has more of a casual 'instant messaging' feel; if you install the app on your phone, you can easily share a photo you've snapped in the message thread. And, while we do have a monthly scheduled live chat, the conversation flows all month round and it's a fun space to hang out, without any of the problems you sometimes see on social media.
How Do I Join?
To join the PlanetJune Ravelry group:
If you don't already use Ravelry, sign up for a free account at ravelry.com. Add an avatar photo to your profile and any other details you want. (It's nice for us to know at least your first name and country, but it's not required!)
Join the PlanetJune Crochet Designs ravelry group by clicking the 'join this group' button.
To join the PlanetJune Discord group:
If you already have a Discord account, you can join the PJ server now with this invite link:
Or, if you aren't already on Discord:
If you aren't already on Discord, sign up for a free Discord account.
Click the verification link in the email you'll receive from Discord.
Accept our group rules, then our friendly bot, MEE6, will grant you access and send you a welcome message!
Recommended: download the Discord app for your phone and/or computer.
Welcome to the PlanetJune Community!
Whether you join us in one or both groups, I'm looking forward to seeing you there and getting to know you better. See you soon in the PJ Community!