Have you heard of the new Twist + Lock crochet hook sets from Susan Bates?
Yarnspirations (the company behind the Susan Bates brand) say:
Crocheting just became easier with the Susan Bates Twist + Lock interchangeable crochet hook tool. Select the desired hook size and insert into the opening of the oversized soft touch handle. With a simple Twist and Lock, your crochet hook will fit snugly in place whether in action or in storage. Purchase additional sizes to build your custom crochet hook set.
But is this a helpful addition to our crochet toolset, or just a solution looking for a problem? Coats & Clark kindly sent me a set to test out and see what I think…
About the Set
The Twist + Lock kits are available in various configurations:
1 handle and 2 hook heads
1 handle, 1 hook head and a cutter
2 hooks and a cutter
the Deluxe Set that includes 2 handles, 2 cutters, and all 6 hook heads (sizes F, G, H, I, J, K – that's 3.75-6.5mm).
So you can choose your preferred hook sizes and add on additional pieces later, or jump straight in with the complete set.
First Impressions
The hook heads are standard Susan Bates in-line hooks (my favourites). A hook head or cutter can be inserted into each end of the spring-loaded handle, and twisted to lock it in place: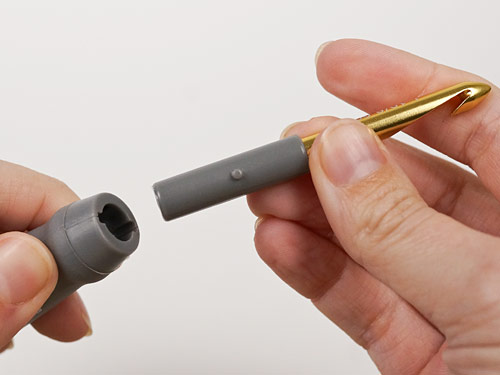 As there's no thumbrest on the hooks (where the hook size is usually embossed), the size is printed on the back of each hook: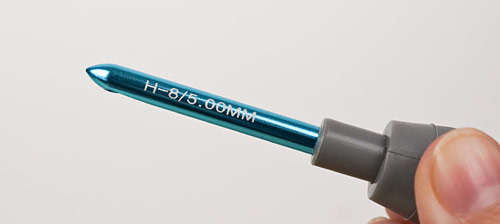 With a hook at each end, the handle becomes quite long:

You can also reverse any of the heads and insert them facing into the handle, for portability:

My Testing Process
For my test, I've been crocheting my Cozy Cables Earwarmer using Bernat Satin yarn and a J US/6mm hook. I crocheted a full 4-row repeat of the stitch pattern with my usual Susan Bates bamboo-handled hook and then another repeat with the Twist + Lock hook, so I could really feel the difference the hook makes to the process.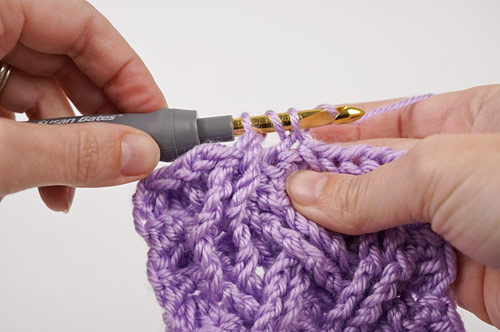 I also tested the cutter out. The blade is so well protected inside the plastic casing that I couldn't get it to work at all at first, but once I figured out you have to loop the yarn over the cutter and then pull back fairly hard, it worked well enough: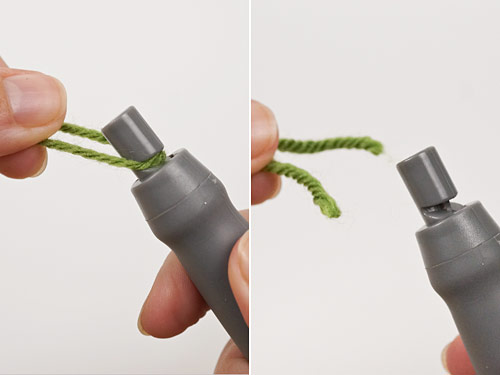 The Importance of Honest Reviews
I'm a big fan of Susan Bates hooks and I really wanted to love this concept, but it didn't really work for me. I'm uncomfortable writing this, a less-than-positive review, but I think it's important for people to hear both good and bad points to help inform their purchases. That's why I'm not an 'influencer' – I never accept payment for reviews; you'll always hear what I truly think.
All the other reviews I've seen of this set have said nothing but positive things, and I don't know if that's because the reviewers didn't actually use the hooks before they reviewed them, or whether they truly love them, and it's just me that doesn't! Either way, it's important for me to tell you the truth as I see it, so here goes…
Pros
Let's start out with the reasons I do like this set!
It's nicely made – the heads push and nicely into the spring-loaded body and twist securely closed.
I really like the idea of always having a cutter to hand!
You can store your hook head and cutter inside the handle, making it easy to throw into your project bag without worrying about snagging your yarn. Just push and twist and the head pops out, ready to re-attach facing outwards and start crocheting. This would be very convenient for travel.
The handle is reversible so you can have a hook at either end, or a hook at one end and a cutter on the other, and just flip the handle around when you want to use the other end.
As with all Susan Bates hooks, these hooks have the inline head shape I love. This shape head makes it far easier to form perfectly regular stitches.
The soft touch handle is substantial and comfortable to hold in the palm of your hand, and I think it'd be especially useful for those with larger hands or who have grip difficulty.
Cons
Now for the downsides… I have two main problems with this hook that ruin the crocheting experience for me. To make a fair comparison, I got out all my Susan Bates J hooks so you can see what I'm talking about.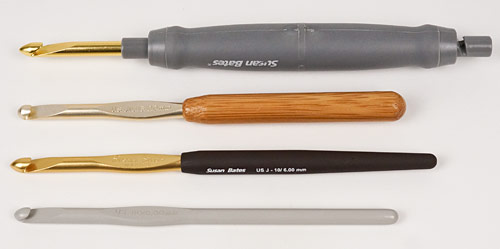 Susan Bates J hooks, top to bottom: Twist & Lock, bamboo-handled, Soft Touch, Quicksilver.
Firstly, the grip position. As with all interchangeable hooks I've seen (from any brand), there's no thumbrest on these hooks, and because of the shape of the handle, you have to hold it below the section where the head is inserted.

The standard thumbrest position is between the dotted lines; the Twist + Lock hold is below the bulge in the handle, below the lower dotted line.
This is about an inch below my usual position, and it feels like I have less control of the hook as a result. If you have difficulties forming a tight grip and prefer to grip a larger comfort handle instead of a thin thumbrest, this may be a benefit to you, but personally I much prefer the control of holding the hook closer to the head.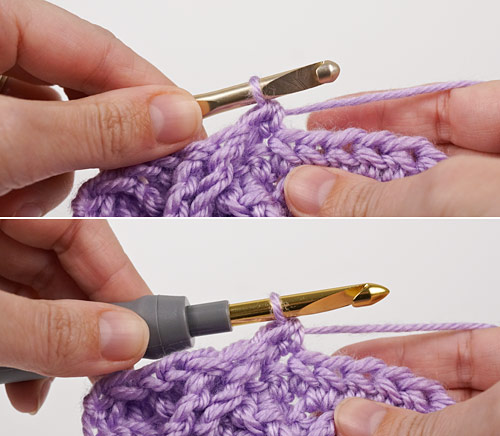 Top: my usual hand position; bottom: my hand is much further away from the hook head.
Secondly, the weight. It was immediately noticeable to me how heavy this hook was in use. I tried taking the cutter out from the base of the handle and that helped slightly, but it still felt much heavier. In case I was biased, I weighed all my Susan Bates J hooks to compare:
| | |
| --- | --- |
| Hook (all Susan Bates size J) | Weight/g |
| Twist + Lock plus cutter | 32.9 |
| Twist + Lock plus 2nd hook | 37.3 |
| Twist + Lock, empty end | 31.0 |
| Bamboo-handled | 11.5 |
| Soft Touch | 10.4 |
| Quicksilver | 10.1 |
It wasn't my imagination – all my other J hooks weigh between 10 and 12g, and the Twist + Lock weighs 31-37g, depending on what you have installed in the other end. That's around three times the weight of a standard hook, and if you do a lot of crocheting, you'll definitely start to feel that difference!
Verdict
Susan Bates hooks are my all-time favourites, because of the head shape, and that's the same with this new set as much as all their other hooks. But, while I love the concept of the 'portable toolkit', carrying your toolkit in the handle of your hook maybe isn't the best thought-out idea…
There are some plus points: the handle material is comfortable, and the wide grip in the palm of your hand is an advantage for knife-grip crocheters, especially for those with larger hands. Being able to flip the head inside the handle for easy and safe transportation in your project bag is genius, and the idea of always having a safe cutter to hand is very appealing!
If you travel a lot with a crochet project at your side, or have large hands, or your top priority is a wide comfortable grip, and/or you don't mind the added weight, the Twist + Lock set may be a good fit for you. But, for me, the hugely increased weight and the lack of a good thumbrest position for controlling the hook make this a miss.
If you're looking for crochet hooks, I'd recommend instead any of the other Susan Bates aluminum hooks:
The bamboo-handled hooks (if you can still find them), are my favourites.
The Soft Touch handled hooks are also very nice – the grip isn't as wide as the bamboo handle, but the material is very comfortable to hold, and the new-style pointier tip is growing on me too.
The classic Silvalume hooks are just one-piece anodized aluminum, but you can always add a comfort grip if you need a wider handle.
All of these also have the same aluminium hook with the in-line head style as the Twist + Lock, and I'd guess that smaller-handed people like me would probably have a better crocheting experience with any of these than the Twist + Lock set.
(And I've reviewed all the other Susan Bates hooks here, if you'd like to know more about those options!)
---
What do you think? If you tend to like heavier hooks and larger handles with no thumbrest, or you've tried a Twist + Lock hook, I'd love to hear about your experience – especially if you disagree with me! Am I missing something here?!