My 2009 Christmas Trees pattern has been a bestseller for years, but this year I decided I wanted to design a more realistic crocheted conifer that you can mix-and-match with my classic bobble trees in a display, or use alone. And here's what I came up with: Christmas Trees Set 2!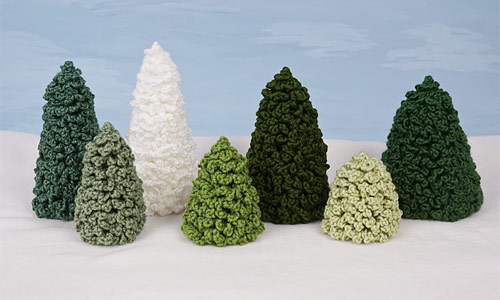 For this collection, I've designed trees with three different styles (Narrow, Standard and Wide) so you can choose your favourite shape and make multiples of the same type of tree, or create a display with lots of variety in shape, size and colour, like mine.
I love how detailed and realistic the foliage looks on these trees – you won't believe how simple they are to make!

The three tree styles, L-R: Narrow, Standard, Wide
I've crocheted samples in 2 or 3 heights for each tree style (and the pattern includes the complete instructions for all 7 of the pictured trees, if you want to replicate them exactly), but these are any-height patterns: you can keep going with the base until the tree is as tall as you want it to be, and then stop to add the foliage.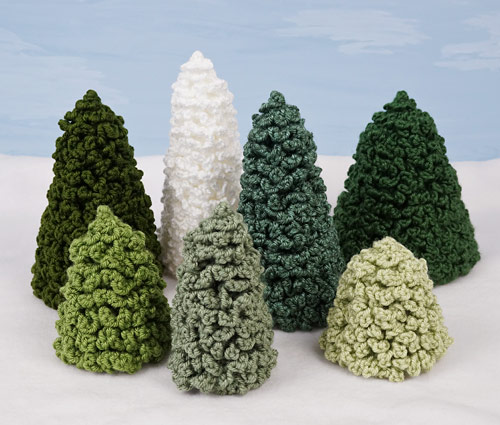 I encourage you to experiment with different heights for each of your trees – they make a more realistic display when each tree is slightly different!
If you don't want to use too much yarn, I recommend making your larger trees in the Narrow and Standard styles, and save the Wide style for your smaller trees (the Wide style is a bit yarn-hungry – my taller wide tree is only 5.5″ tall, but uses 120 yds of yarn!)
But there's no need to worry that you'll run out of yarn: I've included a very simple calculation in the pattern so, if you only have a certain amount of yarn, you'll know how big you can make your tree without any danger of running out of yarn partway through adding the foliage. All you'll need is a scale that weighs accurately in grams.
Mix-and-Match Patterns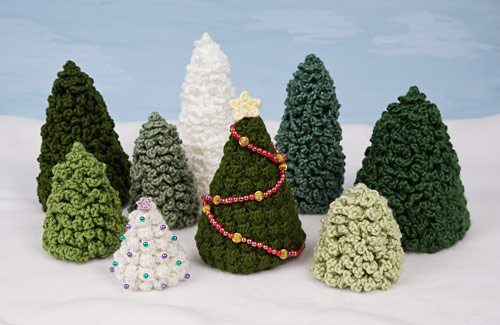 As you can see, the new trees can mix nicely with my original Christmas Trees pattern (now renamed Christmas Trees Set 1!) – in this photo, the two decorated trees are from Set 1, and the others are all from the new Set 2.
I love the look of the new trees as a natural mini forest, but you can also use the star and decorating ideas from Set 1 with the new Set 2 trees to make them look more festive. 🙂
Purchasing Options
You can buy Christmas Trees Set 2 individually, or bundle it with Set 1 pattern for a special price:
And, until the end of November 2022, if you've already bought the original Christmas Trees pattern, email me with your order number and I'll email you back with a $1 discount code to use towards Set 2! To find your order number:
Login to your PlanetJune account, then go to My Account > My Patterns
Look through the alphabetical list of your pattern purchases to find Christmas Trees and click it to go through to the order – your 5-digit order number will be right there!
Not ready to get started yet? Add it to your Ravelry queue or favourites so you don't forget:

---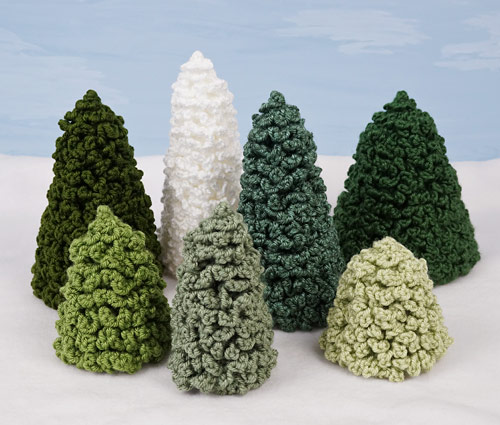 I hope you'll enjoy making these cute trees as part of your holiday decorating this year, and if you'd like to make them along with the rest of the PJ community, please come and join us in the PlanetJune Ravelry group for our end-of-year Reindeer Games crochet-along.
I'll be joining in with the CAL too – this pattern is so much fun, I have plans to make more of these trees, including a giant version! Just how big will my tree get? I'm not sure yet, but join me in the Ravelry group to keep up with my progress!