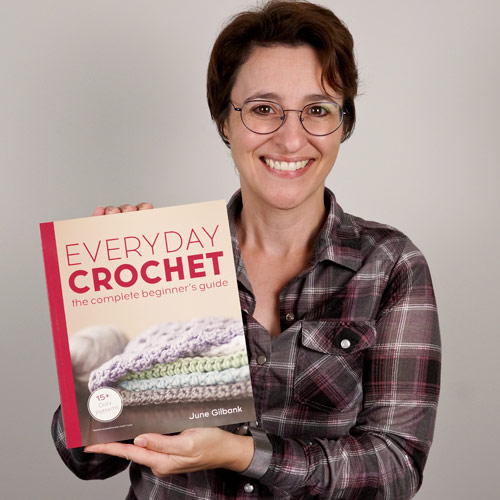 It's book launch day! Today is the day that my new book, Everyday Crochet, is released – so exciting!
Thanks to your preorders, Everyday Crochet had been rising up the ranks in the amazon crochet category, and now it's (temporarily) out of stock on amazon! ? So that's an unexpected blow, but I hope it'll climb higher once they restock, and as the preorderers start to leave reviews after they receive their copies.
UPDATE: Amazon (.com and .ca) completely underestimated the number of preorders they'd receive from all of you (thank you!) and it went out of stock as soon as it launched. It's now back in stock in the US, but still temporarily out of stock in Canada.
If you haven't bought Everyday Crochet yet, you can read about it here or order from amazon here (although you may have to wait for it to come back into stock!) – or find it in your favourite bookshop. And order a signed bookplate from me here 🙂
Now, if you've already bought Everyday Crochet – or are just about to – we're starting a crochet-along (CAL) from today until the end of the year for all the patterns in the book in the PlanetJune group on Ravelry, and I hope you'll join us!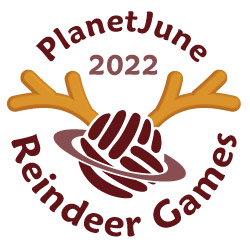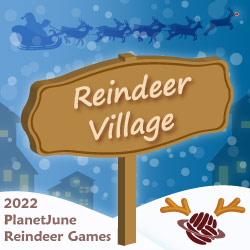 I've rolled this CAL into the Reindeer Games – the annual PlanetJune end-of-year CAL and online community event that also starts today – and there's a special bonus virtual medal waiting for you if you make a project from Everyday Crochet…
Reindeer Games 2022 CAL
Crochet anything PlanetJune as part of the PlanetJune Reindeer Games 2022 (Tuesday, Nov 1 – Saturday, Dec 31). This is a Team PlanetJune event, hosted in the PlanetJune Ravelry group, with a similar concept to the Ravellenic Games: the idea is to challenge yourself by starting and finishing crochet project(s) before the end of the year.
It's just for fun, like a CAL but you get to choose your projects – anything PlanetJune, including projects from my books – and earn virtual awards! During the Games, we all cheer each other on to complete our chosen projects. Our team captains will award you with your Reindeer Village medals and Antlers as you complete your project(s).
Santa and all 9 reindeer have set up their stalls in the Reindeer Games Village:
Santa's Toy Shop – toys
Rudolph's Gingerbread House – home/décor
Dasher's Scarf Stand – scarves
Dancer's Winter Wear – hats and mitts
Prancer's WIPs Wrapping – any project started before the Games
Vixen's Shawl Stall – shawls and wraps
Comet's Closet – sweaters and other garments
Cupid's Cowl Corner – cowls and neckwarmers
Donner's Blanket Bazaar – blankets and afghans
Blitzen's Bag Bonanza – bags and purses
You'll receive the medal for the stall you 'visited' once you've finish your project! And you can also receive bonus Antler awards for your projects:
Cozy Reading – make a project from Everyday Crochet
Secret Santa – make a project from the Buried Treasure pattern list
Santa's Helper – showing team spirit
Angel – charity project
Carolling – crochet in public
Cookie Decorator – colourwork
Deck the Halls – embellishments
Heirloom – using a PJ pattern you've owned for more than a year
Ice Sculptor – techniques: cables, lace, Tunisian, etc
Snowman – modifying or combining patterns
Ho! Ho! Ho! – completing a project in each of 3 different categories
Master Wrapper – complete 3 WIP projects
Super Elf – complete any 3 projects
Bah! Humbug! – complete a project on Christmas Eve
Fireworks – complete a project on New Year's Eve
Have a Cookie – a special antler for those of us who don't quite get to the finish line
Whether you're crocheting your favourite PlanetJune patterns as Christmas gifts, items to sell at craft fairs or online, toys for charity, or projects for yourself, we're ready to encourage you to complete your goals and to celebrate your successes with you!
And, even if you think you may not have time to complete a project, you're very welcome to join the team for the community spirit and friendly chat. There's something about PlanetJune that attracts the kindest and most supportive people, and, if you enjoy PlanetJune patterns, you're already part of our community – do come over to our Ravelry group and say hello! (And if you'd join if this event was hosted elsewhere instead of Ravelry, please email me or leave me a comment to let me know, so I can take that into account for next year.)
---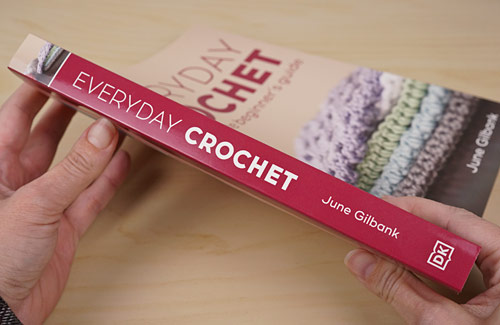 Whether you join the CAL or not, I really hope you'll enjoy Everyday Crochet, and that you'll email me (june@planetjune.com) or tag me (@planetjune) on your social media so I can see what you're making from my book! (And, if you love it, please recommend it to everyone you know who might like it too, and a 5-star review on Amazon would be very much appreciated…) ?