Only 4 days to go until my new book, Everyday Crochet, launches! There's no way I can sell signed copies of this book (the shipping costs would be far too high – it's almost 300 pages and weighs 2lb/900g!), so please order it directly from amazon or your local bookstore.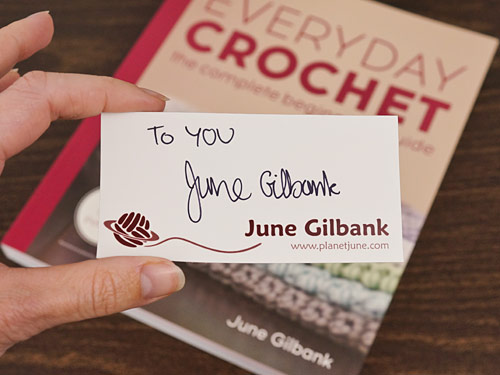 But, if you'd like me to sign your book for you, I've commissioned a professionally printed high quality bookplate sticker with easy-peel backing, perfectly sized at 2×4″ (~5x10cm) to fit in the empty space on the first page of any of my books.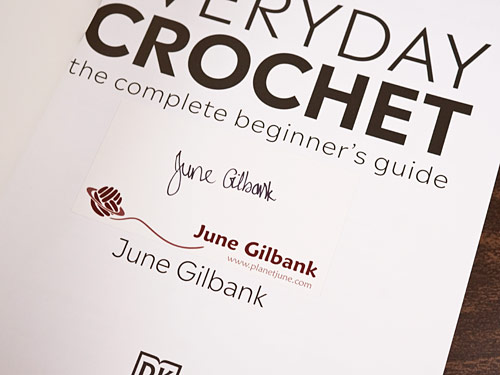 Each bookplate sticker will be signed personally to you by me, June Gilbank, so you can get a 'signed' copy of any (or all!) of my books by sticking a bookplate directly into your copy.
Or, if you're giving my book as a gift, why not give a 'signed' copy by sticking a bookplate – signed personally to your recipient – into the book before you gift it?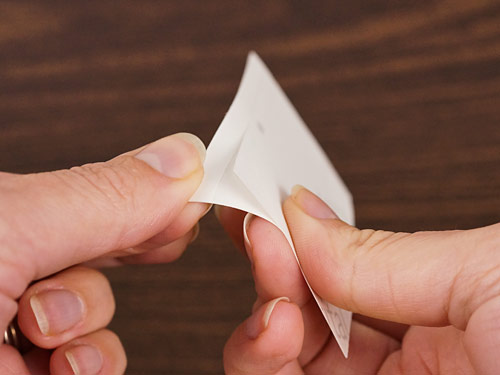 The easy-peel sticker backing is split on the back, so you can gently bend the bookplate to peel off each section of the backing from the middle – there's no struggling to peel the sticker from a corner and potentially ruining the corner!
Get your author-signed bookplates now >>
Crochet Tools – Flash Sale!
For this weekend only, I'm also re-opening the Crochet Tools shop, so you can combine shipping if there's anything else you need. I have very limited quantities this time around, and the shop won't be open again for the best part of a year, so if you need a Detail Stuffing Tool, an exclusive PJ enamel pin, or anything else, now's your chance!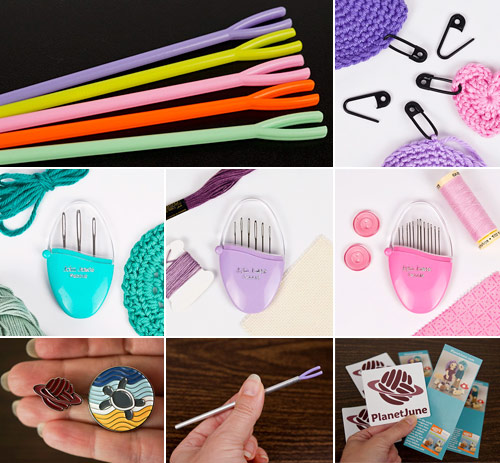 Browse my collection of essential crochet tools & pins now >>
Note: If you're reading this after Oct 30th and missed the flash sale, sign up here and I'll notify you when the Crochet Tools shop next opens.
Bookplate Availability
The logistics of having to batch-ship via my cross-border shipping company means I can only open the Crochet Tools shop once or twice a year – as my items are so inexpensive, it's the only way to keep international shipping costs reasonable for you.
But, as the bookplates (and vinyl stickers, while stocks last) can ship as lettermail, I can just drop them at the post office once a week, so I intend for the bookplates to always be available in the shop, so you can get a 'signed' copy of Everyday Crochet at any time 🙂