Today's PlanetJune Story comes from Maureen Carter, a crochet enthusiast from Grosse Pointe Woods, MI. Last year, Maureen tagged me on Facebook with this picture of an incredibly colourful armadillo she had crocheted using my pattern and based on a child's drawing: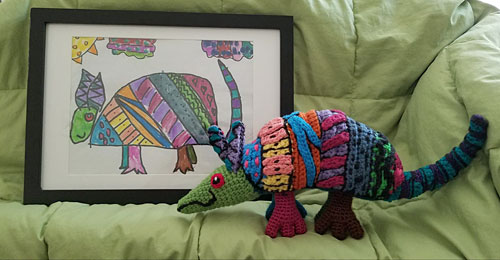 …and I just had to reach out to her to find out more about the story behind this incredible project!
Over to Maureen:
---
I learned how to crochet when I was 12 years old but have only been doing amigurumi in the last 4 years. I used to make mostly slippers, hats, mittens, blankets, scarves, sweaters, ponchos. Now I do a lot of amigurumi as well. It is a lot of fun seeing all the little parts come to life as a stuffed animal. My crochet teacher always said, "Make joy with your crochet." Amigurumi always brings joy to those that receive the finished projects.
I have relatives in California who were involved with helping support and promote an online fundraiser by the Dominican Sisters Vision of Hope, a non-profit organization that raises funds to support several Catholic schools in the Los Angeles area and the San Francisco-Oakland California area. One of my sisters invited me to participate in the online auction.
One of the features of the auction was artwork made and donated by students in the schools supported by the auction. I was very taken with a colorful drawing called "Oaxacan Armadillo" by a first grade student, Isabella. I placed a bid for her drawing in the auction and was so happy to be the successful bidder.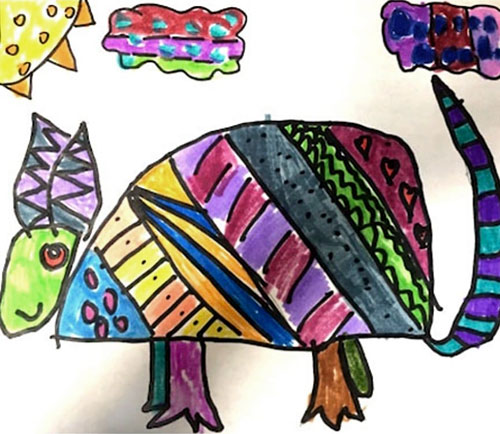 "Oaxacan Armadillo" by Isabella
When the framed artwork arrived at my home I came up with the idea that this artwork could be transformed into an amigurumi replica that I could send as a surprise to Isabella. I looked for armadillo crochet patterns and decided that I could work with June's pattern as the base, but incorporate the colors and designs from Isabella's drawing.
I have followed June's work and often watched her tutorials and lessons on how to do certain stitches and techniques. I was happy to find her pattern which was a great help to bring this drawing to life. June's armadillo design was the perfect one to use as my base, especially since the armor shell is made as a separate piece that attaches after it's all done.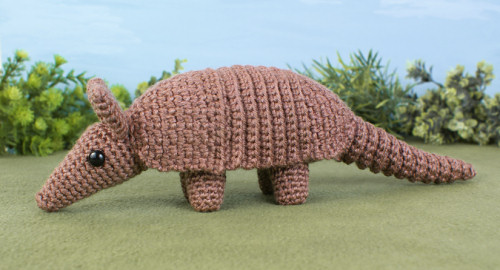 The PlanetJune Armadillo crochet pattern
I made each leg a different color with 3 toes, and made the ears and eyes and facial expression to match Isabella's drawing as closely as possible. The color I added to the armor was achieved partly by crocheting in stripes, then I made small appliques and sewed them on and did some surface crochet to get the shapes and colors that were used in the drawing.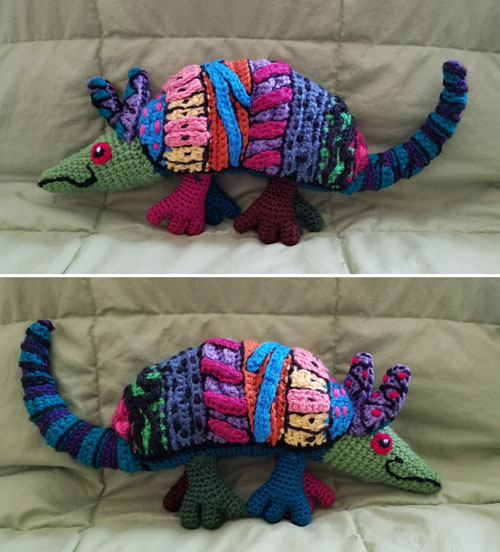 It took me 2-3 weeks working intermittently to recreate the armadillo. I also had a color copy of the drawing made up to send with the crocheted armadillo. I mailed it to Isabella in the care of her school principal. It was presented to her at school.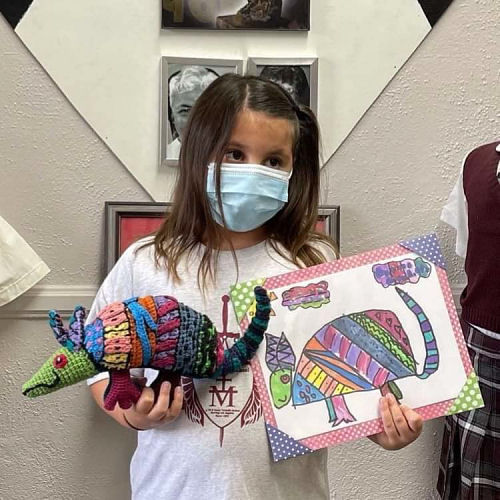 I sent a note thanking her for making the beautiful colorful drawing and sharing it with the fundraiser for her school. I encouraged her to continue to have fun making beautiful things using her imagination and talent. I told her that when I see it on my fireplace mantle every day, it brings me joy.
I recently received a note back from Isabella and her mother. Isabella's handwritten note says:
Dear Ms. Maureen,
Thank you for my armadillo. I really like it. I like how it looks exactly like my drawing and it turned out very colorful. It is very special to me.
Love, Isabella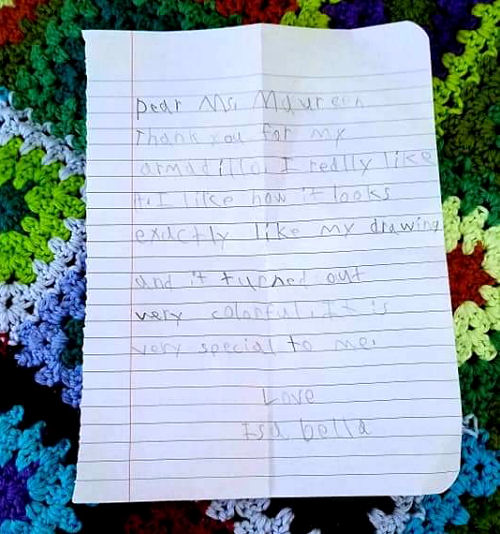 Her mom also sent a beautiful note thanking me for making the armadillo for Isabella, which she named "Alice."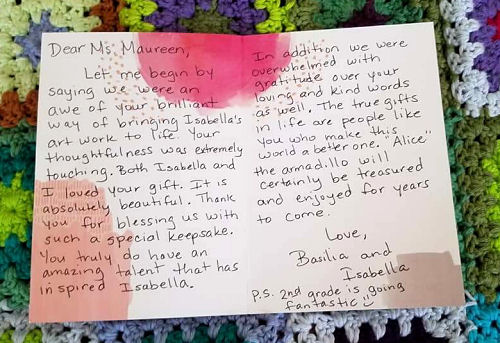 I loved Isabella's artwork right away the first moment I saw it. I felt compelled to do something to express how much I admired her work and that I hope she continues to enjoy drawing and making things. I thought I could do it justice as a crocheted stuffed animal that she might like, so I gave it a try. It was a happy and moving experience for both of us.
---
(Back to me, June, again!)
I love everything about this story – it's such a fun project, and isn't the story behind it fantastic?! Both Maureen and Isabella are wonderfully creative, and I'm so happy my armadillo pattern contributed to their collaboration.
Part of the joy I find in having a clean and simple design style is seeing how people choose to adapt, embellish and modify my PlanetJune patterns – and I'm sure you'll agree that Maureen's armadillo is a prime example of that creativity.
Thank you so much, Maureen, for sharing your story with us today 🙂
Please leave Maureen a comment if you've enjoyed this post!
---
Do you have a PlanetJune Story you'd like to share? I'd love to hear it! Please email your story to june@planetjune.com, together with one or more high quality photos showing what you've made from PlanetJune patterns. If I choose your story to feature here on the blog, I'll send you your choice of pattern from my shop to say thank you!