Today's PlanetJune Story comes from Hils Parker from Ickenham (in the London Borough of Hillingdon, UK), who made this amazing super-sized Discworld to top a post box earlier this year. Just look at this beauty!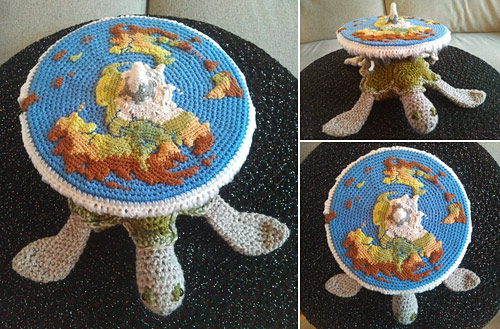 I really enjoyed seeing Hils making this amazing project (which she shared in the PlanetJune Discord group), and asked her to share the whole story here with you.
Keep reading to the end to see the topper in place on the post box!
And now, over to Hils, to explain how this all came to be:
---
In recent years in the UK many groups have sprung up with a habit of yarnbombing their local postboxes. The British postbox is something of a unique design in the world of mailboxes, a very distinctive column shape typically painted red, with a rounded mushroom-like top that just lends itself to decoration! Officially the boxes belong to Royal Mail, but they don't mind the public adorning them as long as access to the mail slot and door is kept clear of obstruction.
My own postbox topper group started in March 2021, in the midst of Lockdown 3. A desire to do something to bring a smile to the community led to the idea of decorating the 18 postboxes in our area. Fast forward two years, and our group has expanded and gained a multitude of crochet and knitting skills (as well as a little infamy!). We now have a planned timetable for when we'll make toppers during the year and the themes we'll follow. For spring 2023 our theme was World Book Day.
For me there could only be one choice – I had to pick Terry Pratchett's Discworld. I've been a fan since being introduced to his books as a teenager, and for years the latest novel was an easy birthday or Christmas gift to give me. I've had encounters with Sir Terry on several occasions but sadly never had a chance to properly say hello in person.
I had come across June's crocheted Discworld some time before, so I knew it would be the perfect place to start looking for inspiration and tips. After reading through her incredibly helpful notes, I unhesitatingly purchased her sea turtle and elephant patterns. But there was one big issue I needed to tackle – the scale. A British postbox is 22″ (56cm) across with a domed top. I needed to make my Discworld much bigger than the original patterns gave hook and yarn measurements for!
I decided to start with the four elephants, and then work out the relative scale of the turtle and disc from those. My first attempt with a 3.5mm hook and DK yarn proved too small. Doubling my yarn to using 2 strands of DK and switching up to a 5mm hook seemed more promising. But what of sizing up Great A'Tuin?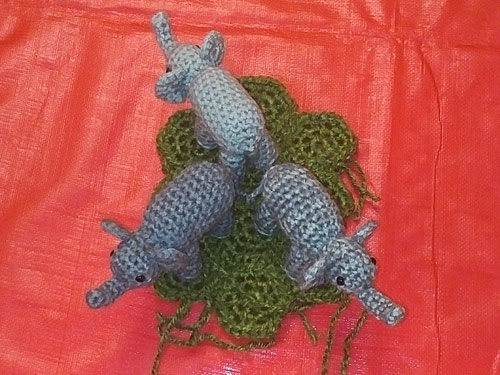 After joining the PlanetJune Discord server, I asked for help in my endeavour. Everyone is lovely and so forthcoming with tips and advice! It's a fabulous little crochet community there, so I do recommend checking it out.
I can't say my first shell attempt with an 8mm hook and chunky yarn [pictured above] was especially successful! But using two strands of chunky yarn, and adding an extra fourth round to the hexagons of the shell made it big enough to look substantial on the postbox and fit on the four elephants.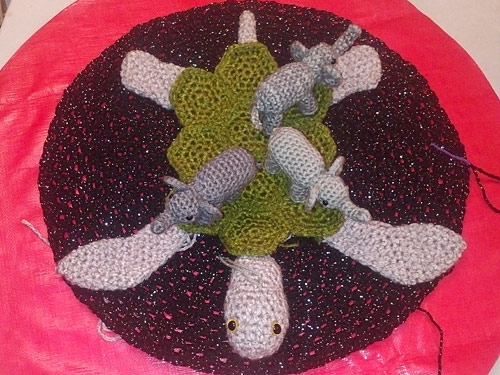 I found working with the chunky yarn and large hook quite tough; I was grateful to be able to give my fingers a rest after completing A'Tuin.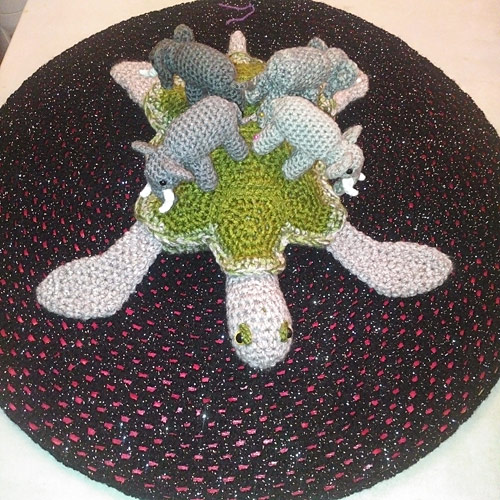 The Disc was a very different challenge to that of scaling up patterns. I decided I wanted to add the various Discworld continents as applique pieces on top of a plain blue crocheted circle ocean. As postboxes are quite tall, adding this relief would hopefully help to make them more visible. I measured how big I needed the disc to be (25cm) and made a brown and blue flat circle which would have plasticard sandwiched between them to provide some structure to the disc and help it survive the outdoor elements.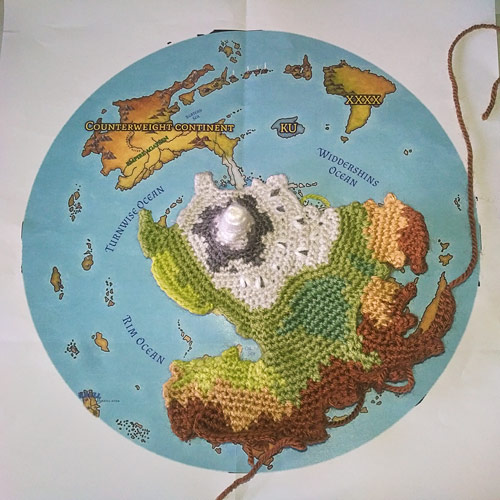 I scaled up an illustration of the Discworld map to match the size of the disc, printed off a copy and started creating the lands. As these involved quite a lot of small detailing, I switched to using a 3mm hook and a single strand of DK.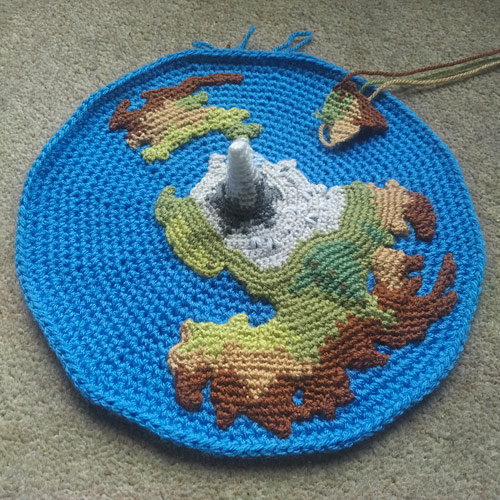 Making the continents was an exercise in freehand crochet and very much a case of making it up as I went along! l began at the centre with the hub of the Discworld, Cori Celesti, and radiated out the main landmass from there. I tried to follow the contours of the continent by eye and placed my crochet pieces frequently against the map to check how well they matched. The Unnamed Continent and Klatch were made as one single piece, then the Counterweight Continent and Fourecks as separate pieces, then more individual islands. The underside of the applique pieces became a mass of loose ends to tuck away and use as extra relief as I sewed them on top of the disc!


Postbox toppers require liberal amounts of wire, cocktail sticks and kebab skewers to help support the pieces and fix them to each other, and this one was no different. The final touch after sewing all the pieces together was to brush out an extra round of white yarn I'd crocheted around the edge of the disc to emulate the waterfalls tipping over the edge. I'd say I was perhaps only semi-successful at doing that, I managed to draw blood at one stage! An extra addition of light blue yarn sewn around the edge to secure places where I'd destroyed the stitches from the brushing added some subtle colour changes.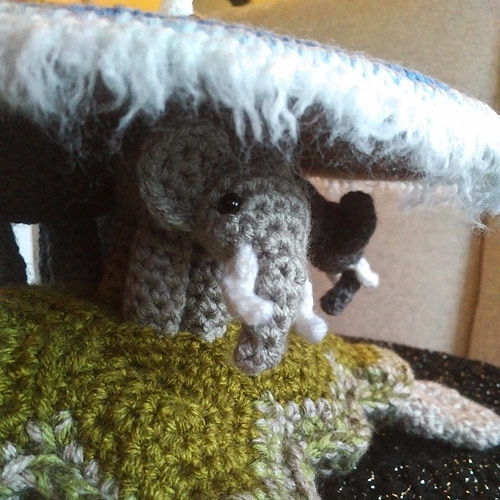 June: I love this brushed Rimfall effect! And here's the finished project: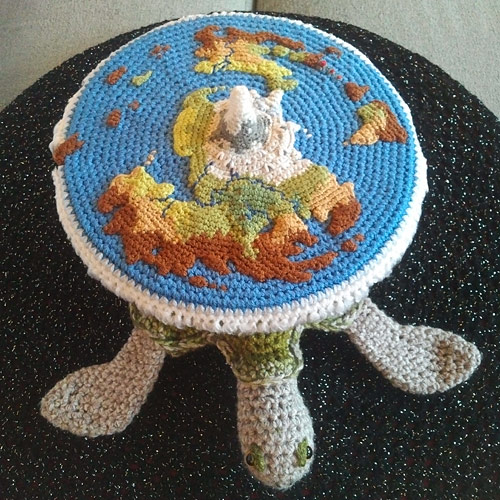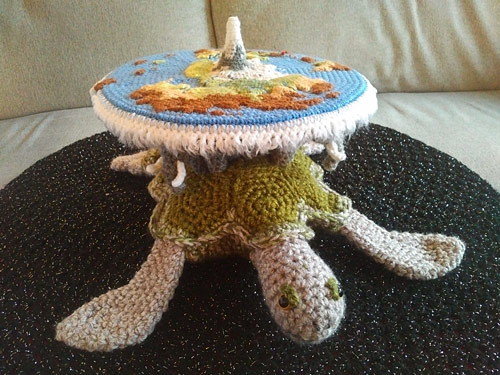 The World Book Day toppers were in position for 2-3 weeks around the village in early March, surviving wind, rain and even a sprinkle of snow!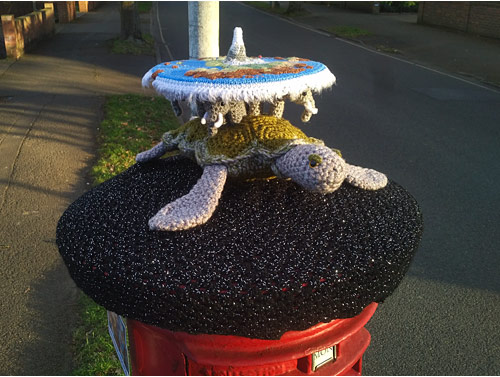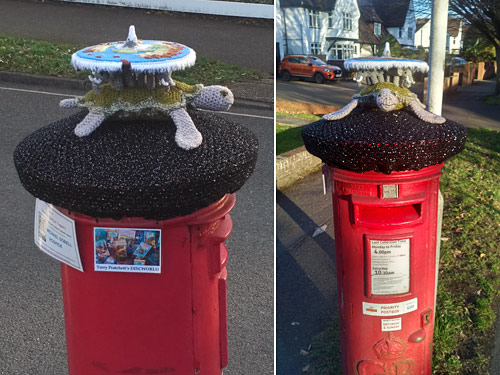 ---
(Back to me, June, again!)
Isn't that fantastic? I love the special touches Hils added to her Discworld – the 3D effect on the landmasses and that Rimfall are wonderful! And did you notice the 'starry sky' background with that sparkly black yarn? Hils had some inspired ideas here – including the title for this story (I'm sure all fellow Pratchett fans will get it, right?)
Thank you so much, Hils, for sharing your story and your impressive project with us today – and well done 🙂
Please leave Hils a comment if you've enjoyed this post!
PS – Inspired to make a Discworld of your own? Read all about my original project – approved by Sir Terry Pratchett himself! – and get the sea turtle and elephant patterns on my amigurumi Discworld info page.
---
Do you have a PlanetJune Story you'd like to share? I'd love to hear it! Please email your story to june@planetjune.com, together with one or more high quality photos showing what you've made from PlanetJune patterns. If I choose your story to feature here on the blog, I'll send you your choice of pattern from my shop to say thank you!