Some craft projects require concentration (like following an amigurumi pattern), while other projects are relaxing in their repetitive nature (like crocheting row after row of a simple afghan pattern). I find these more relaxing crafts and projects wonderful for the times when my brain is too tired to concentrate on something complicated, but my hands still want to stay busy.
I've started picking up craft kits so I can try different crafts and see what appeals to me. I thought it might be fun to do a series of posts on the crafts I'm dabbling in – maybe you'll find something you'd like to try too! (And many of these simple crafts are kid-friendly, so these could also be family craft projects, or ideas for gifts for the crafty children in your life.)
So here's the first post in my new Relaxing Crafts series…
---
Paint by Numbers
I haven't painted anything for years, and I thought that a paint by numbers kit might be a good way to practice brush technique and ease me back into the feel of painting so I could try painting something from scratch in future.
I tried the Royal & Langnickel Dolphins Painting By Numbers kit. It looked like a cute picture, and at about the size of a sheet of printer paper, I thought it'd be a manageable size.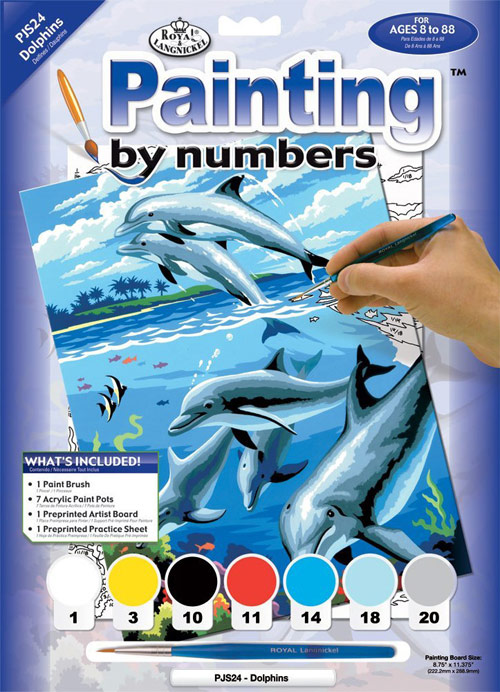 The design and the colour-coded numbers are pre-printed onto the canvas in pale blue, so all you need to do is grab a colour of paint and fill in all the indicated areas with that colour, then repeat for all the other colours, and you have a beautiful painting! Or do you…?
I found it more difficult than I'd expected, considering these kits are designed for kids 8 and older – surely, I should have more skill than an inexperienced 8-year old? For me, it was frustrating to have to follow the arbitrary lines separating the shading colours – for example, I think I'd have preferred to try shading the dolphins in my picture myself vs trying to follow all the jagged bands of shadow and light on the dolphins' bodies.

There are lots of fiddly jagged lines to follow to form this shading.
I also assumed I'd be provided with all the paint colours I needed, but there were lots of mixed colours required:

All the areas with two numbers are colours you have to mix yourself, e.g. "10/20" means a mix of colour 10 and colour 20. It seemed like most of the colours were mixes!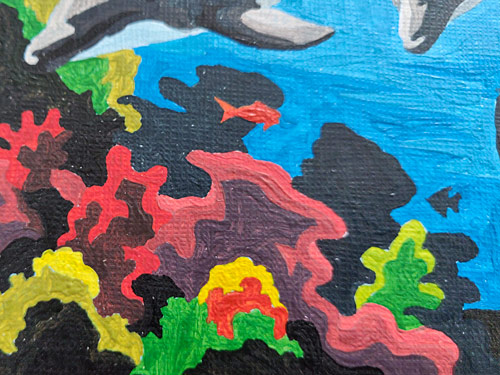 The results of some of that fiddly colour mixing are disappointingly muddy…
Some of the provided paint colours were used a lot – in mixes as well as solo – and I was always scared I'd run out, especially if I mixed too much of a certain shade and had to waste some of it. This was not a very relaxing process! But I did complete the painting…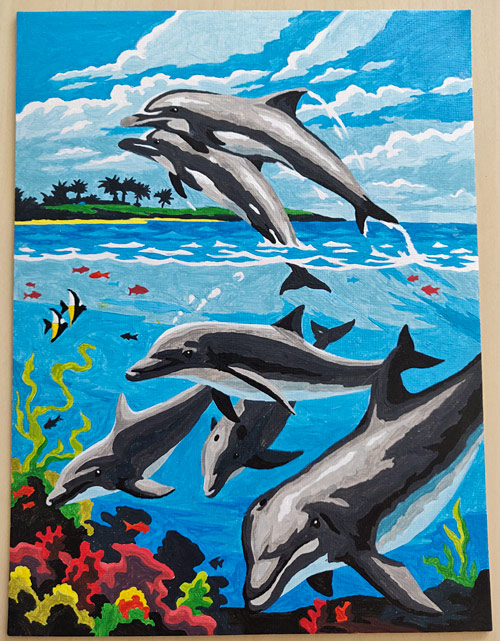 Finished!
The end result is okay, but I feel a bit misled by the box art, which shows a coloured picture of the design, not a completed painting (and now I know to look for that, it seems that's a common trend in these kits). The provided paint colours aren't the same as shown in the cover picture, and the result is much less subtle, so it's a bit disappointing.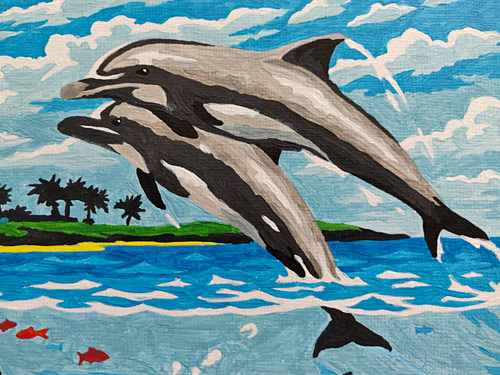 Where are my blue dolphins from the cover pic?!
Given all that, paint by numbers is not something I'd want to try again. If I do ever brave painting again, I'll just sketch an outline and then attempt to paint it properly – I think I could do at least as well as following the kit!

The painting is still kind of cute though – especially once I added a glint to each dolphin's eye (that's not part of the design).
I did pick up a few painting tips from this experience:
Low quality paint has terrible coverage – once I'd painted over each section, I could still see the numbers printed beneath the paler paint shades and had to give them a second coat (and the white paint took three coats to cover the numbers!)
Acrylic paint dries much darker than the colour appears when the paint is wet.
Painting accurate fine lines is difficult, especially at certain angles. I'm much more comfortable with a pencil than a brush.

Look carefully and you can still see the blue lines around the edges of the paler colours, despite my best efforts to hide them 🙁
Relaxing Craft Verdict
As a relaxing craft, I'm calling Paint by Numbers a fail – for me, anyway.
If you're inexperienced in painting, taking care not to stick your hand in the wet paint or paint over the lines requires a fair amount of concentration.
If you're already a painter, you really don't need a paint by numbers kit – you'd do better without one!
Maybe I was just unlucky with my choice of kits and there are better ones out there. Have you (or your kids) had any success with paint by numbers kits, or do you agree with my assessment? Let me know in the comments!
---
And now, my search for relaxing crafts continues. I have quite a few lined up already, but I'd love to hear your suggestions for crafts I can try – and review here for you – too. Please leave your ideas below… 🙂