Ready for some cuteness? Fuzzy Hedgehog is a simple and adorable pattern that makes the most of a novelty textured yarn such as eyelash or fur! From realistic shades to bright and colourful options, there are no wrong choices to make – any novelty yarn looks good as hedgehog spines.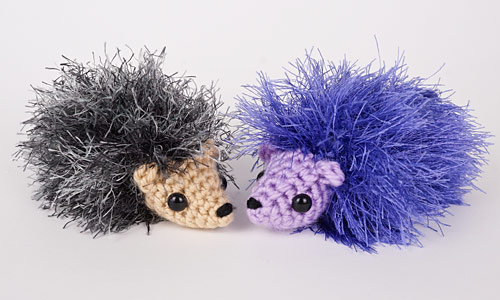 With just two pieces to stitch together, you'll be able to whip up the sweetest little hedgehog buddy in no time, sized to fit perfectly in the palm of your hand. The ears are crocheted as you go, so all you need to do is stitch the head to the body and you're done.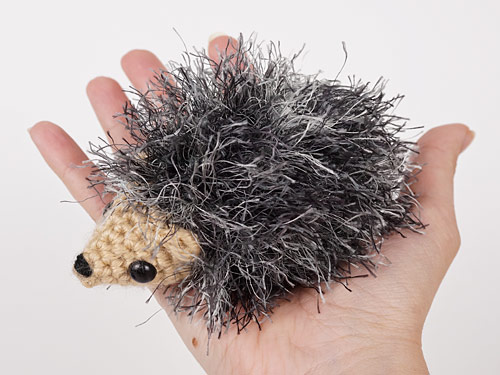 Please don't be scared of eyelash-type yarn – with a simple pattern like this, it's fine if you skip or add a stitch here or there! Using your start-of-round stitch marker means you can add a quick increase or decrease to get back to the right number of stitches at the end of each round, so no harm done – nobody will ever know! And the effect is absolutely perfect for hedgehog spines.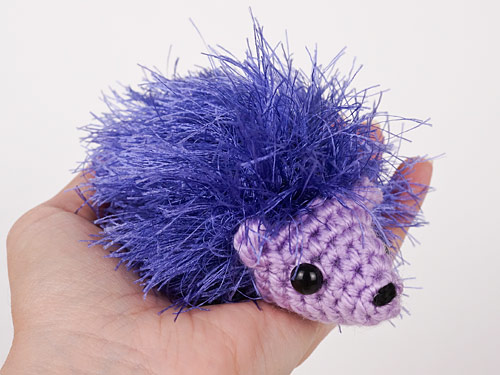 As I like to reward people who choose to donate for my donationware patterns, the PDF version of the Fuzzy Hedgehog pattern also includes additional instructional photos and my bonus 'About Fuzzy Patterns' PDF, which compiles all my tips on working with fuzzy yarns. As always, the pattern is free for you to use online, and you need only donate if you'd like to thank me for my time in creating it, or if you'd like the easy-to-print PDF version with the bonuses.
Go to the free Fuzzy Hedgehog pattern >>
Or jump straight to donate:
Order the Fuzzy Hedgehog pattern >>
Not ready to make one yet? Add this pattern to your Ravelry queue:
---
Join Team PlanetJune for the Ravellenic Games!
If you're new to the Ravellenic Games, the idea is to challenge yourself by starting and finishing project(s) during the timeframe of a certain summer 2021 global sports event (July 23 – August 8). It's just for fun, like a CAL but you get to choose your own projects, and you'll be awarded virtual medals for projects you complete. Join Team PlanetJune and you can crochet anything PlanetJune during this timeframe – including a Fuzzy Hedgehog for the 'Toy Toss' event – and your teammates will cheer you on as you race to the finish!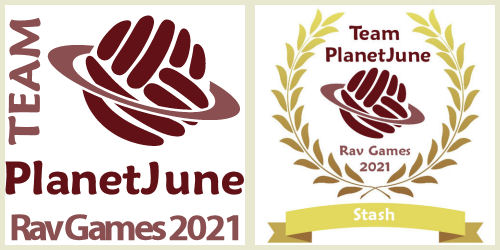 For more info on how this all works, see the Team PlanetJune FAQ, or ask in the Team PJ thread on ravelry – my amazing co-Captains and I are standing by and waiting to help.
Please join us in the PlanetJune group on Ravelry and post to the Team PlanetJune thread to register as part of the team! The games begin on Friday (but latecomers are welcome too). I hope to see you there – it'll be fun for us to all crochet together this summer 🙂