After the success of my first big machine knitting project, I wanted to try something smaller so it wouldn't take as much energy to knit, and now I have Maggie I finally have a small recipient to knit for!
(You may think machine knitting sounds easy and automated, but there's a lot to it: pushing the carriage back and forth across the needles; remembering to move the weights up every few rows; checking no stitches have jumped off the needles, and following the pattern by counting rows and manipulating stitches to make increases or decreases. Doing all that at the same time takes physical and mental energy – and the more tired you get, the more chance you forget to do something and risk dropping a stitch or skipping a section of the pattern. No prizes for guessing how I know all this!)
I decided to keep it simple for my first attempt at a dog sweater: I drafted a basic pattern by measuring the sweater I bought for Maggie last winter – it's just formed from two knitted rectangles stitched together, so it should be simple to make. By using the leftover yarn from my last sweater, I didn't even need to make a gauge swatch to calculate the number of stitches and rows I'd need, so I could get started right away.
My knitting machine is very basic and only forms knit stitches, so in my last project I hand-knitted all the ribbing after machine-knitting the bulk of the sweater. This time I was brave enough to knit extra rows for the ribbing, and then drop every other column down by the length of the ribbing while the piece was still on the machine and latch them back up in the other direction to form purl columns, so there was no hand-knitting at all involved. Once you get the hang of this, I think it's much faster than hand knitting ribbing.
I knitted my two rectangles on the machine, remembering to leave a slit for the leash at the shoulder, and stitched the two rectangles together (without finishing anything in case it needed to be altered). Then it was time for the first test fitting!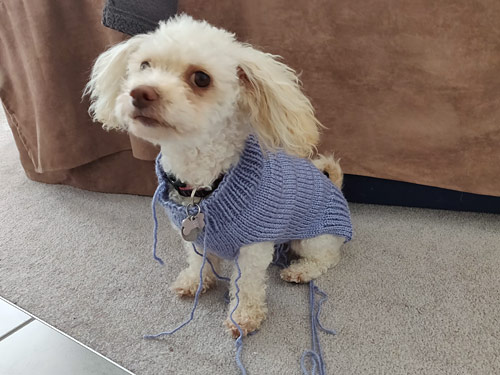 Maggie wasn't so sure about this monstrosity with all the dangling yarn ends, but it fit nicely, so I could weave in all those ends and move onto phase 2 of the sweater…
You see, Maggie's fur attracts snow, and the more she walks in the snow, the more tiny snowballs form on her legs, until she ends up with snow and ice 'boots' caking her entire legs!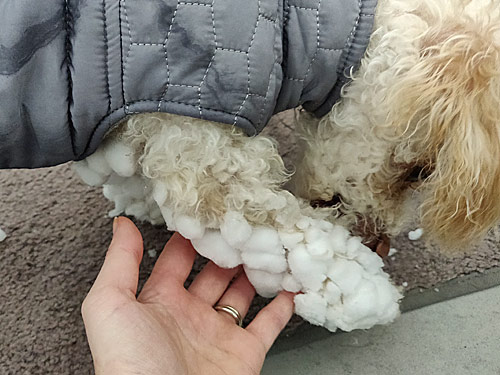 By that point, it's difficult for her to walk – that's no surprise, with blocks of ice in her armpits – so I decided to add some sleeves to this sweater, in the hope of preventing the snow from getting too high up her legs.
The armholes in the sweater are just slits, so I knitted some teeny-tiny little rectangular sleeves with ribbed cuffs: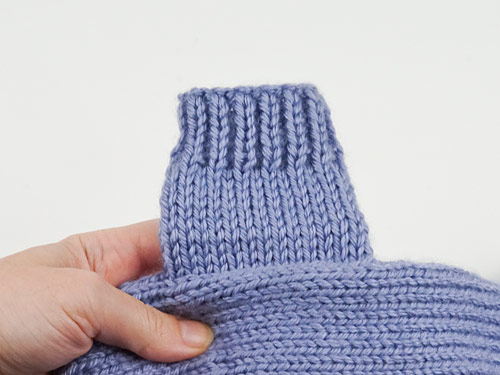 I seamed them up and stitched them into the armhole slits.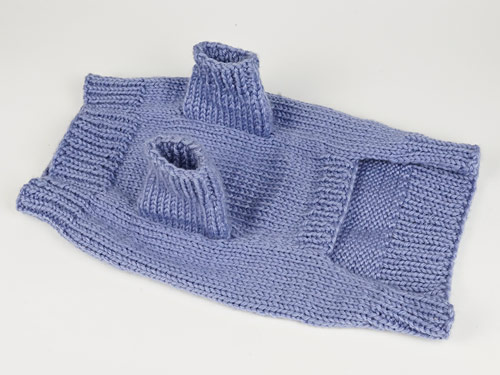 I wasn't at all sure how this would look, as it's the equivalent of a drop-sleeved sweater for a human – a boxy shape without a close fit – but this is a dog sweater, so I wasn't too worried: it's going to get dirty and snagged on twigs and thrown in the wash dozens of times over its lifetime. All it needs to do is keep her warm and stay in place on our walks.
But, flattened to the side, it looks like it should work…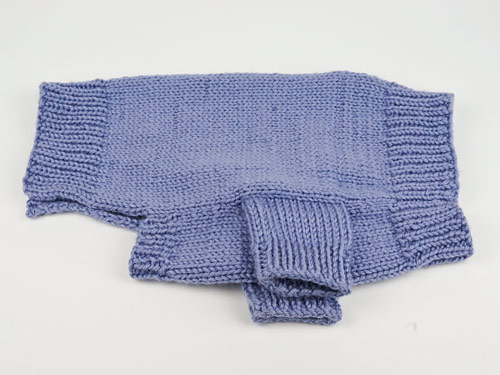 And it needed one finishing touch before we could field-test the sweater: strengthening the leash slit with an edging. I decided to keep it simple and single crocheted around the slit with the same yarn. It turned out to be an easy way to make a very neat-looking buttonhole.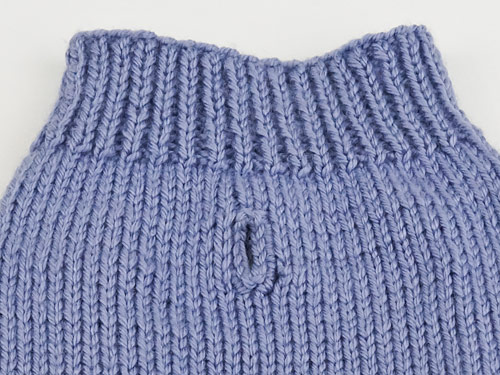 And now for the moment of truth: will Maggie like her sweater?? Let's try it out at the park and see what she thinks…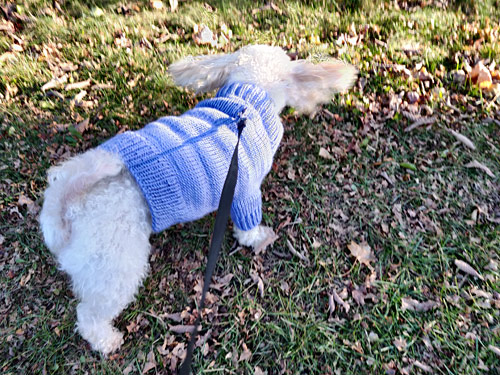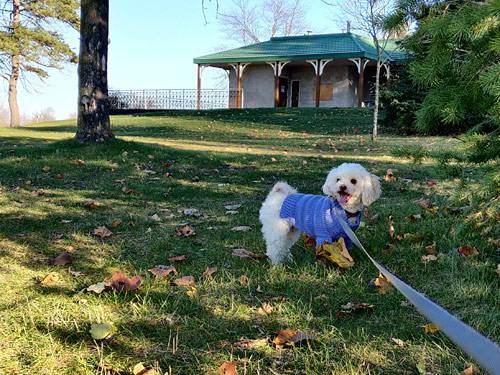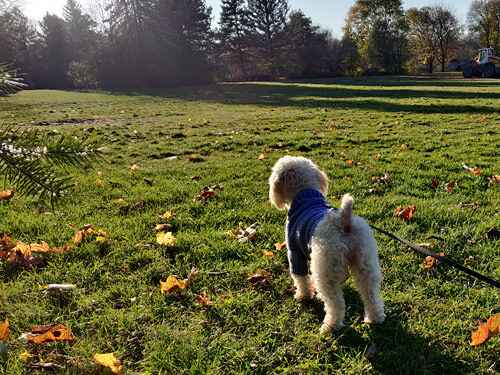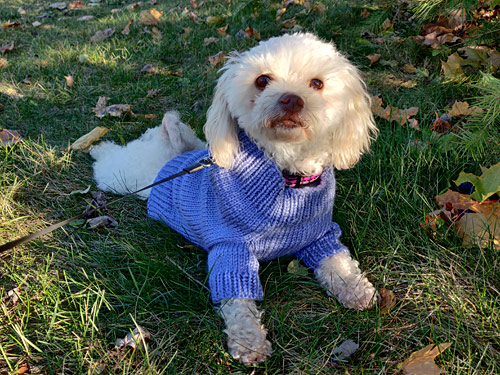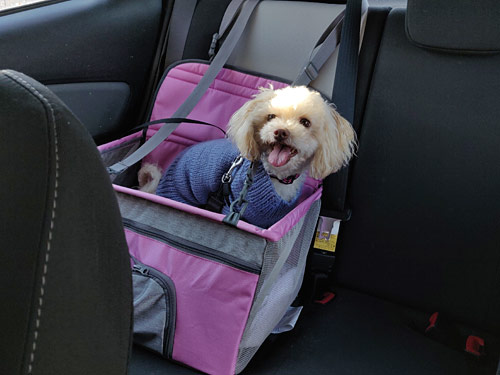 I think that happy face says it all – it's a big success!
(By the way, it looks from these pics like the sweater might be too short, but that's just because Maggie's sweet spiral tail pushes it up her back so it won't stay in place – I don't think there's any way around that!)
As I made Maggie's sweater from the leftover yarn from my own, we now have matching sweaters. And while we won't be going out in public like this (any time Maggie's wearing her sweater, it'll be cold enough for me to need a coat), I couldn't resist asking Dave to take a photo of us in our matching outfits…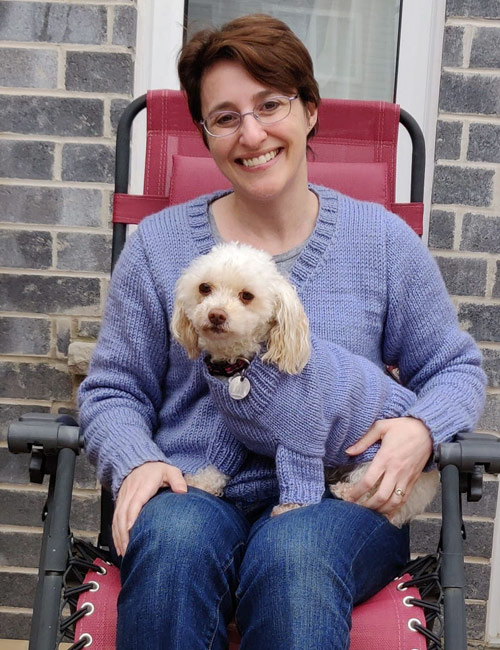 Hahaha – isn't that hilarious?!
I'm really pleased with how this project worked out. And I'm especially happy because, by the time I got to the second sleeve, I finished the entire piece without making a single mistake – maybe I'm actually getting the hang of this machine knitting thing!
It'll probably take 24 hours for a wet sweater to dry before Maggie can wear it again, so I think she's going to need at least a few more sweaters, don't you? 😉
That gives me an excuse to try some more knitting machine experiments without having to make a me-sized sweater. I think I'm going to try some stripes on her next one, so stay tuned to see how that turns out…