Today is the 3-week anniversary of adopting my adorable dog Maggie, and I'm more sure than ever that we made the right decision! I'm so happy I found such a special little lamb – she's so small and sweet, and she loves me so much. And she's such a clever girl – our training is progressing well, and she's learning new things practically every day!
We've been visiting all the local pet stores to look for small toys and training treats and other essentials: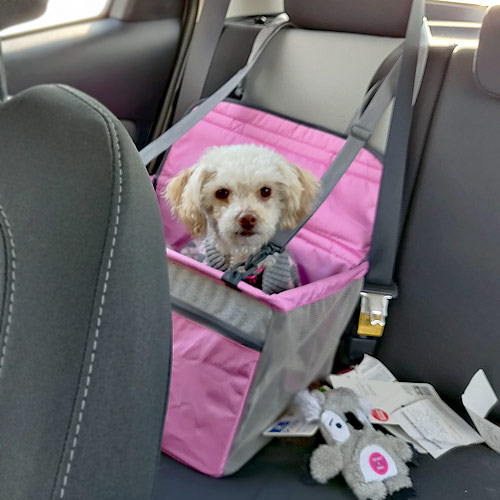 Now, it's pretty cold in Canada and Maggie doesn't have a lot of fur, so getting a sweater immediately was crucial. I bought her this cute little argyle sweater in her favourite colours – pink and grey – and doesn't she look adorable in it?!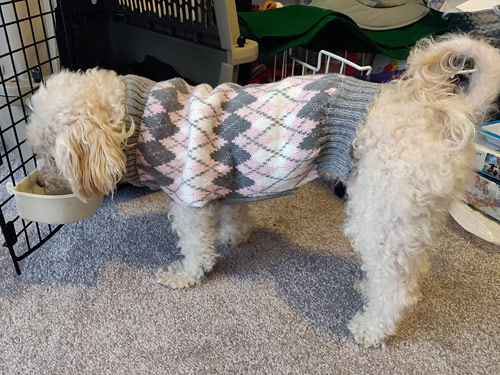 But, less than a week after buying it, it looked more like this: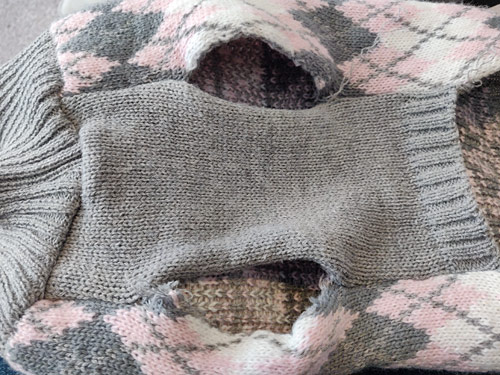 Not only was it coming apart at the seams, but the knitting was actually unravelling at the exposed edges: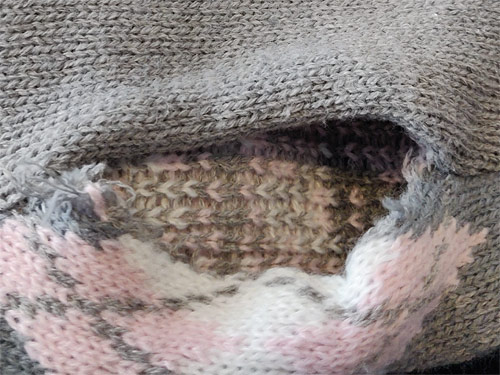 This is the first and last time I buy a dog sweater – now I know how a dog sweater works and have this well-fitting example to take measurements from, I'll be able to crochet or knit all her sweaters in future (yay!)
But, I wasn't about to let this cute sweater go to waste quite so soon. I found a perfect pink baby yarn in my stash (I knew I'd find a use for it one day!), grabbed a crochet hook, and got to work.
I passed the yarn end through all the loose knitted loops I could see, to prevent further runs, and then single crocheted over the last couple of knitted rows to bind all the loose ends in place. I added a ch 1 between each sc to add a little stretch to my new edging, which makes the edging look very slightly ruffled, but it worked like a charm: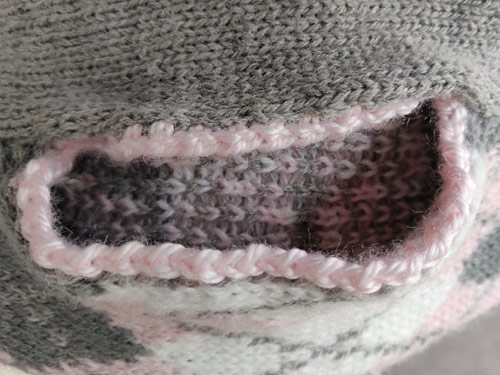 In a few minutes, the sweater was saved! The new leg edgings don't show much in use, but occasionally you can see a flash of pink crochet, and it looks pretty stylish, and not obviously like a repair.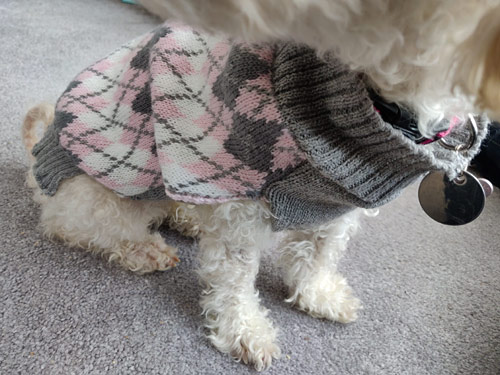 The yarn colour matches incredibly well, and, most importantly, Maggie is happy to have her sweater back so she can stay cosy while we're exploring the neighbourhood!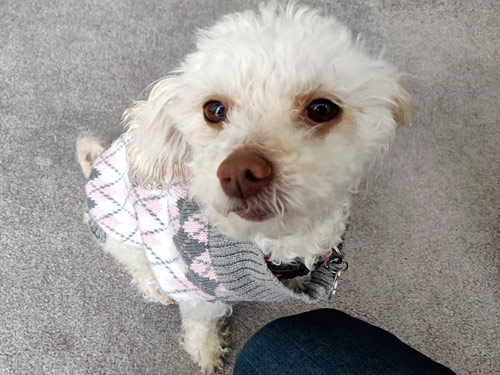 This just goes to show how most mass-market clothes pale in comparison to the care and quality of handmade. I doubt I'll be knitting argyle sweaters for Maggie, but I'm sure she'll be equally happy with single-coloured handmade sweaters in future, don't you think? 🙂