This year has been a struggle for everyone, so let's try to end it on a high note, and celebrate our love of crochet together, with prizes for everyone!
The annual PlanetJune Christmas Crochet-Along (CAL) is back, but it's even more inclusive this time around. You can enter the End-of-Year 2020 CAL any time from now until the end of the year by:
Crocheting any PlanetJune Xmas/winter-themed patterns you're making for your holiday decorating
Crocheting any PlanetJune pattern you're giving as a holiday gift or as a donation to a good cause (or selling to someone who's buying it as a gift)
Crocheting any PlanetJune pattern you're making for yourself – remember, you deserve treats too!
Basically, you can make any PlanetJune patterns you want – the more the merrier! Share what you're making and join our crochet party as we approach 2021.
Come to the PlanetJune group on Ravelry and join the fun! Share your crochet plans, post photos of your projects in progress, let everyone else know you like their projects, and (of course) post pics of your finished projects so we can all appreciate them.
If you don't use Ravelry, or can't at the moment due to their accessibility problems, see the 'How to Enter' section below for how to participate via social media instead.
Prizes
Thanks to a generous anonymous benefactor, we have extra prizes this year:
First prize: $20 PlanetJune Gift Certificate
Second prize (2 winners): $10 PlanetJune Gift Certificate
Participation prize (2 winners): $5 PlanetJune Gift Certificate
Runner-up prize (everyone else!): 10% PlanetJune discount code to spend in 2021
Pattern Options
While you aren't limited to my seasonal patterns with this CAL, I thought I'd whet your appetite for project ideas with a collage of all my Christmas patterns: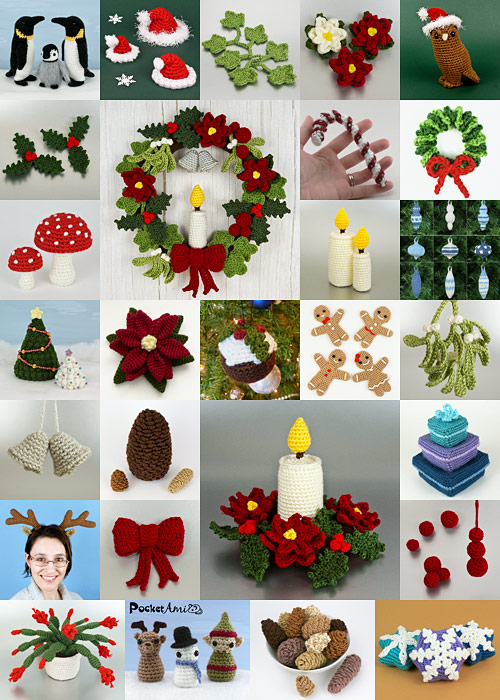 Isn't that amazing? There are soooo many to choose from! You can find all these patterns at www.planetjune.com/xmas – including plenty of free/donationware options if funds are short 🙂
How to Enter
Ravelry Users
Post a pic of your PlanetJune projects to the CAL thread in the PlanetJune Ravelry group, and tag your projects with PJCAL2020 in order for them to appear as part of the CAL.
New to Ravelry or PlanetJune CALs? See my
Crochet-Along FAQ
for all you need to know!
Non-Ravelry option
If you are unable to use Ravelry, you can still enter the contest by:
Posting a photo of your finished PlanetJune project on Facebook, Instagram or Twitter
Tagging me (@PlanetJune) in the post so I'll see it
Using the hashtag #PJCAL2020 in the post so I know it's an official entry (only use the hashtag once per entry please, even if you post multiple photos or in multiple places!)
Example message "Here's my entry into the @PlanetJune End-of-Year CAL! #PJCAL2020" (and add your photo, too!) 
Rules
Prizes will be drawn from all eligible entries, starting from first prize and working down the list, with a maximum of one prize per person.
You'll receive one entry per PlanetJune pattern used in a completed project and tagged PJCAL2020 (if you make e.g. a Christmas wreath using 5 different patterns, you'll get 5 entries).
Entries will be capped at 8 per person, to give everyone a chance of winning.
Bonus entry option (for the participation and runner-up prizes only): even if you don't manage to complete a project, you can still be entered into the contest – all you need is to have posted at least 5 posts in the CAL thread. So do join in the conversation – you'll be guaranteed at least a runner-up prize!
---
I do hope you'll join us for this PlanetJune end-of-year crochet party – I'm really looking forward to seeing what you're making from my patterns, as holiday gifts or for yourself! See you in the ravelry group or on social 🙂