Have I told you about my knitting goal? I'm teaching myself to knit by making myself a dozen self-designed sweaters, and learning new techniques with each one I make. I'm hoping that, by the end of this journey, I'll be a real knitter and not have to survive on guesswork! (Here are links to #1, #2 and #3, if you'd like to see my progress.)
This is sweater #4 and, as with all the others so far, it's not perfect – there are things I'd change if I were designing it again – but it is perfectly wearable. I actually finished knitting it a few months ago, but didn't have a chance to block it until Christmas.
I'm not really sure if I should call this a cardigan or a jacket, but I'm wearing it as a cardigan. I wanted to try knitting a zip-up top, and I was inspired by the smooth sporty lines of a fleece top – I thought a knitted version would give a slightly less casual feel.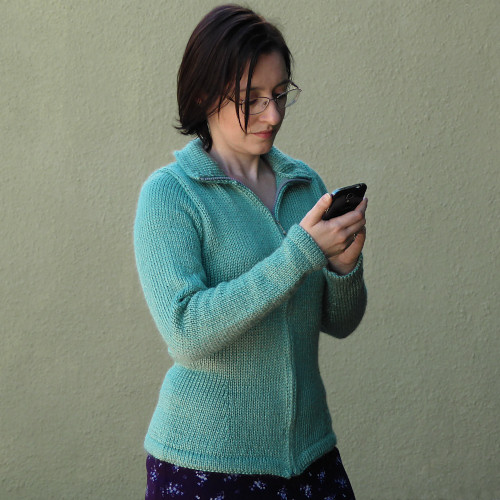 (My new camera can be remote-controlled by my phone – I took this photo by mistake while setting up the app, but it shows the fit of the cardigan nicely!)
I worked turned hems to give a smooth look, and a big turned collar. The back and front have waist shaping so, even though I couldn't find a 2-way separating zip, it can fit over my hips at the bottom edge without stretching, but still has a fairly smooth fitted look at the waist. I knitted all the pieces bottom-up, with the body as a single piece to the underarms, and set-in sleeves.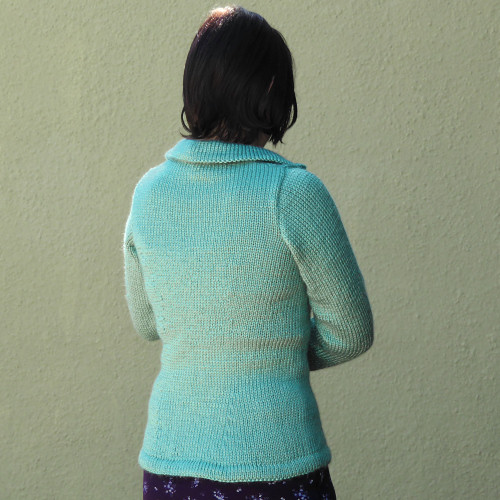 The turned collar has two purposes: it matches the hems visually, and the built-in facing covers the zipper tape along both collar edges, so it looks tidy whether you have the collar open or zipped right up. I knitted the collar after completing the rest of the cardigan, so I could make it exactly the right length to fold around the top of the zip, and it turned out pretty well, I think.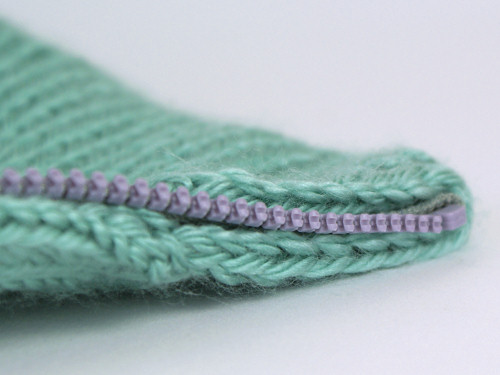 Zipped right up, the cardigan works like a cosy built-in scarf, with 2 layers of knitted fabric around my neck. I wouldn't usually wear it zipped up like this, but I'm looking forward to taking advantage of the warmth on unexpectedly windy days!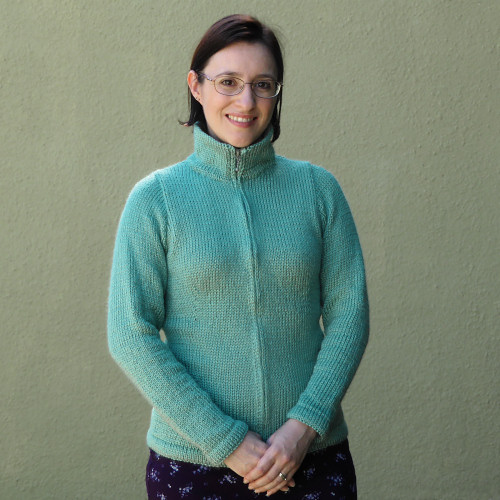 The yarn colour is a bit unusual – which made buying a co-ordinating zip next-to impossible, although I like the muted purple I chose in the end – but the best part about this yarn was the price: I bought it from a yarn factory outlet sale, and the entire sweater cost me the grand total of $5. It's Bernat Satin yarn, so it's very soft and snuggly, despite being acrylic.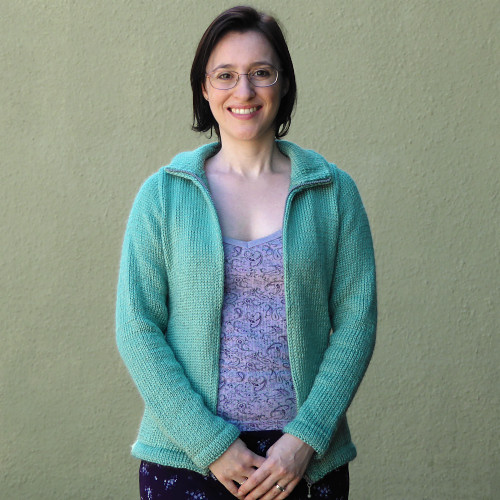 I'm calling this one a success! Lessons learnt:
Knitwear and zips aren't the best of friends, particularly with the stretchy drapey knitted fabric I prefer. Sewing it in was tricky, and, when I sit down, the zip bulges out over my tummy in a less-than-flattering way. (This could have been minimised if I'd been able to find a 2-way zip, or made a shorter length sweater, but I think I prefer buttons anyway.)
I misunderstood how to do a sloped bind-off, and the combination of that together with set-in sleeves and thick knitted fabric meant my shoulder seams are a little bulkier than I'd like, although I don't think it's too obvious until I point it out, right? (I've since realised my mistake, and I know how to do it properly now!)
My biggest victory with this sweater was getting my measurements spot on – it fits me perfectly all over. These measurements will be my go-to template for future sweaters, and should make designing the next ones much simpler. I love this process; I'm learning so much with each new garment I make. And, with this cardigan, I'll be well prepared once summer ends and my house gets chilly again.