The weather never gets truly cold in Cape Town, but with poor insulation and no central heating in the houses, winter in South Africa can be very cold when you're inside. It's often warmer outside (in the sunshine) than in my house, which never really gets warm in winter, no matter how many portable heaters I turn on.
If you peeked through my window right now, you'd see me sitting at my desk, bundled up in multiple sweaters, two pairs of socks, a shawl, a blanket, a scarf and wristwarmers. I'm glad that I get to use all the accessories I've crocheted, but it does get a bit frustrating when my layers make me as bulky as the Michelin Man…
What I really needed was a warm sweater without bulk, so I ordered some beautiful fluffy dark teal alpaca yarn (KnitPicks Reverie) for my next knitting project – the shawl-collar pullover I made looks warm, but it's not enough for the cold days here. I used the basic size template I designed for that sweater, and made a few refinements, to produce this: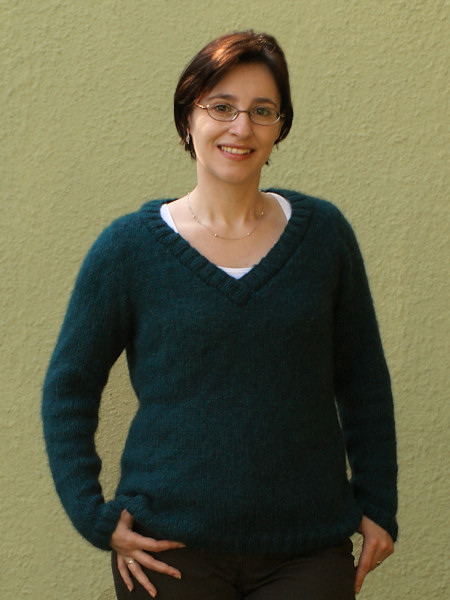 Changes from my last sweater:
I made a more subtle rib at the collar and cuffs, and made the collar into a simple v-neck with a neat overlap at the point of the V.
I added interior waist shaping (instead of the side shaping I used before) that I learnt from Amy Herzog (Knitscene magazine, Fall 2011).
And I bought two Craftsy online classes (which I'll review properly at a later date once I've had a chance to finish them) which taught me how to design and knit fitted set-in sleeves – a revelation!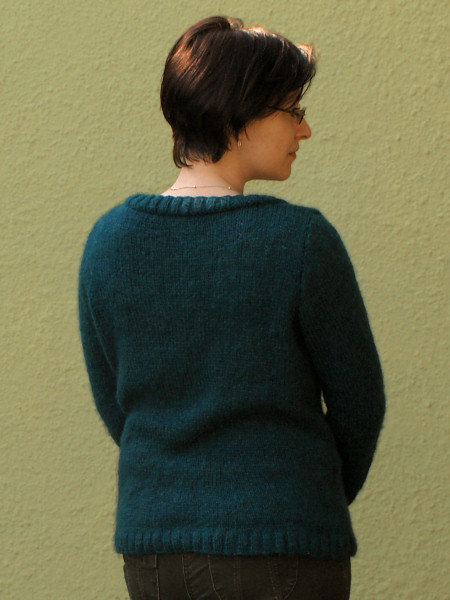 I intentionally made the neckline very wide and open, as I wasn't sure how the alpaca would feel next to my newly-sensitive eczema-prone skin, and I wanted to be able to avoid direct skin contact if necessary. I also added extra ease to this sweater from my last one, so I could wear a long-sleeved t-shirt underneath if my wrists were irritated without making the sweater look too tight.
What I didn't take into account – I am still a novice knitter! – was that the finer yarn, knit more loosely, would already add ease, even if the finished measurements are the same. Thanks to this, the finished sweater fits more loosely than I'd imagined it would, and the neck opening is even wider than I'd planned. But, although the waist shaping I added isn't at all obvious, imagine if the waist had an extra 3″ of fabric: waist shaping does make a difference, even in a garment that isn't closely fitted. Note: the bunching in the photo above is just drape due to how I was standing (oops!), not voluminous folds of extra fabric.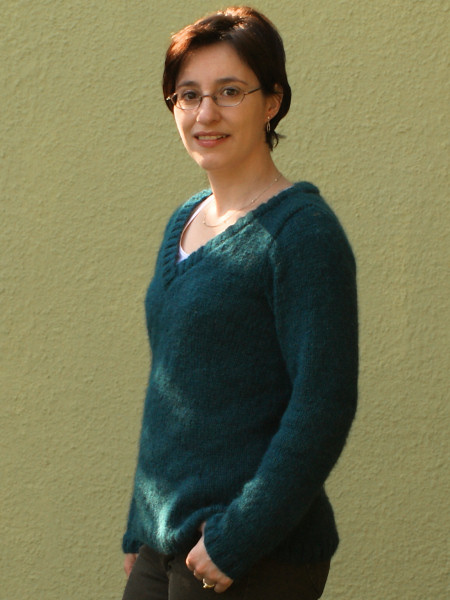 The verdict: I really love this sweater – it's probably the warmest garment I own, even though it's very thin and not at all bulky. The yarn is ultra soft and luxurious, and it doesn't irritate my skin at all, and the colour is truly gorgeous. I do wish I'd made it slightly narrower, and less open at the neck, but those are things I can change next time – I've already ordered more Reverie yarn so I can make another one to keep me warm next winter 🙂
I can't even begin to estimate how long it took me to knit this sweater, but it was worth every moment – it helped me get through some very stressful times, and I have a snuggly warm sweater to show for it! Unfortunately, I have no time to design my next knit piece at the moment, but I'll definitely be adding to my handknit wardrobe once I've finished writing my book. Making garments and accessories that fit well enough to actually wear without being embarrassed is so rewarding – don't you think?