Wow, things are very quiet around here, aren't they? It's strange that I'm busily working on exciting things and yet have nothing I can talk about… But, while you'll have to wait for my next crochet book to see my secret projects, I do have some news to share about the patterns in my first crochet book!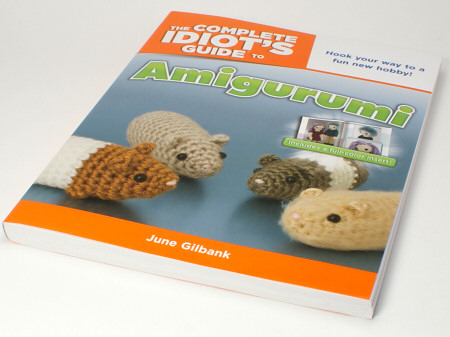 The Complete Idiot's Guide to Amigurumi was first published in 2010, in two versions: the print paperback and the Kindle format ebook. In case you aren't familiar with the book, here's the little stop motion-animation video trailer I made, to give you an idea of what it's about:
Although this book is primarily a reference guide to amigurumi techniques, not a pattern book, all the amigurumi you see in the video are made from the patterns in the book. (These are exclusive patterns that I created for the book – you won't find them anywhere else.)
The Kindle Problem
I proofed the paperback before it went to print, but I never got to see the Kindle version (in fact, I've still never seen it!) and I was horrified when I discovered from my readers that the Kindle version doesn't include any of the photos from the 8-page colour insert (not even converted to black and white) – those pages are completely omitted!
Those photos are an essential part of the book, as they include all the photos and detail shots of the patterns in the book, so people can't even see what they are trying to make without them. I think the missing colour pages must be a Kindle format limitation, but I had no idea this was going to happen, and I'm really sorry if you've bought the Kindle version and been frustrated by the lack of these photos.
My Solution
As soon as I discovered this problem, I contacted my publisher to try to fix it, and we've worked together to come up with a solution. It's taken some time (publishers' schedules are long-term, so nothing happens quickly), but I can now offer you a free PDF of the missing pages, to accompany the Kindle version of my book.
If you've bought the Kindle version, please download the file and use it as reference when you make the patterns from my book 🙂 (The file is probably of limited use to anyone else, as it just shows details of the patterns included in the book, and an Ideas Gallery showing some of my other amigurumi designs, but you're welcome to download the PDF too, if you want!)
Download the PDF!
I hope that, in future, the Kindle version can be updated to include a link to this PDF, but, in the meantime, you can download the PDF from idiotsguides.com (under Hobbies & Crafts > Book Extras) or directly, by clicking here:
CIG to Amigurumi Project Photos (3.8MB PDF).
If you'd like more information about the Complete Idiot's Guide to Amigurumi (what it's about, where to buy it, and how to get your free signed bookmark), please see my CIG to Amigurumi information page 🙂