I have someone who'd like to say hello: it's my newest commissioned design, the Sloth!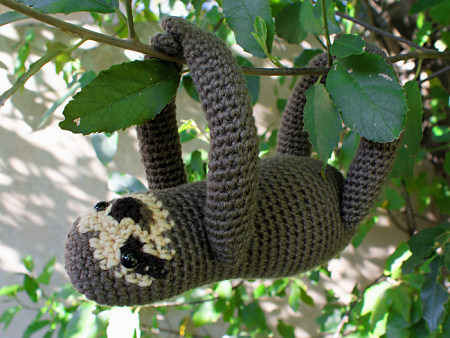 He's fully poseable with his jointed limbs and feet that can be clipped together, and I had a very fun photoshoot setting him up in different positions in the tree in my garden 😀
Sloth Fun
Sloths are very popular in internet culture at the moment, and my sloth wanted to get in on the action by replicating some famous sloth memes…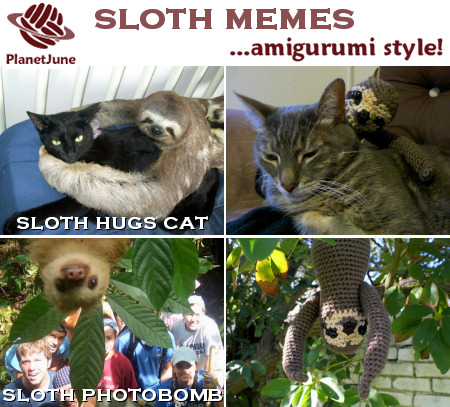 You can see that his poseability makes him extra-fun – he can hang by all 4 legs, dangle by his front or back legs, hug and hold onto things, and more! (A special thanks goes to Maui for tolerating being draped with a sloth for long enough for me to take the top right photo…)
Sloth Fun Facts
Sloths live in the rainforests of Central and South America.
They live, move and eat very slowly, and spend almost all their time hanging from branches by their specially-adapted hands and feet.
Sloths have special slow digestive processes that let them get maximum nutrition from the tough leaves they eat.
Sloths' arboreal adaptations (long limbs and claws and weak hind legs) mean they are unable to walk on the ground and have to drag themselves along by their front feet, but they can swim!
Algae grows on their fur, so sloths often appear green-tinged – this makes excellent camouflage in the trees.
Sloths are Strange!
As part of my research, I always take a look at the soft toys that already exist for the animal, and this time I found that all the manufactured sloth toys look very unexpected: even respected toy companies like Hansa and Folkmanis, who usually do a good job with realistic animals, seem to think a sloth is a bear with elongated limbs and no ears:


Two stretched earless bears from Hansa and what appears to be an earless panda from Folkmanis – these are all sold as sloths, but I don't see it…
Sloths are bizarre-looking and unlike any other animal on earth! These qualities also make them extremely difficult to replicate, as you can see from the toys pictured above. Coming up with my design hasn't been easy – real sloths look different in every photo I see – but I'm very happy with my result and I think I've captured that indefinable slothiness…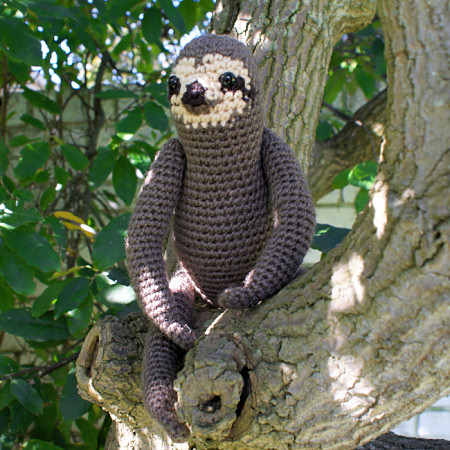 About my Sloth design:
My sloth has a pale face with distinctive slanted eye stripes and that never-ending enigmatic sloth smile.
His long legs have crocheted-in knee shaping so they don't just look like tubes.
His shoulders and hips are jointed (I've also provided instructions for a non-jointed version) and he can hang around like a real sloth thanks to almost invisible hook-and-eye fasteners on his feet (optional, and I've also suggested alternative fasteners).
Note: You could brush your sloth to give him a shaggier look that would be even more realistic, but I opted to leave mine with clean lines so you can see him more clearly.
Want a Two-Toed Sloth? I based my design on the more popular Three-Toed Sloth (those eye stripes were irresistible). If you'd like to make a Two-Toed Sloth (like the photobomb sloth pictured above), do let me know – I've done my research and made sketches for both sloth types, so if I get enough requests I can easily design a Two-Toed Sloth Expansion Pack for you 🙂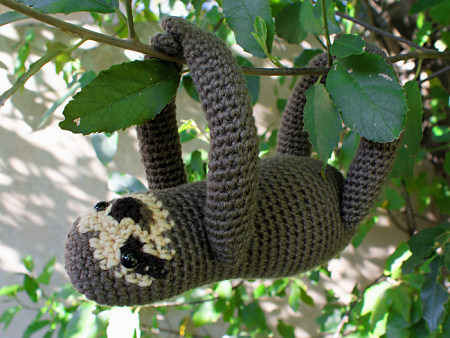 So now the question is: can you resist making a sloth right now?! You can pick up the Sloth amigurumi crochet pattern from my shop and get started this minute! Or, if you're not quite ready to buy, why not favourite/queue it on Ravelry so you don't forget about it?