When I made my commissioned Sloth design, I had to decide between the two types of Sloth: Two-Toed and Three-Toed. I decided to go with the Three-Toed for my design, but I secretly wished I had time to make a Two-Toed as well…
Although my crocheted sloths don't have any toes, the markings and nose shape of each type of sloth makes them look very different, although their basic body shapes are the same. This means we have an excellent candidate for a new Expansion Pack, to convert the standard Three-Toed Sloth into a Two-Toed Sloth: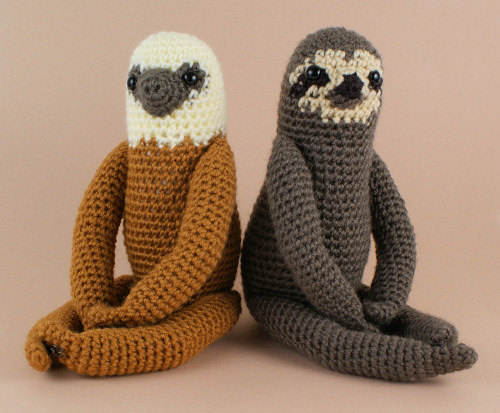 If you aren't too familiar with sloths – they are very strange creatures! – I refer you to my Sloth Fun Facts from my original Sloth blog post 🙂
Just like my original Sloth, the Two-Toed has jointed limbs and feet that clip together so he can hang around: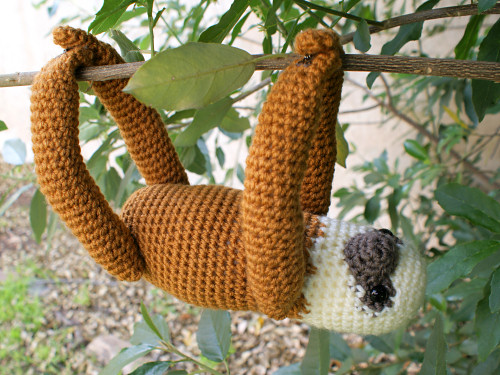 And I have to admit it – this is the real reason I always wanted to make two sloths: when you have two sloths (a matched set, or one of each), your sloths can hug each other:
Awww! Cutest thing ever?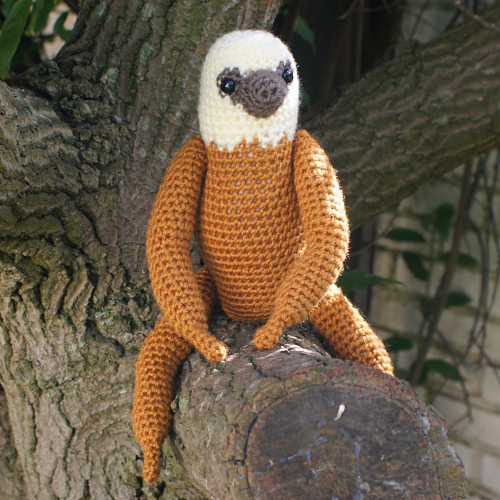 My Two-Toed Sloth uses a special technique to give him nostrils crocheted right into his muzzle – it's subtle, but gives a nice effect that doesn't rely on embroidery or any other embellishment techniques. As with the original Sloth, there are only 6 pieces to crochet, and the jointed limbs mean you only have one piece to sew on at the end – very satisfying!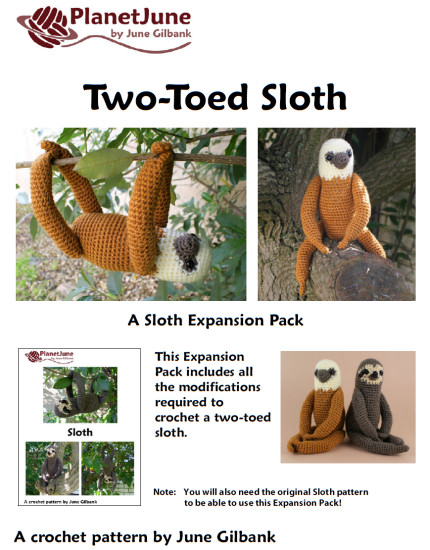 What is an Expansion Pack?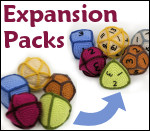 An Expansion Pack is an add-on to an existing PlanetJune pattern.
The Expansion Pack lets you modify or add to the original pattern to create something else.
You cannot use the Expansion Pack alone – you must also purchase the original pattern in order to be able to complete the pictured items in the Expansion Pack pattern.
You can buy the Two-Toed Sloth Expansion Pack for only $2.50 individually from the shop, or, if you haven't yet bought the (three-toed) Sloth pattern, you can buy the multipack of both sloths, and save 50c on the pair.
Launch Discount
If you've already bought the original Sloth, you won't be able to save that 50c. But, for 7 days only, add the Two-Toed Sloth Expansion Pack pattern to your shopping cart, together with anything else (totalling $5 or more), then use the code SLOTHLOVE at checkout and you'll still get your discount! (Valid until next Tuesday: 13th October 2015.)
Note: If you don't need anything else right now, this also applies to Gift Certificate purchases, so you can pick up a $5 gift certificate now, get your discount, and have $5 in your PlanetJune account ready for your next purchase, or to send to a crocheting friend!
---
I'm so happy to finally have a complete set of sloths. If you're not ready to make your Sloth family just yet, don't forget to heart and queue them on Ravelry so you don't forget about them:
Three-Toed Sloth (original): 
Two-Toed Sloth (new):
What do you think? Aren't hugging amigurumi sloths just the cutest thing?!