New Press
Simply Crochet magazine wrote about my Pine Cone Collection pattern in their October issue: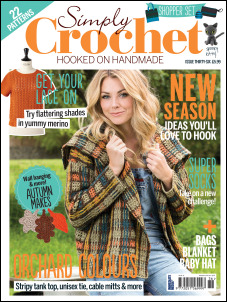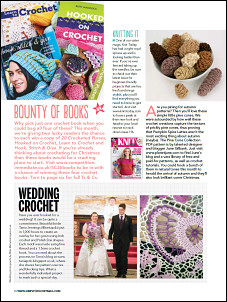 Are you pining for autumn patterns? Then you'll love these simple little pine cones. We were astounded by how well these crochet creations capture the texture of prickly pine cones, thus proving that Pumpkin Spice Lattes aren't the most exciting thing about autumn (maybe). The Pine Cone Collection PDF pattern is by talented designer and blogger June Gilbank. Just visit www.planetjune.com to find June's blog and a vast library of free and paid-for patterns, as well as crochet tutorials. You could hook a bunch of them in natural tones this month to herald the arrival of autumn and they'll also look brilliant come Christmas.
Thanks Simply Crochet! If you really are pining (ha!) for autumn patterns, you can pick up my Pine Cone Collection pattern (and/or the Giant Pint Cone Expansion Pack) from my shop right now 🙂
Free-For-All CAL Report
We had a huge variety of patterns chosen for this anything-goes CAL over the summer, and all the projects looked lovely! Here's a sampling of the CAL entries (click the pic to see them all on Ravelry):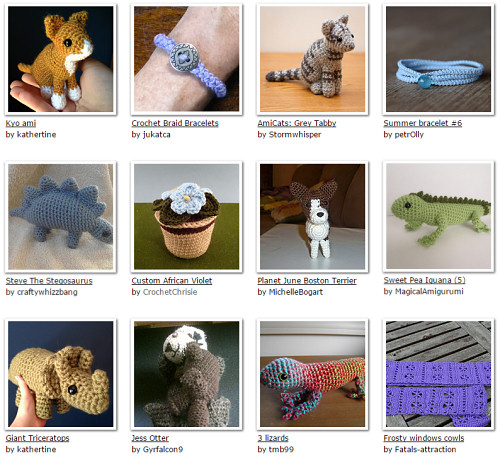 Ami Animals CAL
If you'd like to join the October PlanetJune CAL, the theme is animals, and I've got you covered with a massive range of 109 patterns to choose from! Whether you prefer cats and dogs, dinosaurs and lizards, cute pets or unusual wild animals, I've got something for you…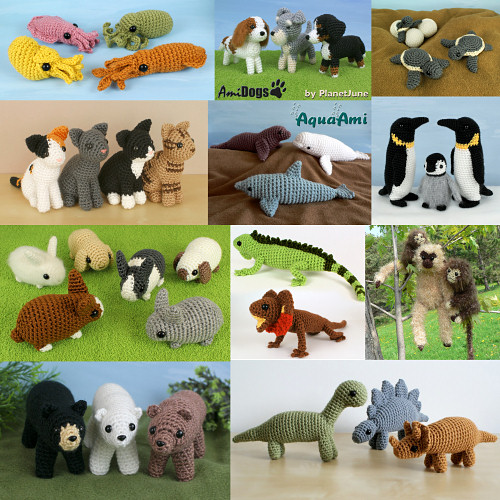 The photo above shows a small selection of your choices; to see them all, visit the animal crochet patterns page of my shop 🙂
Then meet us in the PlanetJune Ravelry group and join the crochet-along!
Review and Win contest
You're automatically entered in the next monthly draw every time you write a review for a PlanetJune pattern you've enjoyed – and you'll also be helping future customers make an informed decision about patterns they are considering buying.
As I didn't post a monthly update in September, I have two winners to announce today 🙂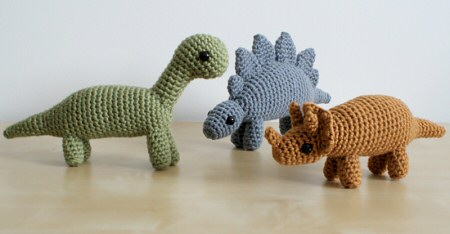 August's winner is Katherine W's review of my Dinosaurs Set 1 patterns:
I'm a beginner at crochet and this was my first time using a pattern, and first time trying amigurumi. Had to learn half the techniques used! But thankfully the pattern was very clear and easy to follow, and Junes video tutorials were all I needed to make a super cute Brachiosaurus. Will definitely be making more 🙂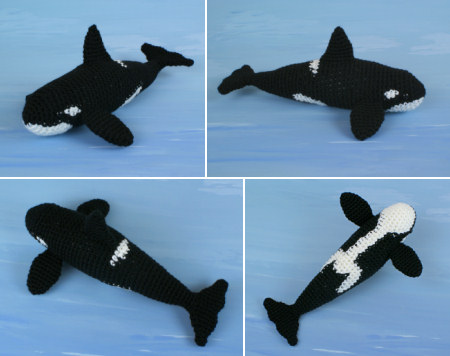 And September's winner is Jaclyn M's review of my Orca (Killer Whale) pattern:
As soon as I saw this pattern, I knew that I had to have it…and I am very glad that I purchased it! If you are okay with color changes, this pattern is clear and easy to follow; even if you aren't okay with color changes, June does a great job explaining how the color changes work for this pattern. The shaping of the fins is gorgeous and realistic!
Congratulations, Katherine and Jaclyn – I've emailed you both to find out which pattern you'd like as your prize!
What's Next?
I have a cute new amigurumi pattern coming soon, and two new PlanetJune Accessories on their way, plus I'm working on my Christmas design to make sure it's ready for you in plenty of time before that last-minute Christmas rush! So I'll have plenty to keep me occupied over the coming weeks…