Let's get this out of the way first: I received a digital copy of these books to review. But I'm not being compensated for this review in any other way, and the following is based on my honest opinions!
Overview
I have two books to review today! Both are Tunisian crochet books by Kim Guzman, and I really see them as a complementary set, so I thought I'd review them together. Both are published by LeisureArts, and they are: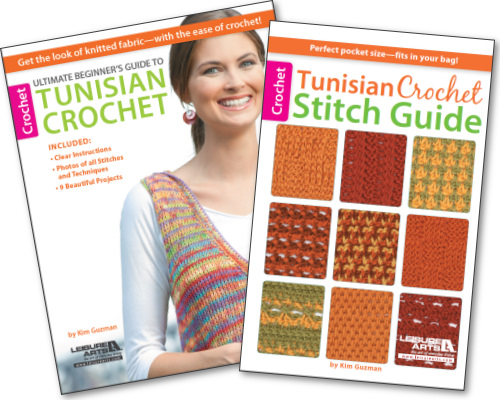 Let's start off with a look at each:
Ultimate Beginner's Guide to Tunisian Crochet
In this book, Kim walks you step by step through all the basic techniques for Tunisian crochet, with clear step-by-step photo illustrations. The first section packs a lot of valuable information into 10 pages: Tunisian hook info, all the common basic stitches, increasing and decreasing, changing colour and changing yarn, and seaming.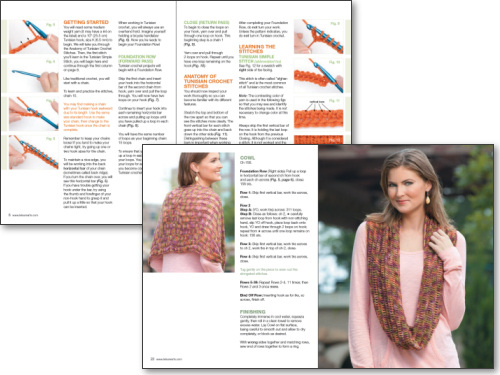 The remainder of the book is devoted to a selection of patterns to help you apply and practice your new knowledge and skills. This section includes 9 patterns, ranging from a very basic hat, through a blanket, fingerless mitts, and wearables (all for ladies: a ruana and two vests). The Drop Stitch Cowl (pictured above) and the Felted Duffel bag are my favourites of the included patterns. All the patterns include full written instructions (with the exception of the blanket, which is charted) and include schematics, where appropriate, for sizing.
Tunisian Crochet Stitch Guide
With this book, Kim has developed more stitch patterns than I imagined existed for Tunisian Crochet! The book includes 61 stitch patterns split over 4 chapters: Learning Charts (14 basic stitches), Typical Stitches (17 patterns), Color Stitches (12 patterns), and Lace Stitches (18 patterns).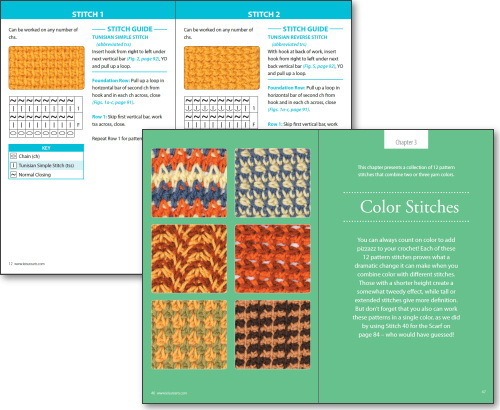 Each stitch pattern is charted, with a helpful key given on the same page as each chart. No prior knowledge of Tunisian crochet charts is needed, as the first chapter walks you through each stitch with both the chart and full accompanying text instructions (as pictured in Stitch 1 and Stitch 2, above). The book ends with a brief reference section for all the included basic stitches.
My Experience
The Stitch Guide is a crochet stitch dictionary, but purely for Tunisian crochet stitch patterns. The best way to test a stitch dictionary is to test a variety of the stitch patterns, so I bought some co-ordinating yarns and starting working through the book from the beginning, making a swatch for each stitch pattern. I'd only ever used the basic Tunisian stitches before, so this was new ground for me. And I haven't done any Tunisian crochet since 2010, so the Beginner's Guide came in very handy as a refresher for the basic techniques.
Kim is a true expert in Tunisian crochet and I was looking forward to expanding my skills in this form of crochet. Working through the Stitch Guide (with the Beginner's Guide as a backup) was a great way to learn more about Tunisian crochet: I discovered that some Tunisian stitches bias heavily (I ended up with a very slanted parallelogram instead of a square with some of the stitches) and others curl, a little or a lot. Some stitches were easy and enjoyable to work, and others I found awkward and had to grit my teeth and force myself to complete the square. Some gave me a thick, dense fabric (as I had expected), others were pretty and lacy, but my favourites were thin and relatively solid, with nice drape – I can definitely imagine using some of these for a future project.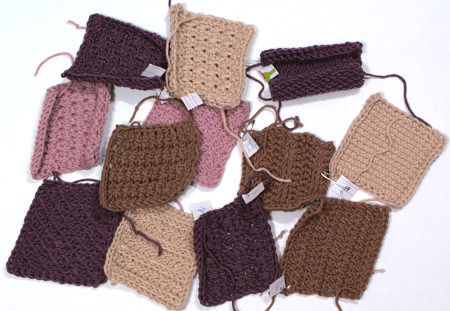 A selection of my swatches – some biased, some curled, some neither, some both!
All this is such valuable information to have before starting a project! Designing is so much more than choosing a pretty stitch pattern from a book – you have to know how the fabric will behave and whether it's a good fit for the project you have in mind. A wonderful stitch for a thick afghan would probably be disastrous in a sweater. So, if you're planning to use this (or any other) stitch dictionary, I definitely recommend you make a swatch before you embark on the full project – even if you don't care about gauge, you still need it to discover the characteristics of the fabric you're about to create!
I made 32 different 3.75″ squares while testing out these books. I wasn't sure at first what I was going to do with them, but I decided to make a sampler cushion cover. I only have one Tunisian hook and I was making very small squares, so I couldn't vary the gauge. Instead, I modified some of the larger stitch patterns so I could create the same size of square each time. Once I had enough squares, I pinned them all to the same dimensions and steam blocked them to reduce the curling and biasing. This made it much easier to crochet all the squares together to form the two sides of the cushion cover.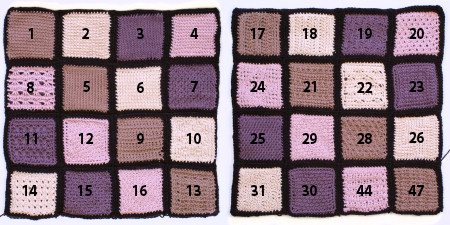 I kept a key of the stitch patterns I used, so I can use my cushion as a reference 🙂
I made a cushion pad to fit the cover, using fabric from an old (clean) bed sheet and some stuffing. I tufted the cushion to keep the stuffing from sinking to one side of the cushion and to keep it from puffing up in the middle, to better show off my squares.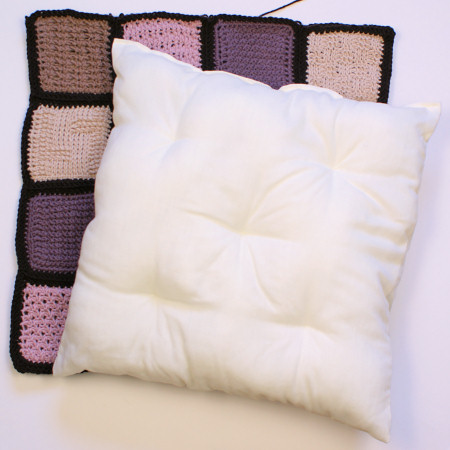 And then I crocheted the front and back of the cushion together around their edges, inserting the cushion before I crocheted the final edge. Here's the result – a lovely Tunisian crochet sampler cushion – isn't it yummy? It's like a chocolate box of Tunisian crochet!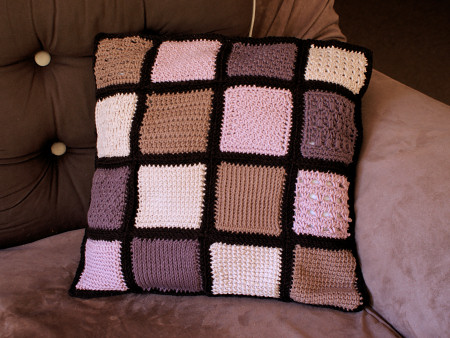 Yes, those twisted swatches I showed you above turned into these gorgeous squares once they were blocked and edged.
And my cushion is completely reversible, with all different stitch patterns on the back – I think I may like this side even more: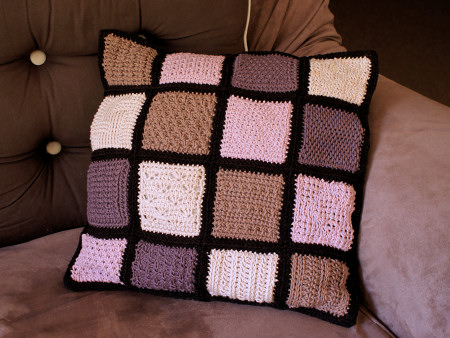 In case you're trying to match these with the 'key' picture above, I accidentally photographed my cushion upside down in both these photos…
I found it fascinating to try such a variety of Tunisian crochet stitch patterns, and I only tried just over half the included patterns (32 out of 61)! Colourwork adds another unique dimension to Tunisian crochet, and there are 12 two- or three-colour patterns, plus 16 more lace patterns and the heart motif pattern (#27) that was too large for me to include in my cushion, so there's still plenty left to explore in the Stitch Guide.
Peeves
I would have appreciated some additional guidance in both books on how to make the last stitch of each row; the Beginner's Guide explains how to make the last stitch differently for a tss, but doesn't explain how that translates into the other stitches, and I had to consult Kim's YouTube videos for additional help. The Stitch Guide doesn't make any mention of the last stitch of the row being any different. I would have loved it if the instructions for each stitch explained the way to form the final stitch of each row, and that was also reflected in the chart (for example, in Kim's video, she shows that the last stitch of the row in twisted simple stitch is not twisted, but the chart and instructions in the guide don't explain that). I now think that the final stitch is always made in one of two ways: knitwise (from the front) or purlwise (from the back), but I'm not 100% sure on that, as neither book explained it, and none of the charts show the last stitches worked differently.
After I completed Chapter 1 of the Stitch Guide, I was surprised to find that the remaining stitch patterns are all only charted, with no text instructions. This makes sense, as the later patterns are more complex and would take a lot of space to write out, but I haven't seen this mentioned anywhere else, and it's important: Tunisian charts look very different to standard crochet charts. After trying every stitch pattern in Chapter 1, I understood the charts by the time I no longer had the text for backup, but if you bought the book and wanted to jump in with a Chapter 2 pattern, you'd have to learn how to read the chart first! (The book does include a page on how to read charts, and a master list of all the symbols used.)
I also noticed a couple of errors regarding the swatch photos: the swatch for Stitch 23 shows a different pattern to the chart (there's a 2-row repeat in the swatch and a 1-row repeat in the instructions and chart – I believe they are missing a row of tss that separates each pattern row in the swatch); and the swatch for Stitch 26 has been photographed turned both sideways and back to front! But I highly recommend you make your own swatch before jumping into a project using any of these stitches anyway, as the results are often much more beautiful in reality than you can tell from the swatch photo.
The stitch instructions in the Stitch Guide are all in a section at the end of the book. This makes sense given the amount of repetition that would be needed otherwise, and it keeps the book nice and compact. As I have the ebook version, though, I found this a bit unwieldy in practice – I can tell you that flipping to the back of a paper book for a reminder of a stitch is far easier than trying to 'flip about' within a PDF ebook! It'd be nice to see future ebooks using internal hyperlinks (and a 'back' button) for this sort of thing; paper books still do some things better at the moment.
Final Thoughts
If you're new to Tunisian crochet, I'd recommend the Ultimate Beginner's Guide to Tunisian Crochet as a good way to learn the basics, and a handy reference to keep around. You can practice your stitches and gain confidence by following the included patterns, and build your skills while you crochet a variety of projects such as a hat, a cowl, fingerless mitts or a baby blanket. Although I probably won't be making any of the included patterns myself, the 10-page reference section at the start of the book still makes it a must-have for my collection.
If you already have some experience with the basic Tunisian stitches and are looking for a bit of variety, the Tunisian Crochet Stitch Guide is an excellent resource to add to your collection. While it does include instructions for each of the basic stitches used to form the various stitch patterns, they are brief reminders, not step-by-step instructions, so I wouldn't recommend this as your first beginner's book. Also, don't buy this book if you're looking for interesting project patterns, as it's solely a stitch dictionary (although Kim does mention that you can make a scarf using any of the stitch patterns). But the stitches are varied and some are very unusual – I've learnt a huge amount about Tunisian crochet through this book, and discovered some lovely stitches!
These two books complement each other perfectly, as, once you've thoroughly learnt the basics from the Beginner's Guide, you'll be ready to try out the exciting new stitch patterns in the Stitch Guide. I'll definitely be keeping both books in my library.