It's hard to come up with a new Christmas design – with thousands of patterns to compete with, it's not easy to think of something original that hasn't been done before, but I'm confident that my Snow Stars are a completely new concept!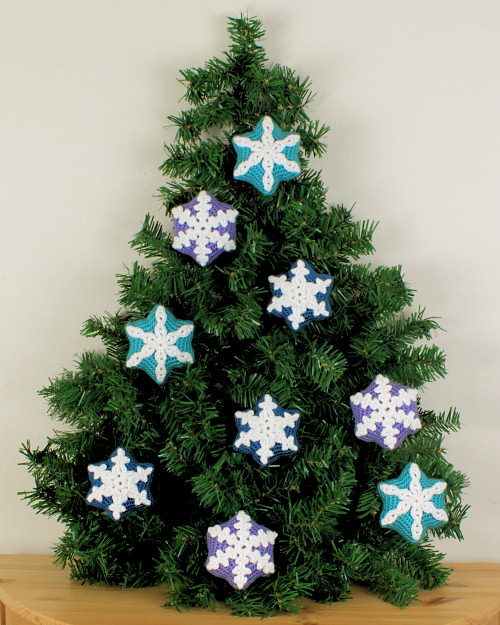 This pattern collection is really three patterns in one:
An amazing one-piece, no-sew, seamless amigurumi star
Three quick and easy crocheted snowflakes
A set of beautiful Christmas decorations
The Star
I've spent the last couple of years playing around with prototypes for a one-piece crocheted star that's smooth and lovely all over, with no sewing at all required, and I finally figured it out. It's truly magical how it comes together; while you crochet it looks like it'll never work, but as you start to add the stuffing it magically turns into a plump adorable star before your eyes. And all with little more than single crochet stitches! I hope you'll be as excited to try this technique as I am to have invented it.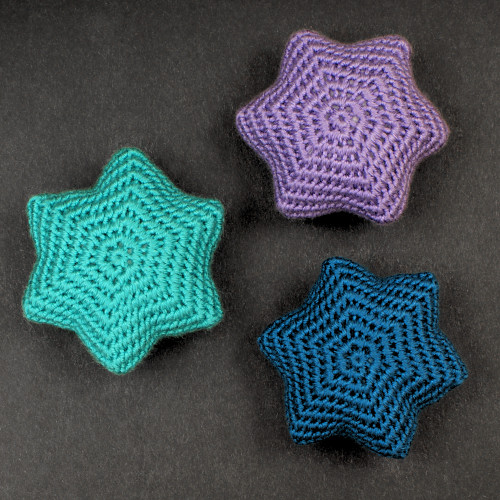 (And, as a bonus, my star also makes a lovely seamless one-piece baby toy. Embroider features to make it truly baby-safe, or, for a child past teething age, you can insert standard animal eyes before you stuff and close the star.)
The Snowflakes
With the star design complete, I've spent the last few weeks crocheting endless snowflakes, tweaking my designs until I developed a set of three that met all my criteria:
Pretty and well-balanced designs
All completely different but complementary
Sized to fit perfectly on the star when made with the same yarn
Not too chunky, even in worsted weight yarn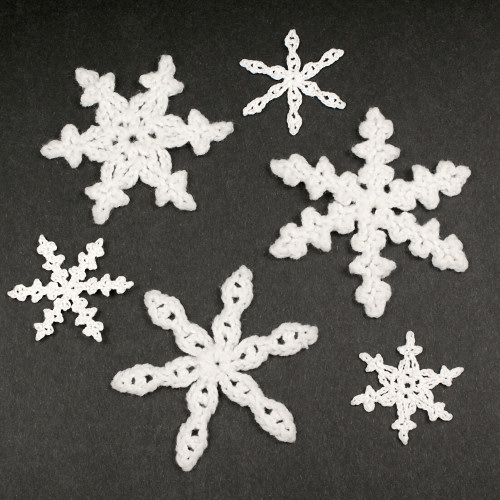 I'm really happy with the results! And, as the snowflakes are small even with heavy yarn, when you size them down with crochet cotton and a small hook, you end up with most adorably tiny snowflakes! (My thread samples pictured above are just over 2″ diameter with size 10 thread and a B US/2.25mm hook) – and you could go even smaller if your hands don't mind tiny hooks.)
These perfectly formed beauties only take minutes to complete, and would be perfect as gift-toppers, to accent your Christmas place-settings, or anywhere else a tiny wintery decoration is needed – and the pattern includes stiffening instructions so your flakes won't droop.
The Snow Stars
Put it all together, and you have a dazzling and completely original tree ornament. All the snowflakes fit perfectly on the star, and the star forms a colourful backdrop to each snowflake. Make your stars in any colour to match your Christmas decor, then add your favourite snowflake design! Instructions for adding a hanging loop are included in the pattern, so you can easily add your Snow Stars to your tree or to a garland.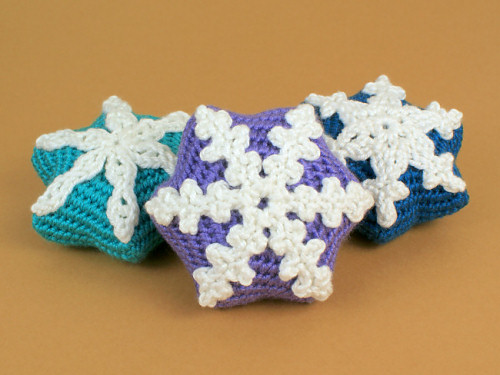 The Pattern
Snow Star Ornaments is a detailed 10-page pattern. In addition to the written crochet pattern instructions, it includes right- and left-handed stitch diagrams for all three snowflakes, and lots of photo tutorials (for the special stitch used, stuffing and assembling the star and ornaments, stiffening the snowflakes, and adding an optional hanging loop).
But I've also laid it out to be print friendly: if you'd like to print it out, you can save paper and ink by printing just 3 pages:
The star crochet pattern
The snowflake written instructions
The page with the appropriate snowflake stitch diagrams for you (right- or left-handed)
The Crochet-Along
As you may know, we're hosting a Christmas CAL in the PlanetJune Ravelry group – you can join in by making any PlanetJune Christmas-themed patterns (including this one!) and posting a photo to the CAL thread. If you'd like to join the CAL by making Snow Star Ornaments, click through to the CAL thread and take advantage of the CAL discount for this pattern.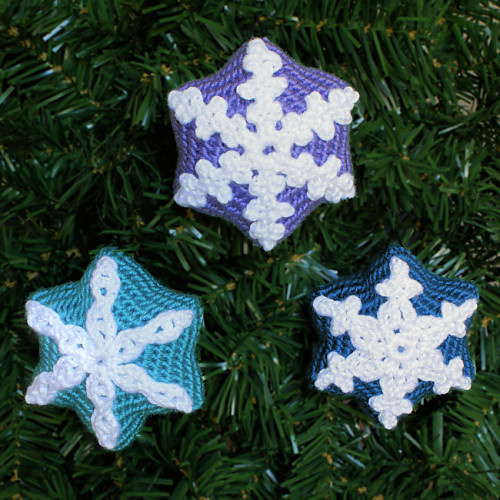 If you'd like to buy the pattern, you can find it here in my shop (but don't forget to grab the CAL discount code first!). If you're not ready to buy just yet, please heart or queue it on Ravelry so you don't forget about it:
I hope you'll enjoy my Snow Star Ornaments! And I hope it's not too early to say Happy Christmas (or seasonal holiday of your choice) 🙂