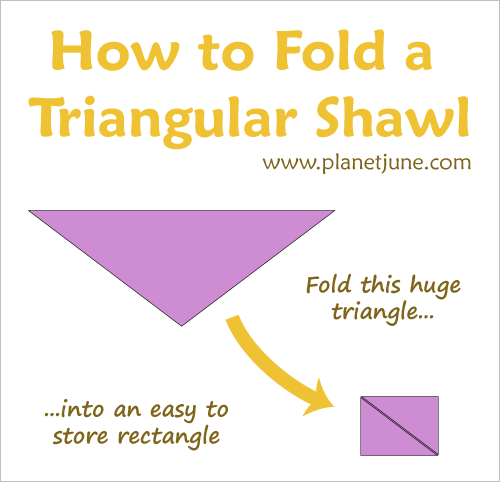 If you've been bitten by the shawl-crocheting bug, it can be easy to build up quite a collection! As part of the Accessories CAL (in the PlanetJune Ravelry group), I thought now would be a good time to discuss how you store your shawls. I used to hang mine in my closet, but I quickly ran out of hanging space, and now I prefer to keep them all neatly folded in a plastic storage box.
Triangular shawls, in particular, can be a bit tricky to fold for storage, so here's my method to turn any size and style of triangular shawl into a tidy rectangle.
Step 1: Hold your shawl with the point facing down:

Step 2: Bring the top left corner across to the top right corner:

Step 3: Bring the bottom point up to the top left corner:

Step 4: Bring the top right point across to the top left corner:
And that's it: a perfect rectangle. If your shawl is large, you may want to fold it in half again before you store it (but I think you can figure out how to do that without a photo…)
So now you can go from this: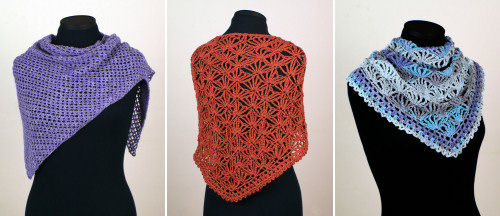 to this tidy little stack of crocheted loveliness!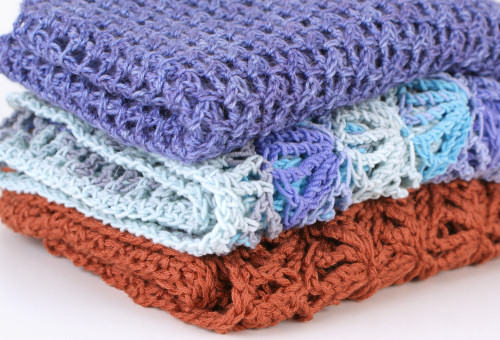 And – in case you'd like to make a few more shawls so you can practice your folding technique – you can find all my shawl patterns here 😉