With the new PlanetJune Accessories CAL starting, I thought it was about time to show you these wristwarmers I made from the Front-and-Back Wristwarmers pattern in my book, Idiot's Guides: Crochet.
They look lovely in person, but I've had real trouble photographing them! Because they're such a rich, deep brown, they look like a solid mass in photos, and you can't see the gorgeous stitch texture. But I think they deserve to be seen, so please forgive my over-exposed hands in these photos – let's call them 'arty' shots 😉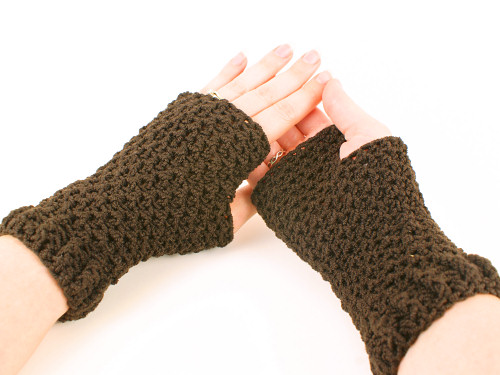 I made them in a stretch yarn (Elle Stretch) that's much finer than the yarn I used for the book samples, so I expected to have to use the large size instructions even though I have small hands, but the stretch in the yarn compensated for that, giving me a nice snug – but not tight – fit.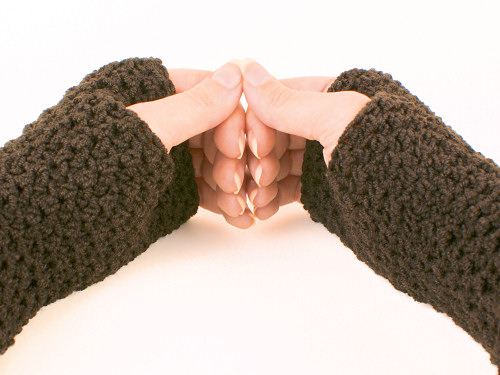 Don't they fit me well?
Maybe you didn't think my book IG: Crochet was for you, because you're way past the beginner stage of crochet? If you enjoy making accessories crochet pattern, that's definitely not the case! I arranged the included patterns at the end of the book in approximate order of difficulty, and there are some lovely – and a little more advanced – accessories at the end of the pattern section, including the stunning Double Diagonals Shawl (skills: crocheting lace, reading a chart), and the matching Front-and-Back Hat and Fingerless Mitts set (skills: post stitches, working into front/back loop only, making accessories to fit):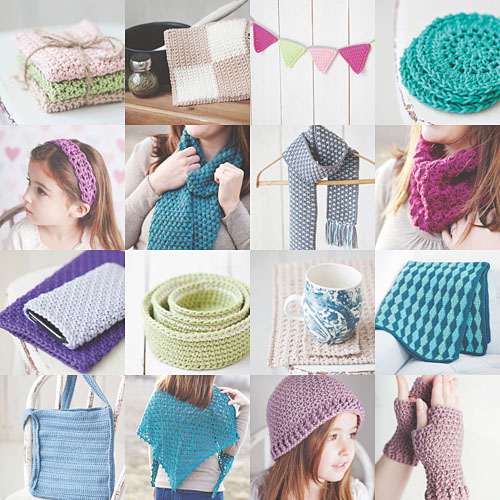 IG: Crochet patterns – arranged in approximate order of difficulty from basic (top) to a little more challenging (bottom). All the techniques you'll need to make all these patterns are explained in full, with detailed step-by-step photo tutorials, in the book.
If you'd like more info on the book, please see my main Idiot's Guides: Crochet page, which includes links to the week of posts I wrote to explain the book's contents in detail.
And if you're making any projects from the book before the end of the year (or any PlanetJune Accessories patterns), join the Accessories CAL in my Ravelry group and show us what's on your hook – we'd love to see what you're crocheting…