Today I'm adding two new shawl designs to my PlanetJune Accessories range. Although they sound very similar on the surface – both are triangular shawls, worked from the bottom up – they are actually a study in contrasts. One is restrained, elegant, warm and textured: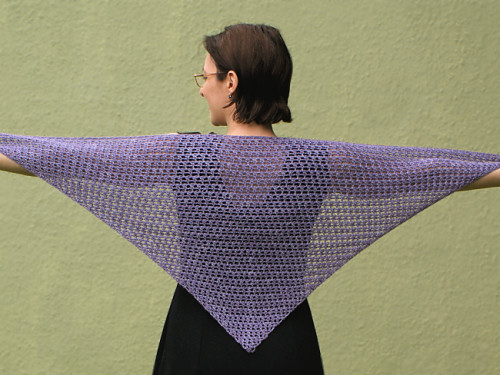 The other is an extra-wide, shallow triangle – bold, lacy and flamboyant: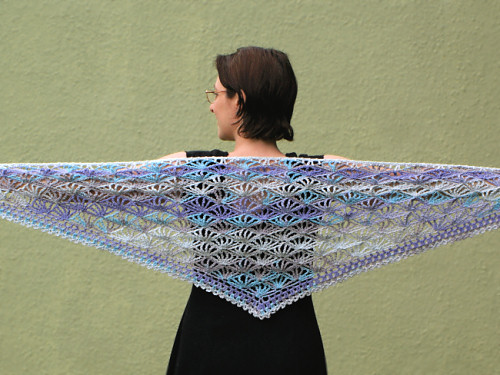 Both are fun to crochet, and come with options to extend their value! Ready to meet them?
Cozy Mesh Triangular Shawl
I designed the Cozy Mesh stitch pattern to feel like a comforting hug around your shoulders – this is not a gauzy, feather-light wisp of a shawl; it has a little weight built into the gorgeous stitch pattern. The texture and lace are built on a small scale, to give a warm, substantial fabric with no gaping holes, while still allowing the fabric to drape and flow beautifully without a hint of stiffness.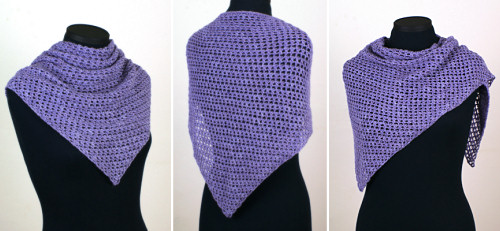 With a single 50g skein of fingering-weight yarn, you can crochet a kerchief-style mini-shawl to keep your neck warm and fit neatly into the gap above the collar of your jacket or v-neck sweater (like the blue sample, below, left). With just two 50g skeins, you can make a useful everyday-sized shawl (like the purple sample above).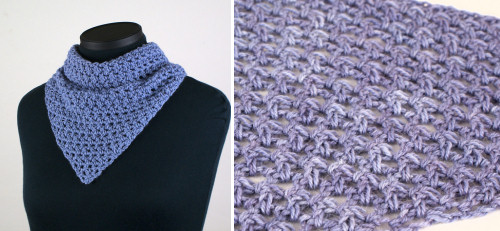 The bottom-up construction means you can keep crocheting until your shawl is the desired size (or you run out of yarn). The unfussy edging is built directly into the shawl, so you don't even need to keep any yarn back for later.
Rav link for Cozy Mesh:
Palm Leaves Triangular Shawl
Palm Leaves is a shallow triangular shawl with a large, bold, stitch pattern. The extra-tall stitches work up into eye-catching oversized lace that makes an impact! A complementary edging anchors the dramatic main pattern without competing with it. Snuggled up around your neck, this shawl will keep you warm and cosy, or wear it across your shoulders to reveal the beautiful open lace pattern.
Both my samples are worked in DK weight yarn, making a change from the lighter weight of most shawls. A yarn with long, slow colour changes will be highlighted beautifully in this shawl, as shown in my variegated sample (above), but it's still equally irresistible in a solid shade (below).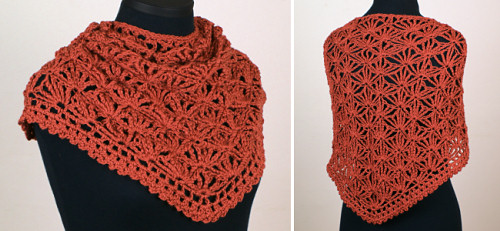 Again, you can keep crocheting until the shawl is the size you want, and then add the border. I've offered two options for the border: a deeper edging (shown in the variegated sample) if you have plenty of yarn remaining, and a shallower version (shown in the terracotta sample) if you want a less dramatic border, or are concerned that you may not have enough yarn to complete the whole edging.
Rav link for Palm Leaves:
Launch Discounts
Links to buy: You can buy the Cozy Mesh and Palm Leaves shawl patterns individually from my shop, or as part of a Custom Set of any 3 PlanetJune Accessories patterns for a special price.
But, to celebrate the launch, I have two special offers, for this week only:
Buy either of the new shawl patterns and save 10% (code: SHAWL1)
Buy both new shawl patterns and save 20% on each (code: SHAWL2)
Just add the shawl(s) to your shopping cart, and enter the appropriate code in the Discount box at checkout to receive your automatic discount! Valid until next Tuesday, 10 November. (Please note: you must have both shawls in your shopping cart at once to get the 20% discount on both.)
Crochet-Along
If you're making one of these shawls this year, please join us for the Accessories CAL in the PlanetJune Ravelry group and let us know right away which shawl you're planning to make first and what yarn you'll be using! I can't wait to see which colours you choose…