This is sweater #6 of my 'learn to knit by making a dozen self-designed sweaters' project. (Here are links to #1, #2, #3, #4 and #5, if you'd like to see my progress.)
I wanted to stretch myself – but not too much! – with this cardigan, so I decided to include a narrow lace panel up both arms and on either side of the button band on the front as a test to see how I'd like doing something that takes a bit of extra concentration. And look at the result!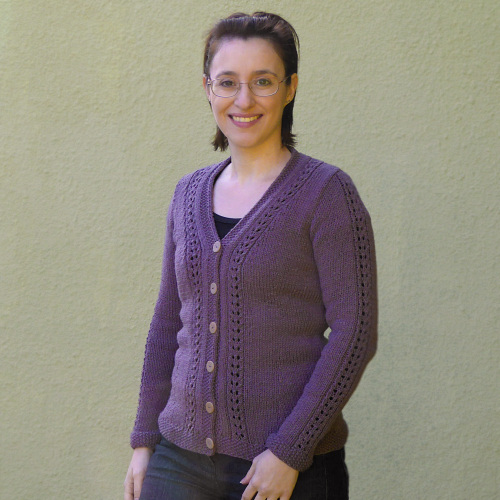 It looks almost professional, doesn't it? I picked a very simple stitch pattern that's only 5 stitches wide, and only 1 in every 4 rows actually involves doing anything other than knits and purls, but it made a huge difference to the look of the cardigan.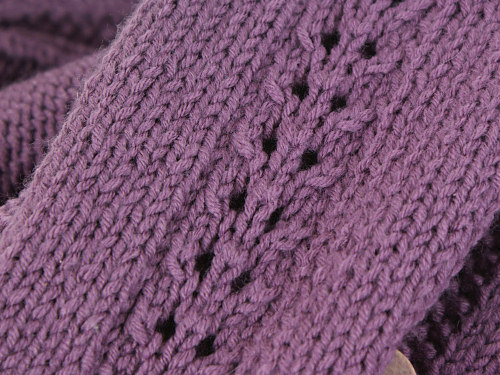 This lovely lace panel runs all the way up each sleeve.
(And yes, I know the yarn colour looks completely different in these close-up pics, but purple is notoriously difficult to photograph, and the different lighting conditions inside and outside didn't help with that! The true yarn colour is somewhere between the two – a very muted plum colour.)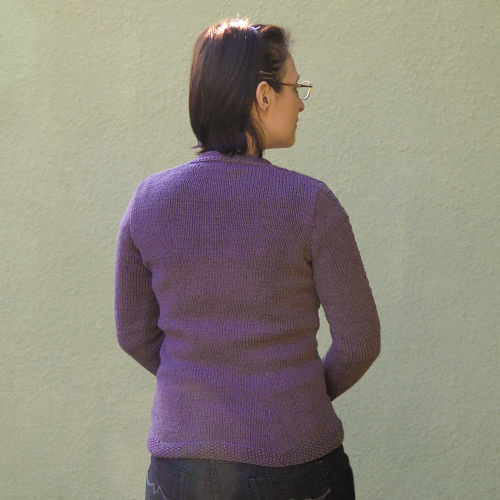 The rest of the cardigan is just stockinette (with my usual waist shaping for fit) and the non-lace parts knitted up fairly quickly. I really liked the seed stitch button band from my previous cardigan, so I used the same band for this one, and also made matching seed stitch cuffs and bottom band, to tie it all together.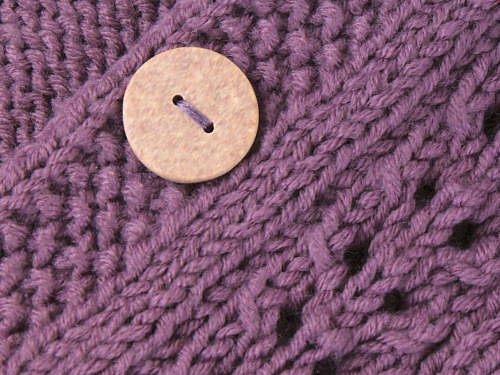 I wanted to make polymer clay buttons again, but I didn't think I'd ever be able to match the purple of the yarn with my buttons so I decided that a neutral contrasting colour would be safest. In case you think everything goes right first time for me, I'll have to show you my disastrous first attempt at making the buttons for this cardigan… but I'll save that for another post! Luckily, things went much better second time around.
I used Sculpey Granitex which has a built-in stone effect, so I decided to keep it simple and just cut plain circular buttons with two holes – no further embellishment required.
I finished with the same details I've used in the past: sewing thread to match the yarn instead of the button, and hidden anchor buttons inside the button band to avoid putting too much stress on the yarn. Those little details always make me happy, even though I know nobody else will notice them, but it's an added pleasure every time I put on something I've made and get to enjoy the little finishing touches.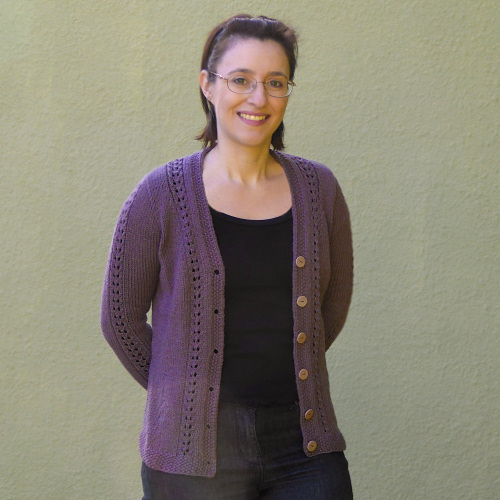 This is the halfway point of my learn-to-knit project and I'm so pleased with how this cardigan turned out. Knowing how to make a sweater that fits me makes all the difference – this is a cardigan that can button all the way down without drowning me at the bust and waist or pulling at the hips. It's revolutionary!
It's really worth learning how to make clothes (whether you're sewing, knitting or crocheting) that fit you properly and don't make you feel that (for example) your hips must be the size of a house because you can never fasten the bottom button on any store-bought cardigan. My problem now is that I think I may have to learn to sew clothes too, because I'd really like all my clothes to fit properly after discovering how good that feels! Maybe that'll be my next learn-to-craft project, once my dozen sweaters are finished…
After this success, I've been inspired to get a little more adventurous with the lace in my next cardigan – and you'll see the results of that when I finish #7!