Last weekend, I took the opportunity to travel with Dave, as he had an astronomy conference in Durban, on the other side of the country. South Africa is so huge that it takes 2 hours to fly from coast to coast, from Cape Town to Durban. We stayed at Umhlanga Rocks, a resort village just north of the city of Durban.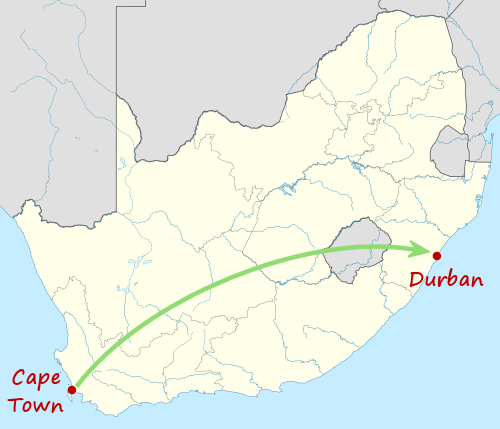 Cape Town is on the cold Atlantic Ocean, and Durban is on the warm Indian Ocean, so the climate is quite different. We're in the middle of winter at the moment, and it can get pretty cold in Cape Town, but this is Durban's weather: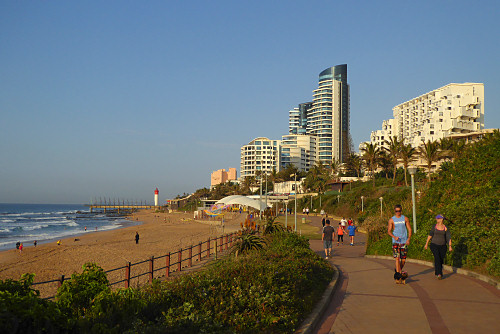 Not a horrible place to come for a winter weekend break! And waking up to this gorgeous sunrise over the ocean was quite nice too…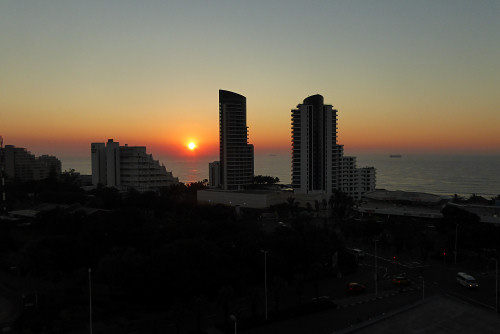 While Dave was working, I walked along the promenade by the beach and hunted for wildlife. It's amazing what you can find, when you really look. What's that on the roof of that hotel?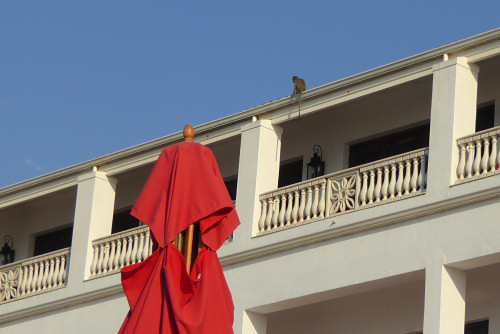 It's a monkey!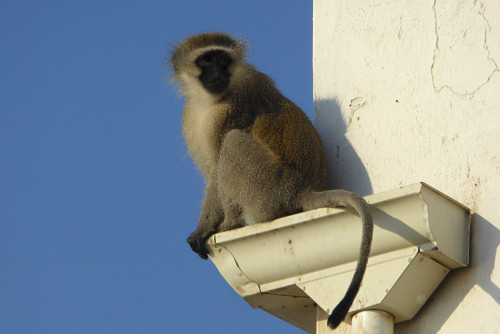 Vervet monkeys are common in Durban. We saw some from the car as we were leaving the airport, but I couldn't stop on the highway to take photos, so I was secretly hoping I'd be able to spot one when I had my camera ready. I got lucky with this thoughtful-looking windswept monkey – doesn't his fur look soft?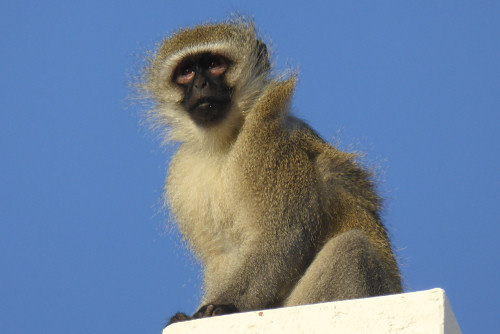 I also spotted lots of birds that I recognised as being related to ones I know from Cape Town, but different regional varieties. I had to look them all up when I got home, like this stunning Spectacled Weaver: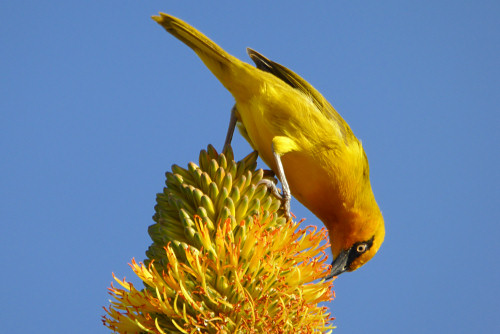 And this happy little guy is an African Pied Wagtail: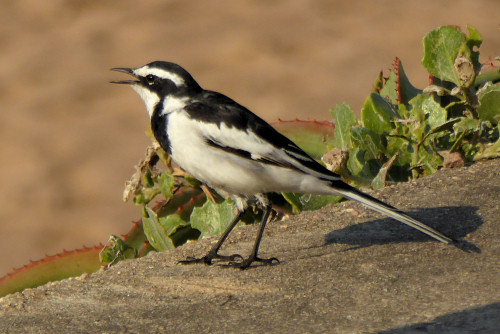 A sunbathing skink: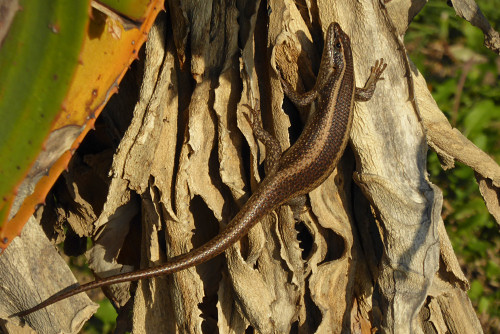 A handsome Dark-Capped Bulbul (the Cape Bulbuls I see in my garden have white rings around their eyes):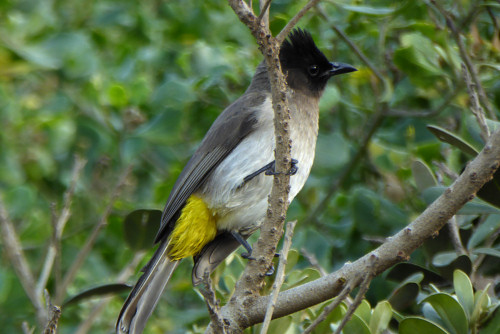 And Common Mynas, which I didn't expect to see in South Africa!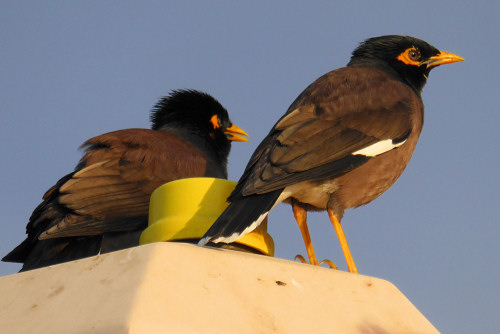 I was amazed to spot this wild bee hive half-hidden beneath the leaves of an aloe: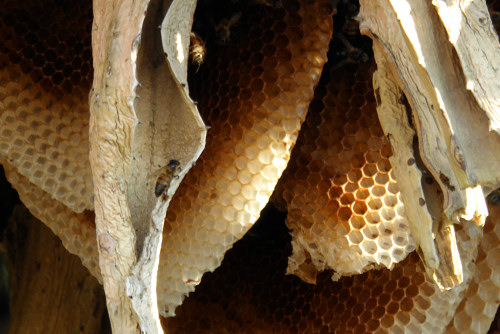 And very happy to see my first Speckled Mousebird (it's hard to see in the photo, but its long tail feathers extend right down to the bottom left of the picture):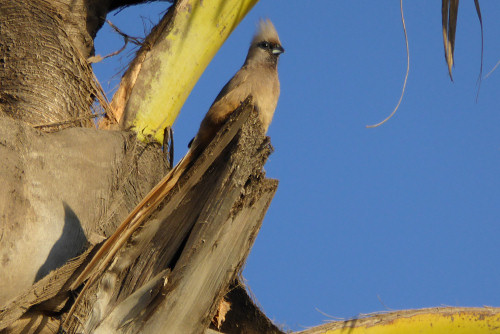 But possibly best of all was when I spotted a pod of dolphins, swimming together in the sea!

Although my photos don't really capture the magic, it was just beautiful to watch as they came up to the surface and dipped under again as they swam…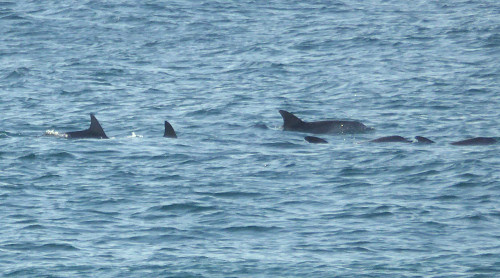 It was a lovely, if very short, getaway. My knee held up to a lot of walking, and didn't hurt at all provided I stayed on flat, paved surfaces. So I'm definitely not up to hiking just yet, but I think I'm ready to cautiously resume my quest for wildlife. 🙂
And I'm also consciously working to improve my wildlife photography skills – I don't know if you can tell that from these photos, but I'm trying! I'll only ever be an enthusiastic amateur in this area, and there's a lot of luck involved in wildlife photography, but I'm happy that I managed to capture almost everything I saw last weekend in a fairly pleasing portrait. I think I'll keep improving with more practice and trying to be more aware of lighting, surroundings, etc.
I hope you've enjoyed my little window into some of the wildlife on the east coast of South Africa!